The Secret to a Happy Marriage 💕
---
---
---
---
Happy Couples 🔞
I have talked to many chastity wives and girlfriends, husbands and boyfriends. Below are just some of the millions of couples that practice male chastity. If you would like me to add your sexy chastity selfie, just contact me. Please include a fun fact or anything quoteable about your relationship and, if you want, your name, age, and location.
---
Chadwick (25) and his girlfriend (21), from Florida. He used to masturbate every day since he was 12.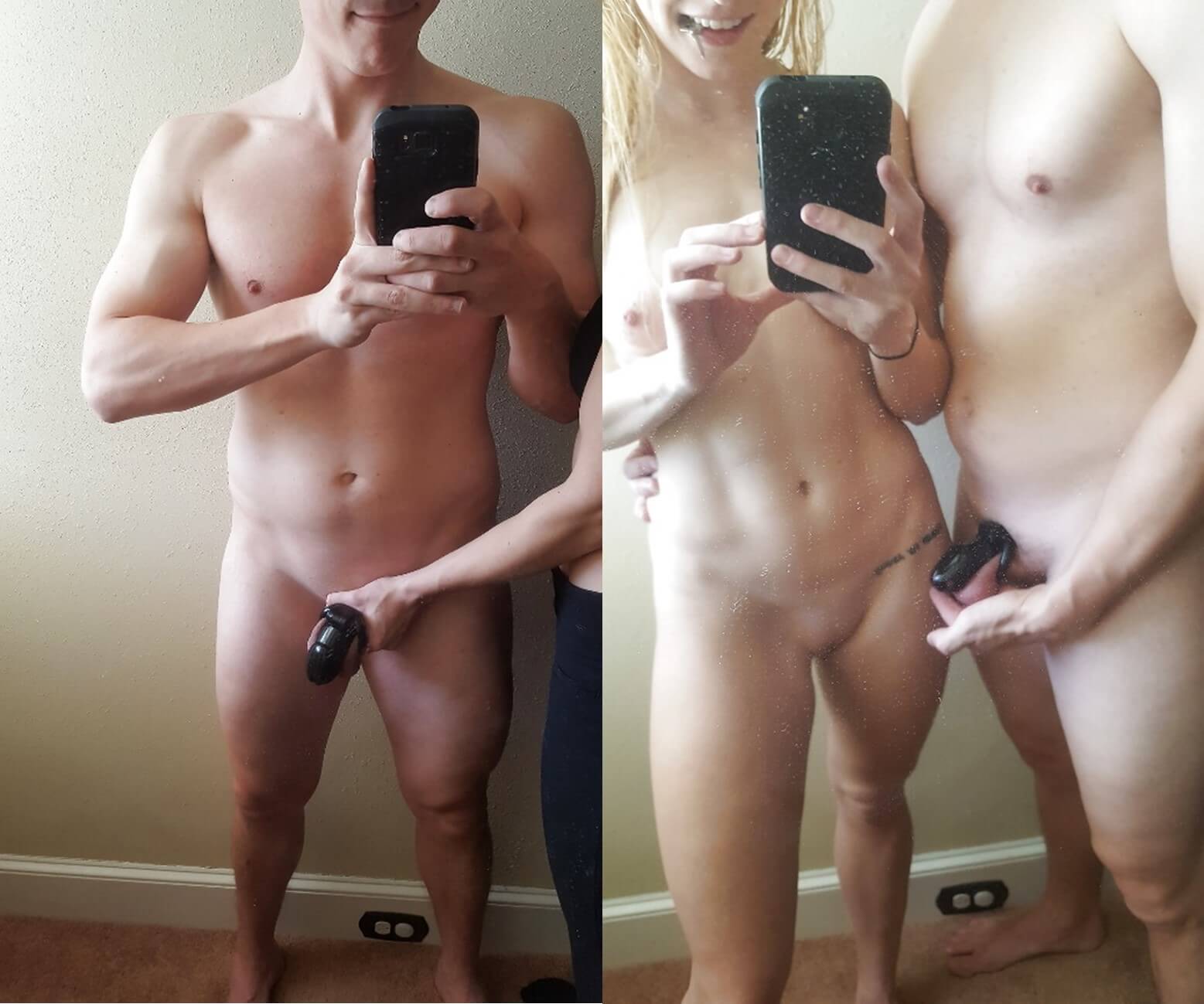 "The most erotic thing I have ever done was to put my cock in a cage and give my girlfriend the key. No amount of wanking will beat that. She enjoys when I please her and she doesn't feel she has to please me. She decides when to let me out to have sex with her, and it is always after I first give her an orgasm."
---
Jee (20) from South Korea. She keeps her high school sweetheart locked.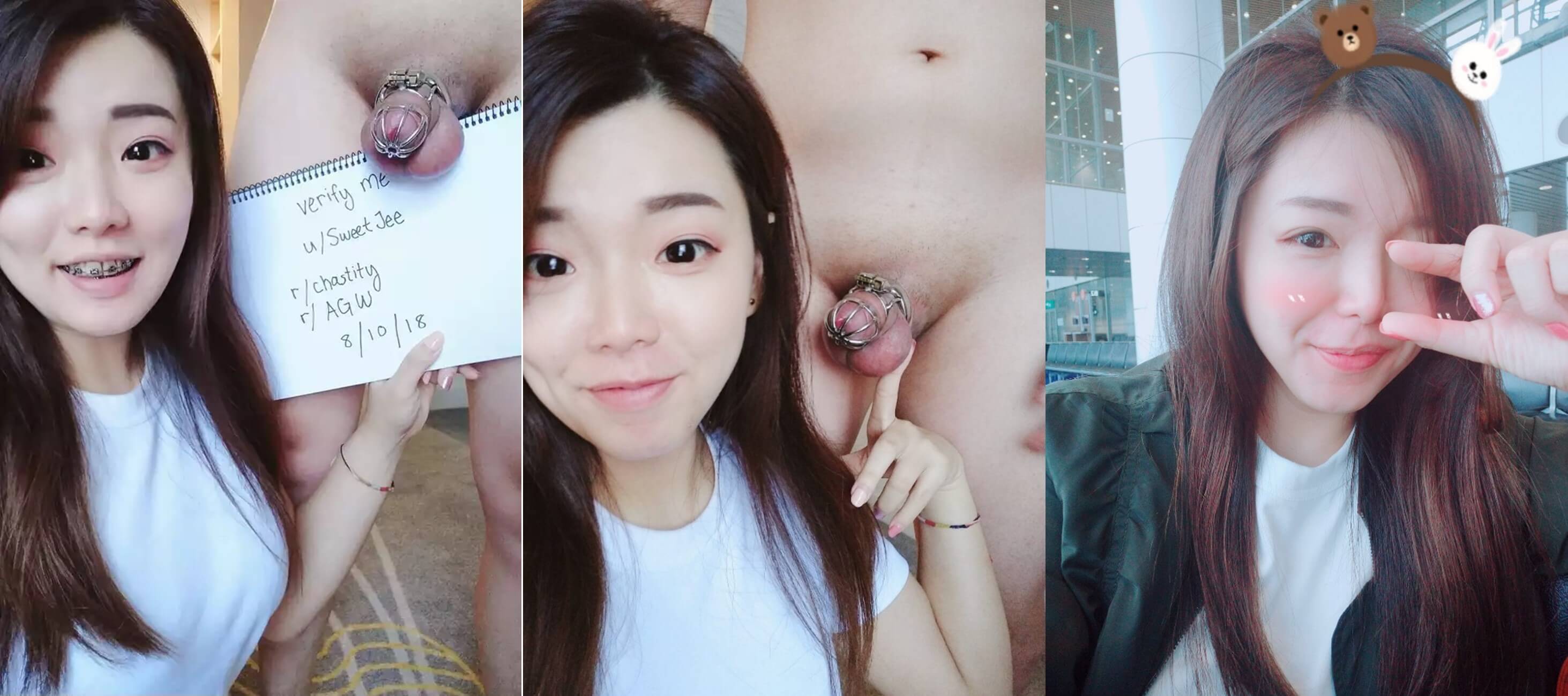 "I'm a keyholder and I really enjoy doing it and that makes me really good at it. I like locking my guy's dick in a chastity cage and being in control of him. He will beg and think about me all day. When I locked his dick for the first time I got addicted to the power instantly. The longer I keep him locked the more I get addicted to it. Fully in charge of his libido, his body, his mind. Best feeling ever. Chastity devices work and it's great. It'll make a man super horny when he sees you and you'll have full control of his sexual pleasure. Highly recommended."
---
Claire from France. She "forgot" the key when she went on a two-week beach holiday with her boyfriend.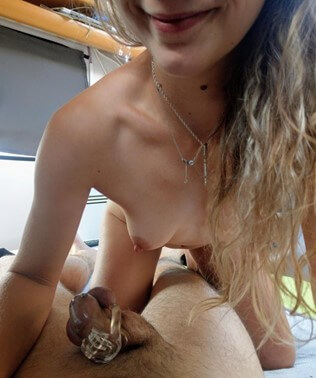 "I prefer to think of a caged cock as not emasculated, but restrained – power under control, the way that a dam holds back a river. Or a beast that's been captured and tamed. That's what I want to control: a cock that can be a mighty force when needed, but truly desires the refinement of restraint. Chastity as an elevation from beast to man."
---
Evelyn from Canada. She got to know chastity through her sister, who also keeps her boyfriend locked.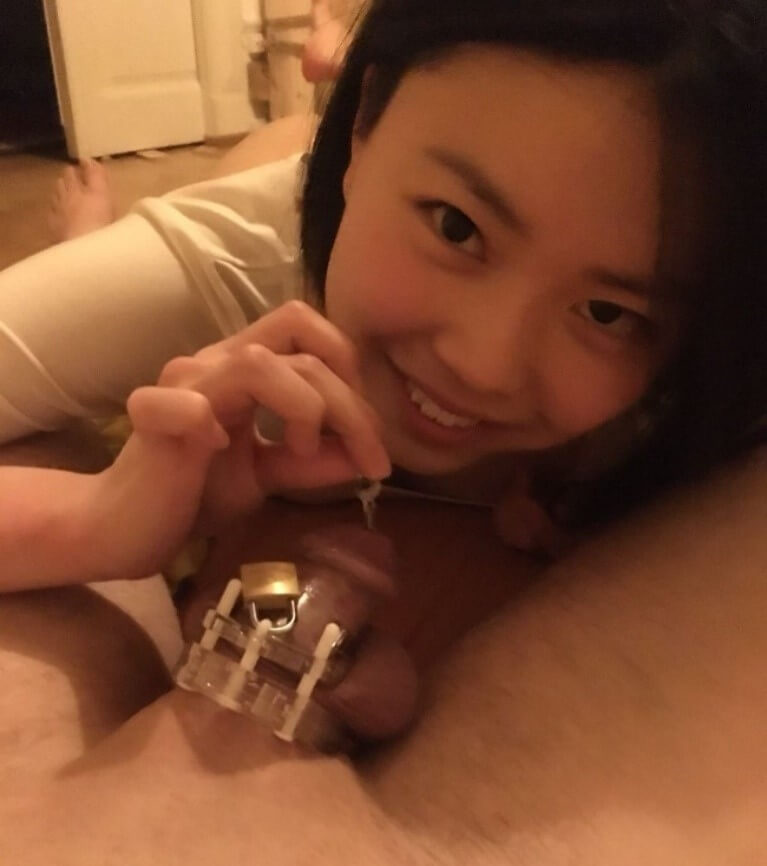 "Chastity is not a 'punishment' for my boyfriend, it's a reward for being such a sweet boy. I keep him in chastity because I love him. I keep him charged up with frequent teasing."
---
Married couples from Colorado. Chastity revived their dead bedroom.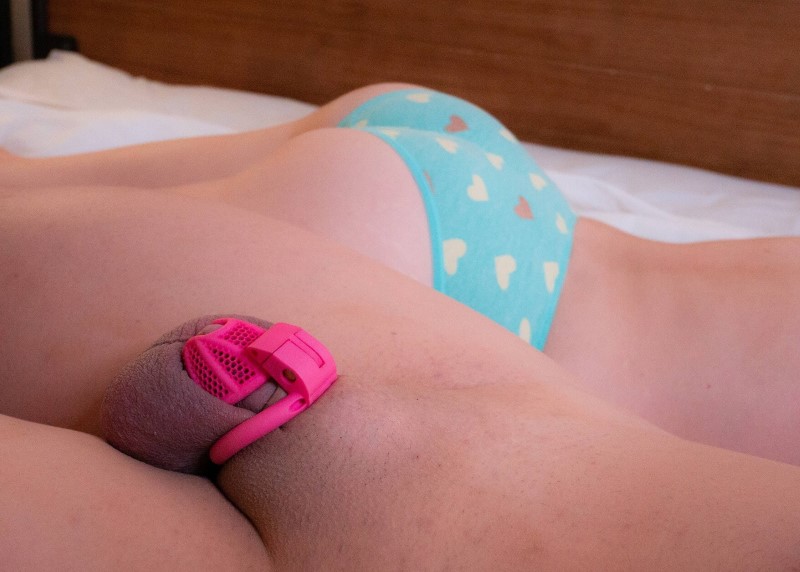 "We've been married for eight years and have three children, and somehow we ended up at a point where I just wasn't interested in sex anymore. I also wasn't happy with his short temper and laziness, maybe that contributed to it. We did it maybe once a month or even less, and he kept complaining that it wasn't enough. About six months ago he admitted his desire for chastity and explained how he was masturbating every day. I agreed to hold his key and give him a release every weekend, but under the condition that he'd try and become gentler with me and the children and help more with chores. If he's not behaving well I will skip his weekly orgasm, but if he is good he gets a release (either me giving a handjob or him masturbating next to me). The keys are not kept at home. I keep one at work which I bring home for the weekend if needed, and I gave the other two to my best friend and my sister. I think since we started chastity he's really improved himself and has become a better husband. There's more love in our relationship now and as he is transforming himself my sex drive is slowly starting to reappear."
---
Married couple from Europe. Their only regret: not knowing about chastity earlier.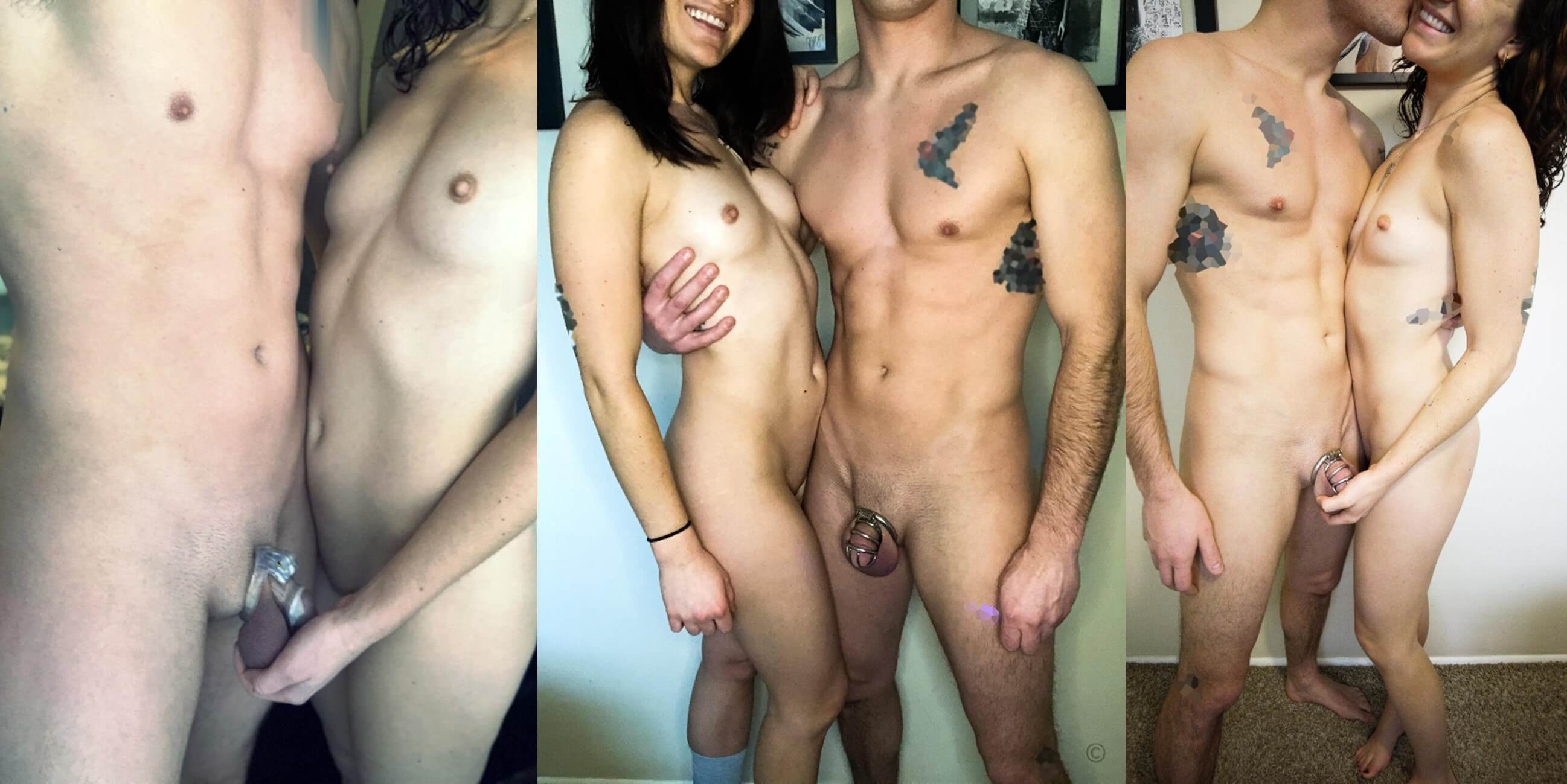 "If you want a husband who is always attentive, loving, caring, faithful, devoted, polite, and passionate, who tells you every day how much he desires you... try being a chastity wife. What have you got to lose? If it doesn't work out you can always take the chastity cage off. But I bet after a few days you won't want to!"
---
Grace (27) from New Zealand. Favourite thing about chastity: the daily oral sex.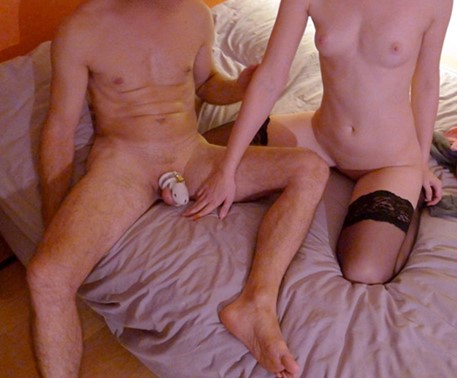 "I was sceptical at first. My boyfriend was the one who introduced male chastity to me. At first I thought it's just some sex toy to play around with for a few days and forget about it. But I was wrong. After a while I realized I'm loving this whole chastity thing... In fact I was the one who wanted to keep it going a lot longer than we originally planned."
---
Young American couple. She says chastity has made him much nicer and considerate.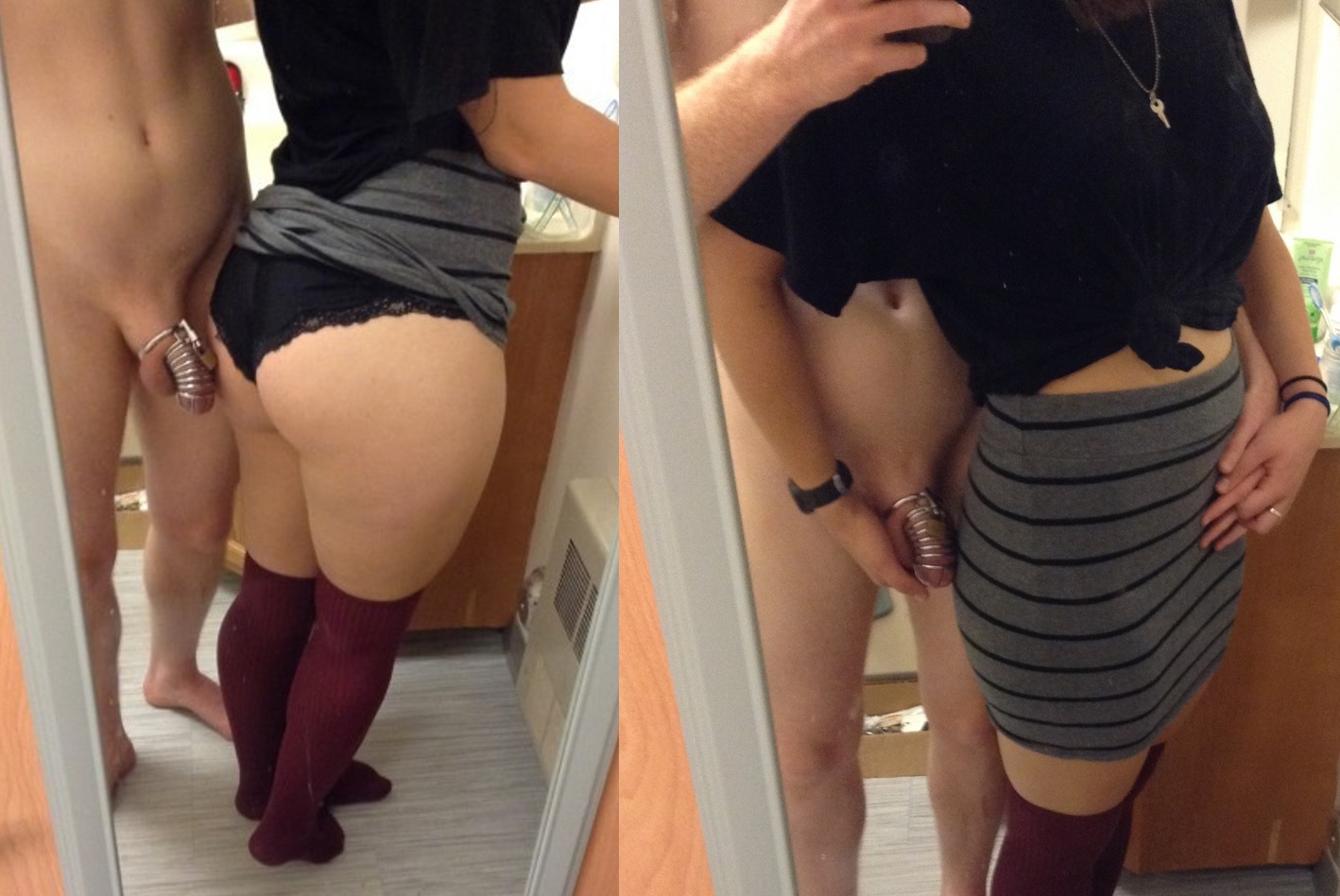 "Male chastity has definitely improved our marriage. Men do not always realize how sex-driven they are. Now that I locked him he has begun to appreciate our daily interactions without the end goal of having sex with me. He has become the romantic lover he used to be at the beginning, who focuses on my desires and needs first rather than just on his urge to get off. I also like that he isn't masturbating anymore. Rather than wasting time watching porn he now spends more time with me. Ultimately, chastity creates happier couples."
---
Ben (31) from Australia, and his wife. Longest lock-up period so far: 12 weeks – her aim: 12 months.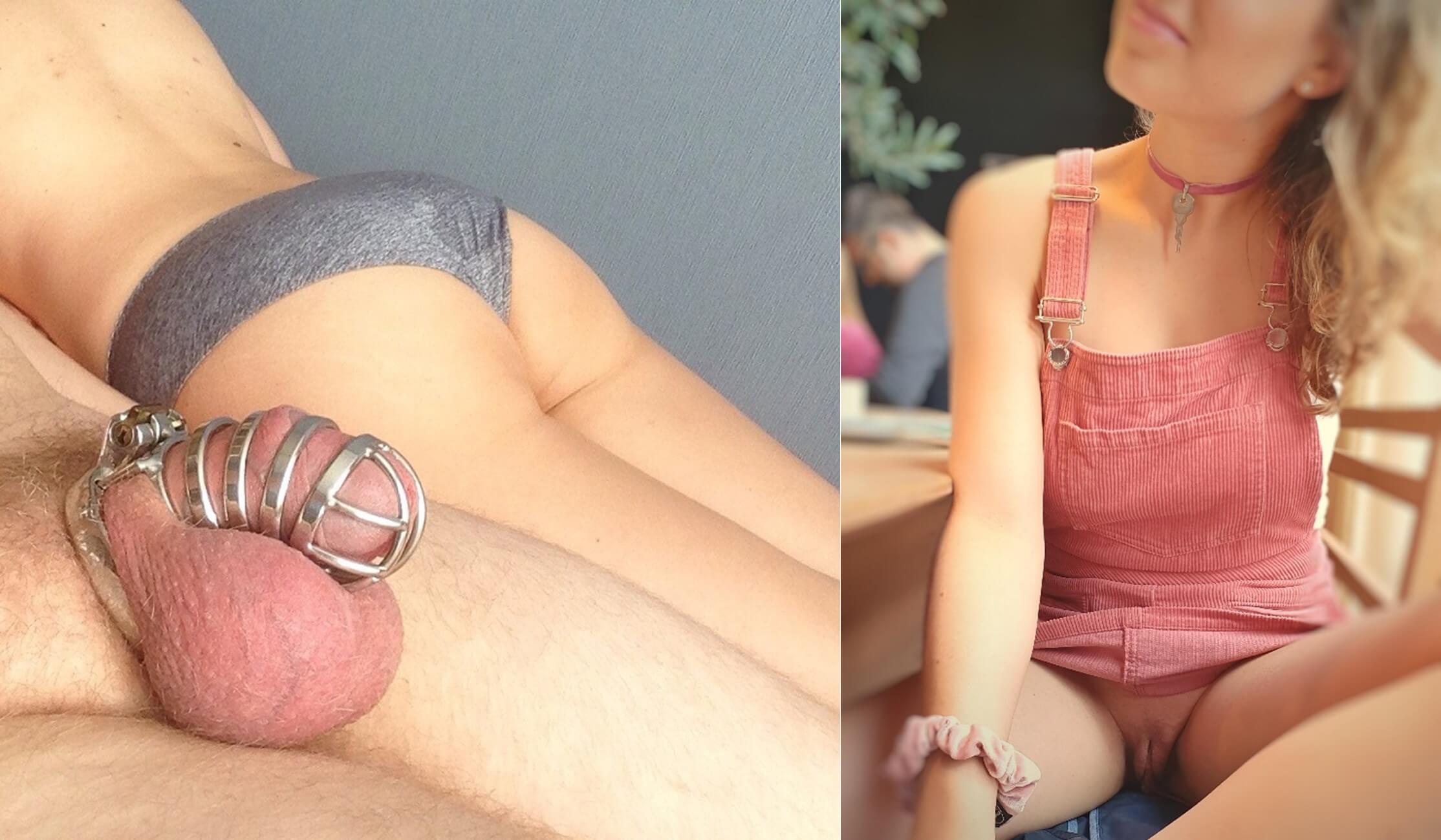 "I love being locked in chastity by my wonderful wife. But chastity is not just about the teasing and attention you're going to get. It's about devotion, it's about surrendering yourself to the woman you love, every minute of every hour of every day. The chastity device is just a beautiful reminder of that commitment. I really don't know how I got this lucky. My wife loves and appreciates me and there's no word that can sum up how positively I feel about her and how much I adore her."
---
Luisa (24) from Germany. Her favourite chastity device has spikes that punish any unpermitted erection.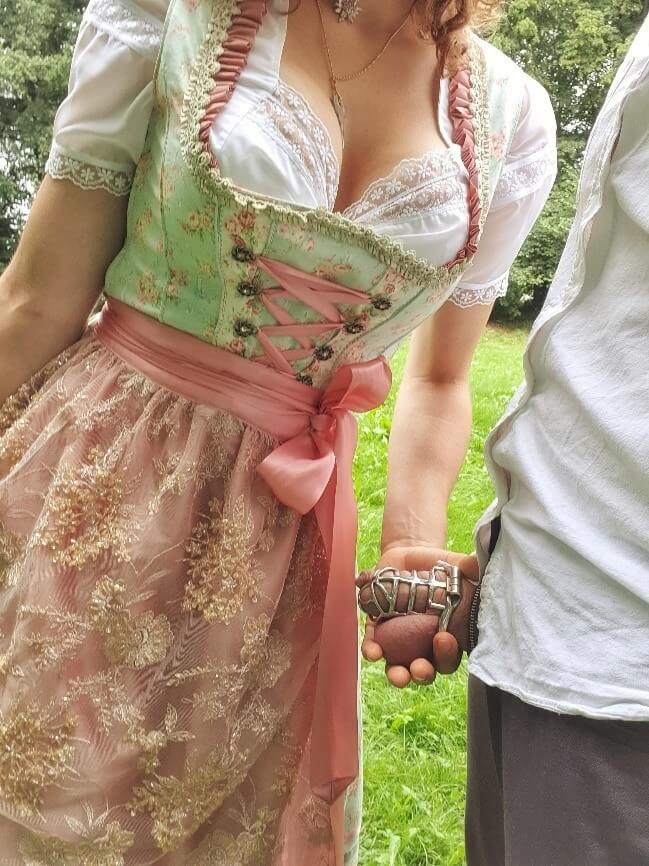 "I love having this secret with my boyfriend. When we go out while he's still locked in that cage. Nobody knows. But I can keep teasing him. It's the little things he does that let me know how very mine he is. It's his secret frustration that only I can see that really excites me."
---
Jacob (29) and Qianyi (28). He lost over 50 pounds since they started their chastity journey.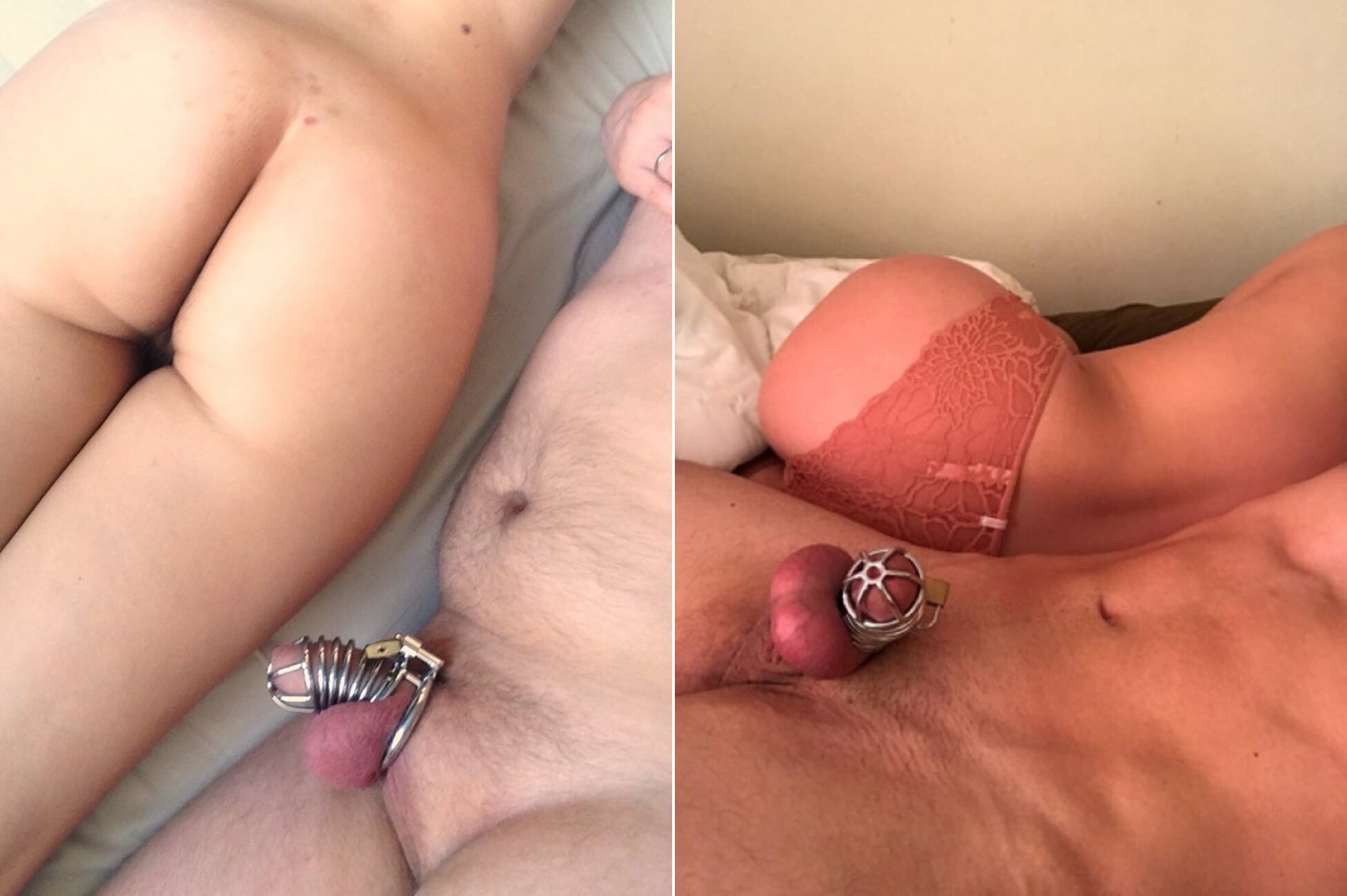 "I love the constant ache of desire. I literally ache for my girlfriend – she is on my mind most of the time. Having no control over my orgasms has been a huge turn-on, knowing she has all of the power over her toy. I love how she teases. I do not like being denied during a play session, but after I have calmed down, I thank her for not allowing me to cum. We have grown so much closer since starting chastity. We communicate better, in everyday normal life, and in the bedroom."
---
Couple from Germany. She wants to make every lock-up period longer than the last one.
"There are so many great things about being a keyholder. Deciding when he can get erect and when he can cum. Knowing that he cannot masturbate when he is alone. The fact he now sits to pee. Sending him pictures of his key around my neck throughout the day, just to remind him who owns his cock. Sitting between his legs and playing with his cage – I love the weight of the metal in my hands and the look of happy agony on his face. Playing with myself while he watches me, locked. Leaving for a weekend trip and not bringing the key. Pegging – this brought an enjoyment to my sex life that I never knew I was missing. Deciding when and how we have sex. Better, more intimate sex. A calmer, cleaner, more romantic partner. A better, more intimate, more loving relationship."
---
Monica and Josh from California. His last masturbation was years ago.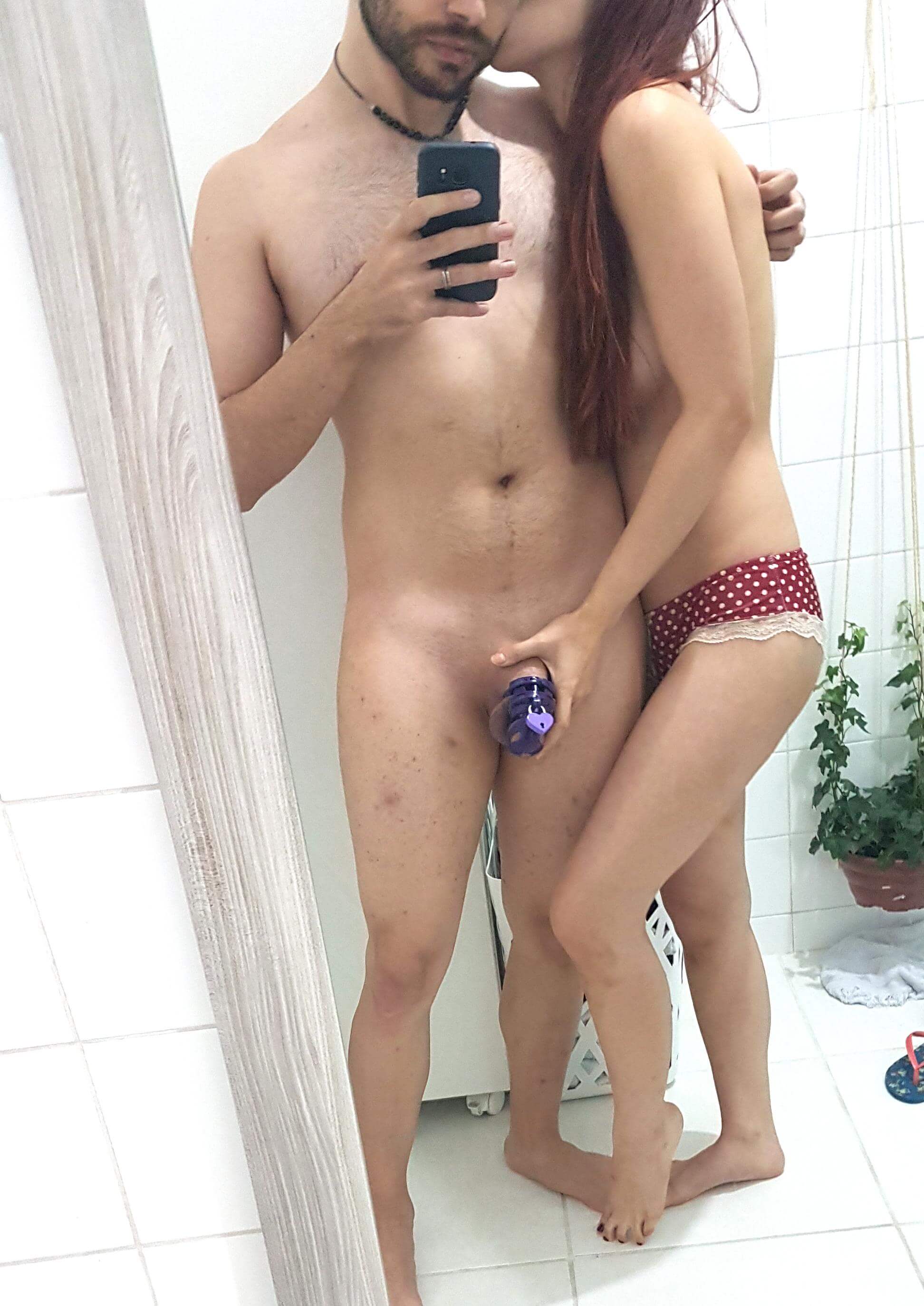 "Do all men play with themselves in the bathroom? Not mine. Now the only thing he'll be playing with is me. We have become so much closer since I put him in chastity and control his orgasms. The only thing I regret is not starting earlier. Chastity is by far my favourite kink, I've embraced it totally and I'll keep him locked up forever, there is no doubt about that."
---
Amelie (34) and Nicolas (33) from France. Her best friend knows all about it.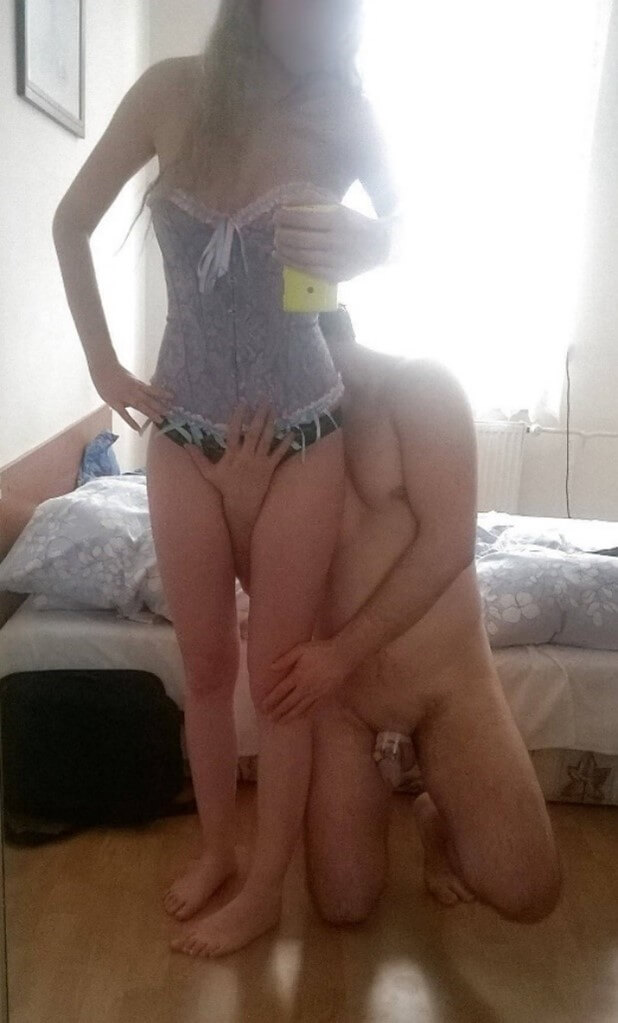 "Like many wives new to male chastity I quickly discovered, when denied an orgasm of his own, hubby gets obsessed with mine. It's intimate. It's lovely. It strengthens the bond between us. And it's romantic too. To the readers out there: Why not try it this weekend and see what I mean."
---
Married couple in their late 20s/early 30s. Being a keyholder has made her feel more confident and attractive.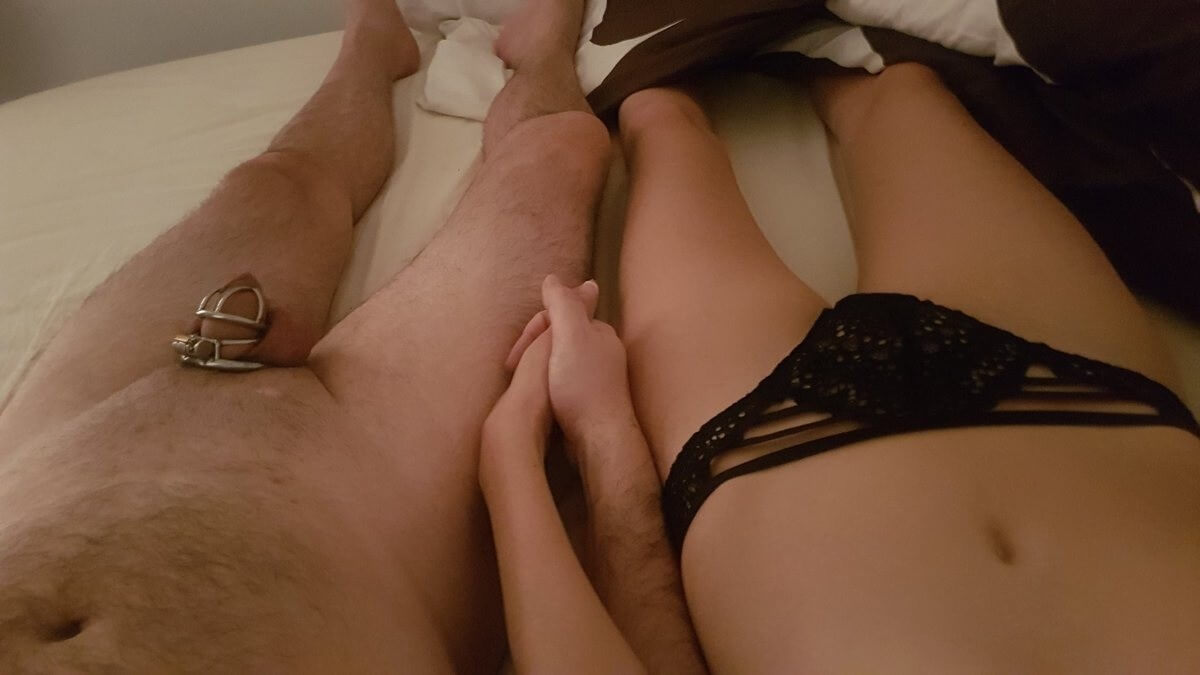 "I was always a quite shy, maybe even "prude". For example, I don't masturbate. Maybe you won't believe me but it's true. It's not that I don't have a sex drive – in fact I get horny quite often and I find my husband very attractive. But I was quite insecure about my body. I didn't want him to look at my vagina and even liked to keep the lights on when we had sex! He bought stuff to spice things up, like a vibrator, but I never dared to use them. Another issue was that my husband needed sex more often than me so I gave him a blowjob about once a week. But actually I hated putting his penis in my mouth, I just did it out of a sense of duty. One day he proposed to try male chastity (because apparently he was STILL masturbating despite my efforts to please him!) and he sent me the link to your website. Long story short: it's been a few months with him locked in chastity now and our marriage has been transformed. First of all, I'm relieved that I don't need to give him blowjobs anymore. One night I even told him that I'll never put his dick anywhere near my mouth again. To my surprise he seemed to get aroused…? Turns out it turns him on when I say stuff like never giving him a blowjob again or making him wait for his next orgasm. However, he's now always asking to lick me down there! At first, I was too shy and self-conscious to say yes, but the more time I spent being his keyholder the more I saw how attracted he is to me and the more confident I became about my body. Nowadays he licks me regularly. Is it unfair that he gives me oral sex all the time but I deny him the same? It doesn't matter. I have the key, I decide, and I love it (he does, too). I feel really sexy now. We've never been emotionally closer. I love him more than ever. It's incredible what effect locking his cock had on our relationship!"
---
Shupei (22) and her boyfriend (28), both from Shanghai. He is only allowed 'ruined' orgasms.

"Here's a fun fact: Girls who lock up their boyfriends in chastity devices get to have as many orgasms as they want! I'm really glad that I have a clit that I can touch and not just a caged dick like him. Denying him orgasms will also make him want to eat your pussy constantly. Prepare for pleasure overload!"
---
Florian (34) from Germany. He has not been allowed to masturbate once since being locked.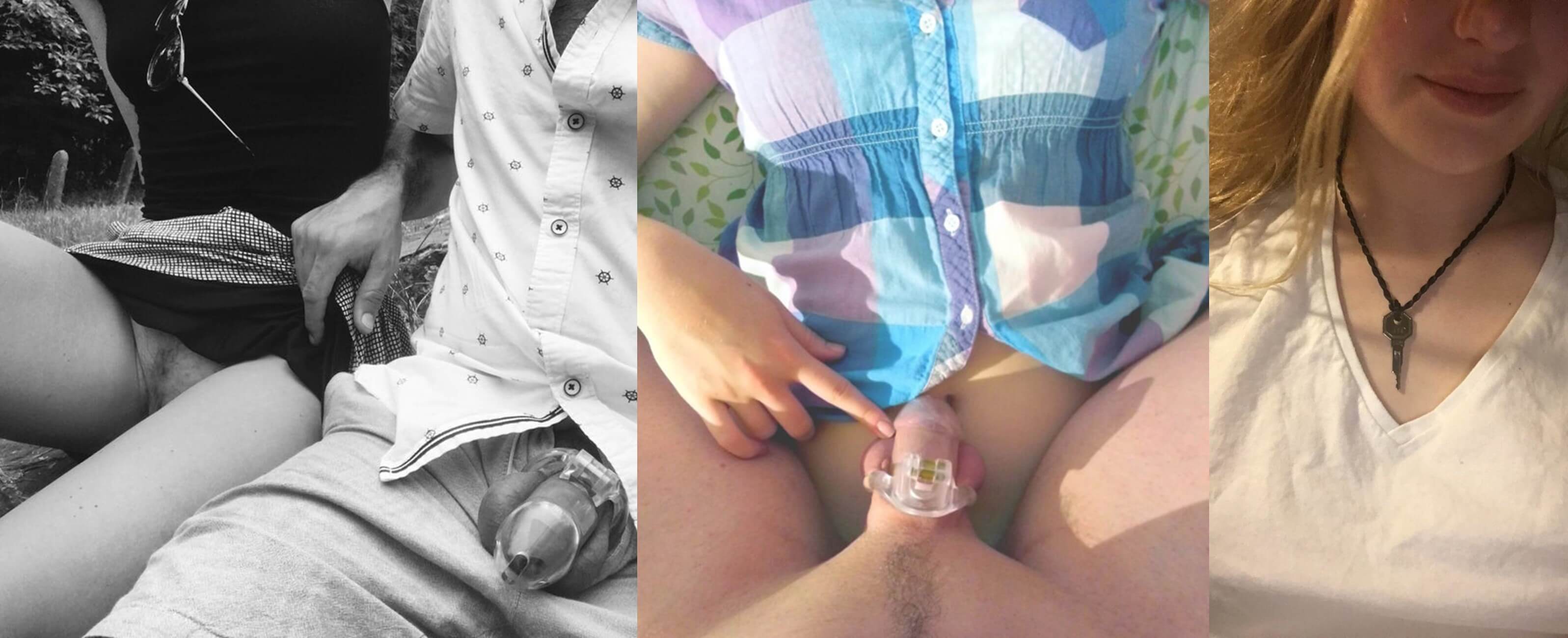 "I am an independent person, but a part of me wants to belong. To belong with someone, to belong to a significant other. To be hers. With the cage she tells me: I love you and I want you to be mine. With the cage I tell her: I love you and I am yours alone. I enjoy knowing that only she can play with my cock and that it is safely put away when she doesn't."
---
Dao and her husband. She is a "size queen" and loves to make fun of his small penis.

"I am the one who put him in chastity in the first place because I wanted to explore my dominant side and also keep him pussy-free. He is only allowed to penetrate me while wearing a large cock extender. I don't find any real living penis attractive, and it doesn't help that my husband's is tiny. Sex to me is more about chemistry and love, hence I think chastity is perfect. My husband showed his devotion and love by locking his dick for me. His cage twitches everytime he spoons me. I just love how his dick is getting tight in the cage, but he just cannot do anything about it."
---
Brittany and her boyfriend. She thinks that a locked cock is a happy cock.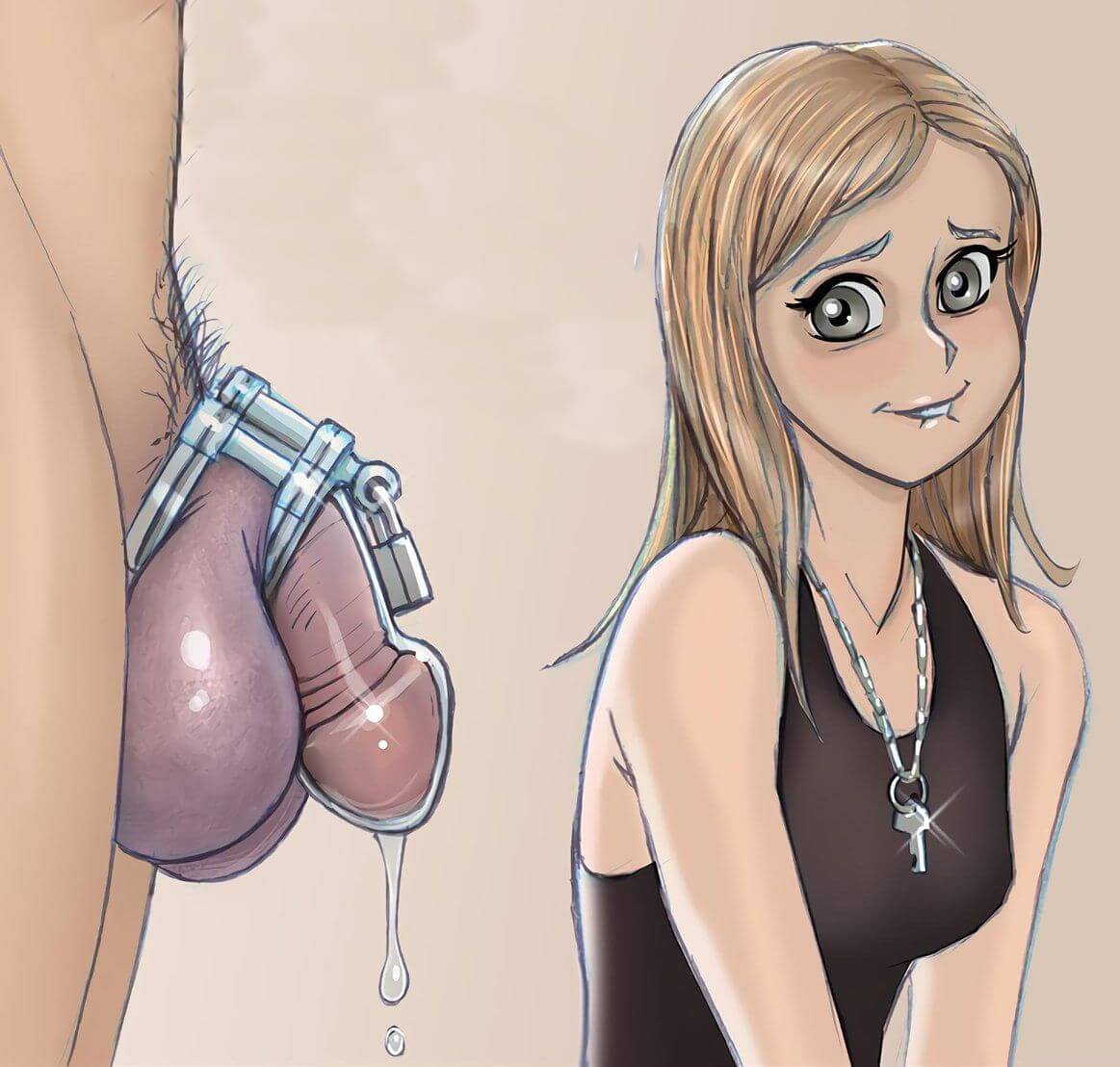 "Love your site. My boyfriend brought chastity to our relationship and I love it. I totally and completely control his orgasms and bully his cock leaving him so very frustrated but eager to please me. I thoroughly enjoy the oral sex and he now stays close to pussyfree as he isn't on his best behavior after PIV sex (this is a development he enjoys). I love seeing him fill his cage up with nowhere to go and feeling his cage press against me knowing he can't do anything. It's so empowering and kinky plus he became such a loving devoted partner. We can never go back to him controlling his orgasms and I think all cocks should be caged (if there's consent of course)."
---
Married couple from the United States. They started male chastity after the birth of their third child.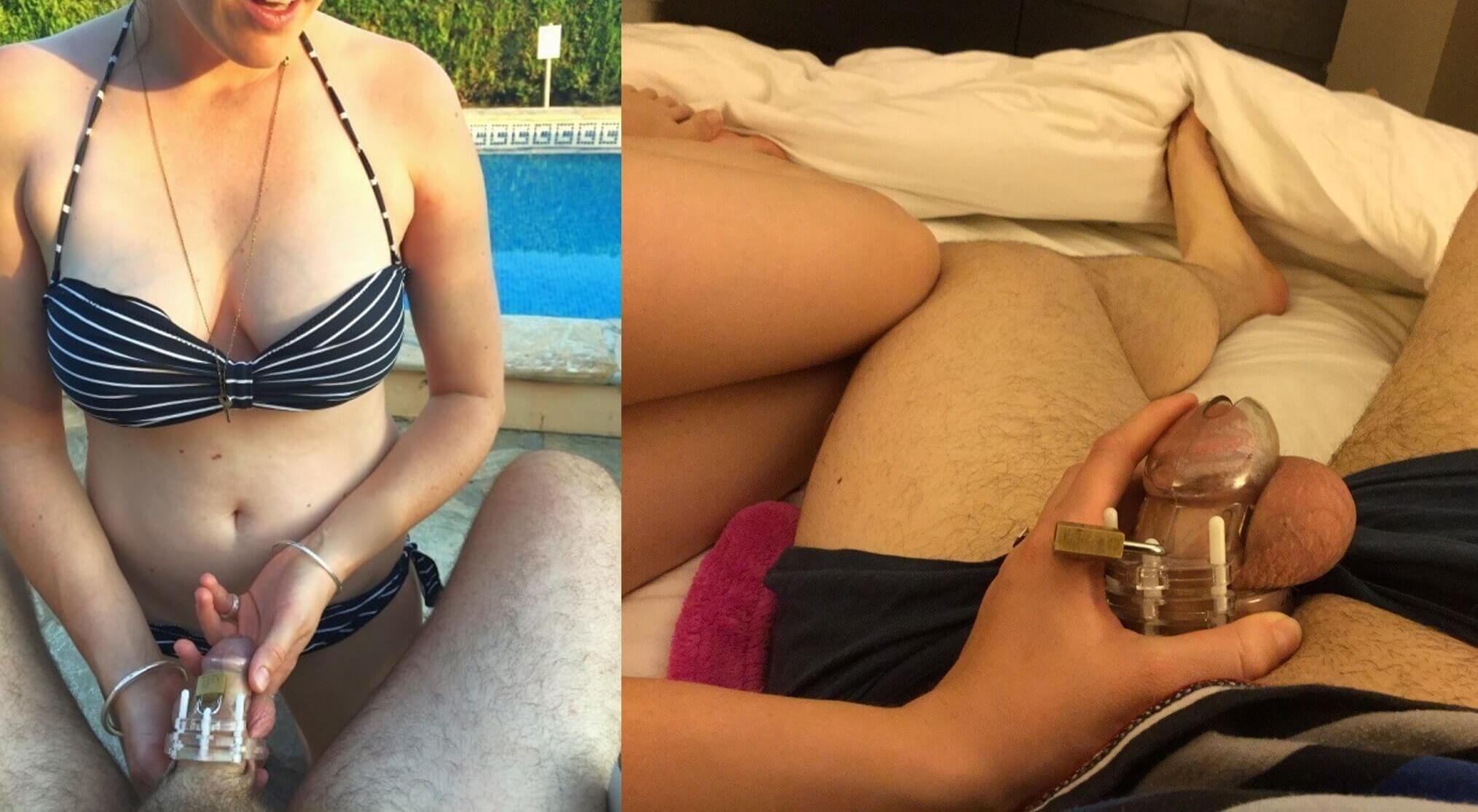 "Don't kid yourself, nothing even comes close. If you truly want your husband focused on you, lock him in chastity. My husband has been locked with his orgasms under my control for nearly 5 years, and he is totally devoted to my needs. The most important thing is I'm getting more out of our marriage and from him in every area of life. I'm happier, more content, and more confident."
---
Cristina (35) and her boyfriend. Chastity has helped their relationship.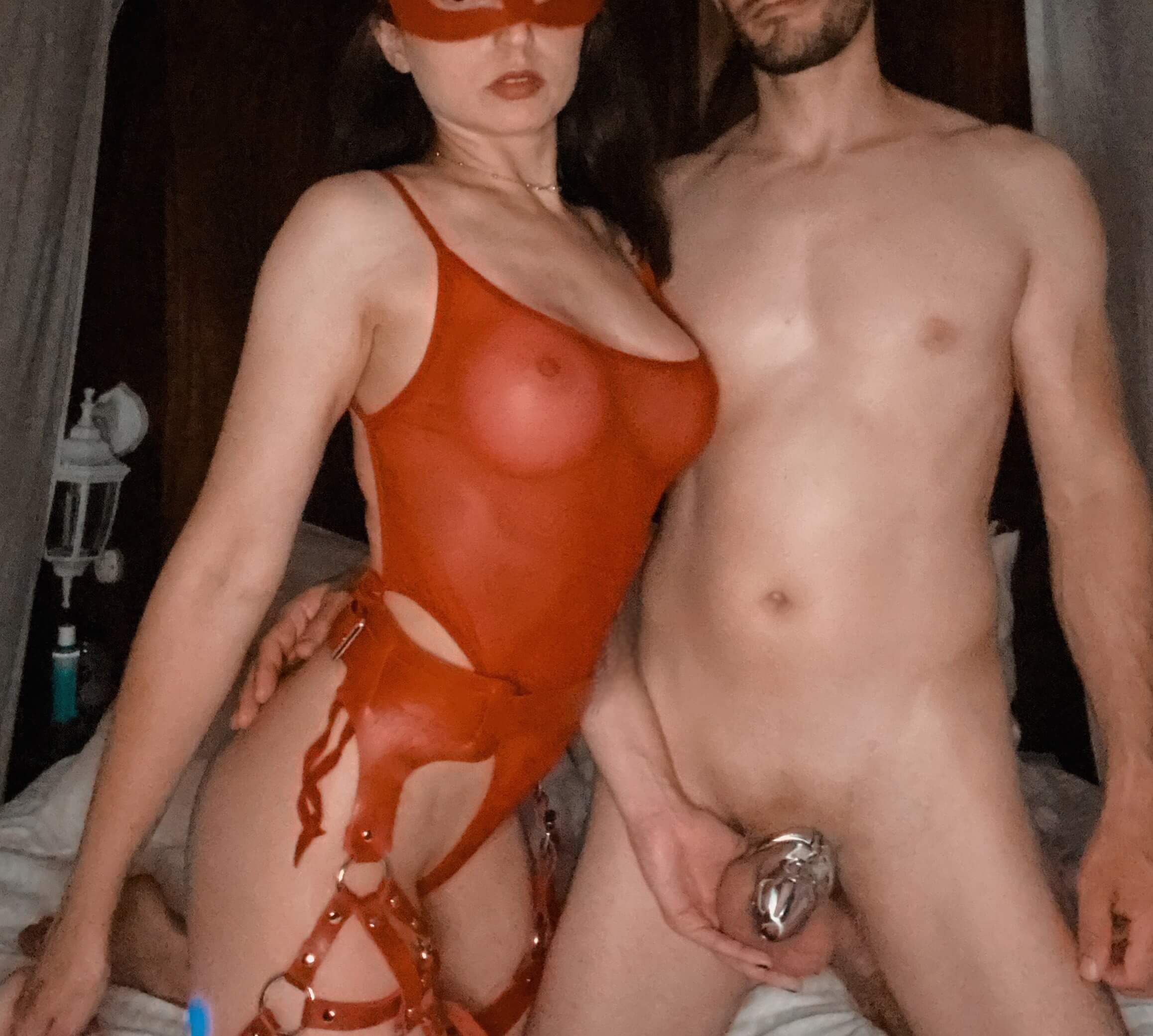 "Your website is so inspiring to me! Thanks so much for sharing. Me and my boyfriend were living a long distance relationship and keeping him locked up in a cage has been really bonding and important in the construction of our relationship and connection. My style is softer, let's put it this way. I really love getting penetrated by dick so we still have a lot of sex. Though he's not allowed to cum without my permission. The longest time I kept him locked without a release was 21 days so far. He can only masturbate and cum under my supervision and guidance. No porn allowed or any other stimulation that doesn't come from me."
---
Gemma (43) from London and her husband. Average lock-up period: 4 months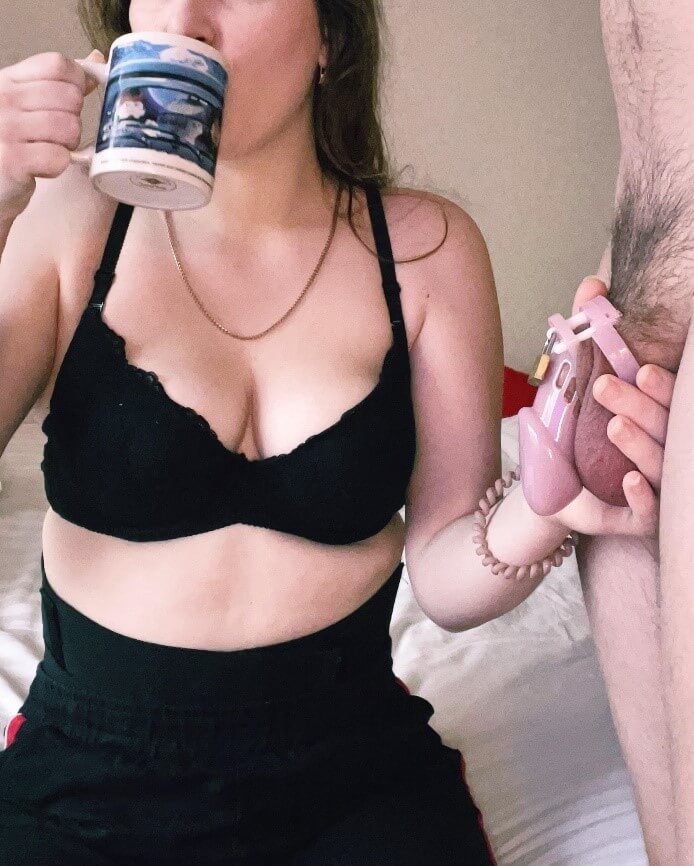 "When he handed over the keys, our sex life was resurrected from the dead. We went from no sex together to more and better sex than when we were first married, all without him experiencing orgasms very often. Besides having better sex, I now have a more caring, attentive husband. We never argue anymore, not even about the household chores or what to watch on TV. He shows me and tells me every day how much he loves me. The chastity devices he wears doesn't make him do this. It simply ensures he does."
---
Andy (29) from Hong Kong, and his girlfriend (31). She wants to leave him locked after she gets pregnant.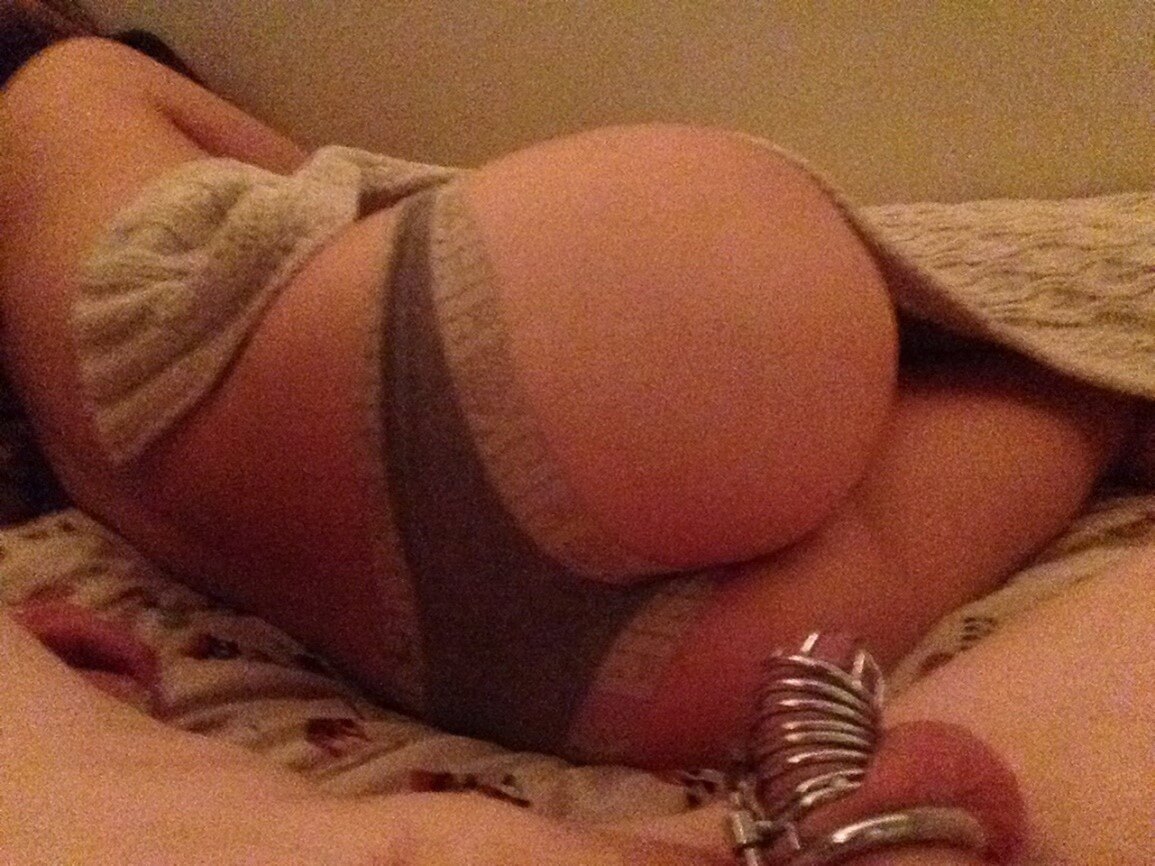 "To all the men out there considering chastity, I can tell you: Yeah, it is called chastity cage but that name is somewhat misleading. Actually, you'll be having lots of sex. Mostly it'll be in your mind. Or oral sex that you'll be providing. And none of this will let you cum. But you'll definitely have lots of sex."
---
Ana (19) from Portugal. Her boyfriend used to masturbate to other girls' pictures – not anymore!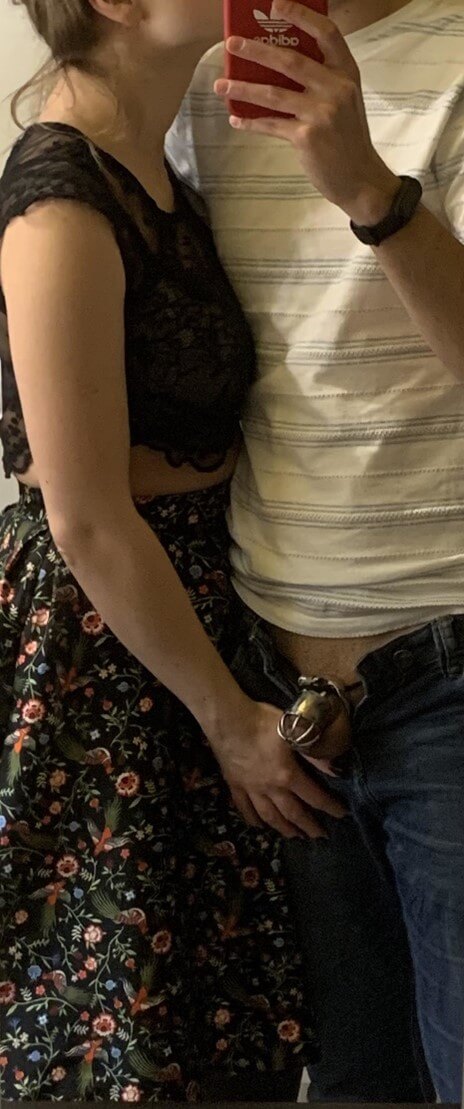 "Me and my boyfriend started our journey mainly because I've always felt that he could do a better job with his hands than having vaginal sex, and the idea of having him locked also turns me on a lot. He has so much desire when he is locked, it's amazing! One key point that I've found during this journey is that consistency is key if I want to keep him happy while caged. The other day, he behaved so well that I decided to give him a handjob. This has been a hell of a journey, but both of us are enjoying it. I'm happy that I'm in control and he is happy that I take the lead."
---
T. and N., who have experimented with chastity for years. His most extended lock-up has been 375 days.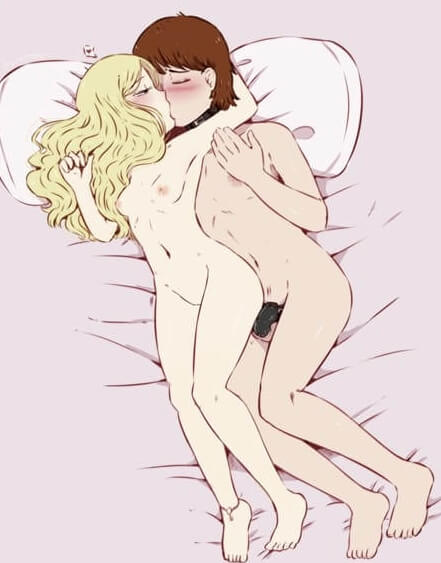 "First, I would like to thank you, I found your website in a Reddit post, and I'm blown away by it. My wife and I have been playing on and off with chastity for 8 years. We started strong, but it flickered off. Her mom and sister know about me being locked up, which I was upset about initially, but now it's rather hot. Her sister even had her necklace with my key on New Year's Eve a few years ago and teased me with it all night, and she ended up having it for three days after. Her mom always jokes about how her daughter has all the power and control in our house. After reading your page, I sent it to my wife, and we have decided to start over. We are going to stay unlocked for the weekend and start fresh with the recommendations from your page on Monday. Thank you again for your page, and we look forward to seeing how our new life changes after reading it!"
---
Marco (39) and Paola (41) from Milan. They have thirty times more sex than before chastity.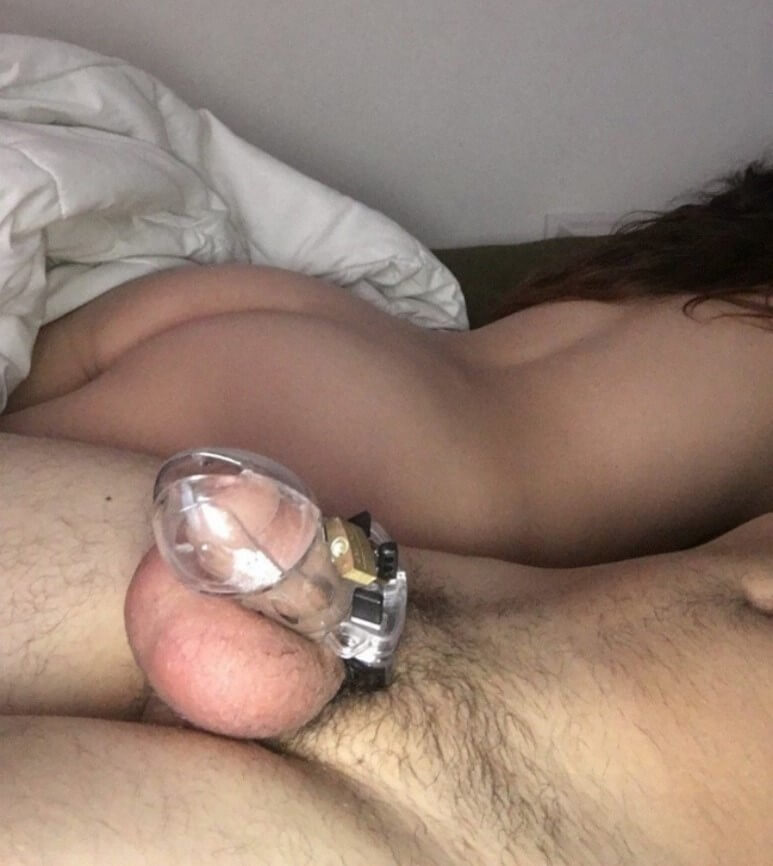 "When we had our children, we had little time and privacy for sex. I don't think my wife was in the mood anyway. We had sex maybe once a month at most. I coped with the situation by masturbating a lot, at least once a day. I don't think she ever really realized what I was doing, because she was very surprised when one day I introduced chastity to her, in order to stop my masturbation addiction. Now, our sex life is much different and much better. Every night when the kids are in bed, I go down on her, which I enjoy a lot. She allows me a release every two weeks on average, usually by giving me a nice slow blowjob. One could think it's unfair that she gets so many more orgasms than me, but we agree it's only fair given my thousands of excess orgasms from my years of secret masturbation."
---
Angel (32) and Ryan (34) from California. She says she's never been more in love with him.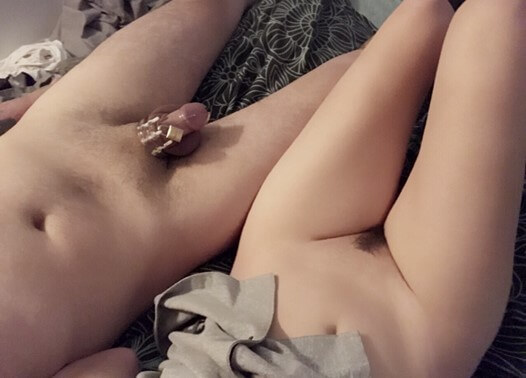 "Right now my husband has been locked a little over 6 weeks. He's more attentive to my needs, helps out around the house and with the baby without me even asking or having to tell him, very in tune with my body and my needs, more submissive and less aggressive... the list is endless!"
---
Mya from the US. She loves to be kinky in the bedroom and keeps her partner locked 24/7.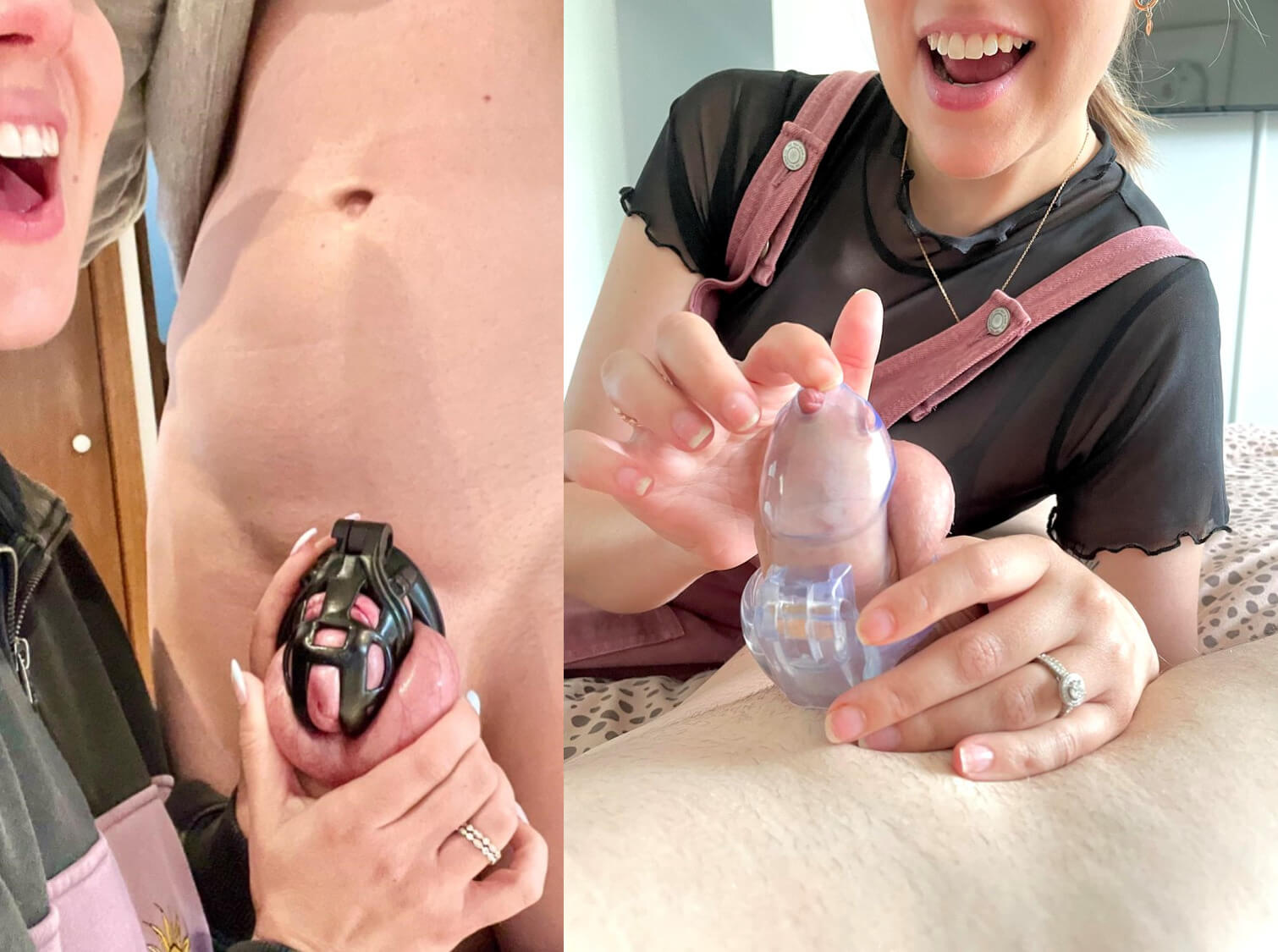 "Male chastity is very important for me. He is always locked except for cleaning or when I give him a handjob every few weeks. When I unlock him, I expect him to cum in less than a minute, otherwise the cages goes back on. We've always been a kinky couple: besides chastity, I really love to slap or kick his balls, which really turns both of us on like nothing else, or peg him with my strap-on, which is a beautiful and intimate way of making him cum without even unlocking him."
---
Rebecca (38) and her husband (39) from Chicago. His longest lock-up period was 6 months and 3 days.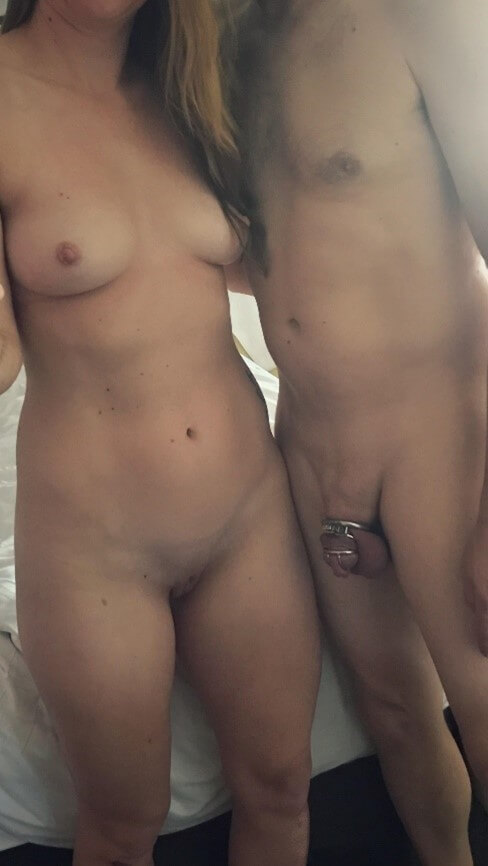 "At first I didn't get the appeal of chastity. Now that my husband is in chastity, I'm more attracted to him than ever. It makes him so much hotter. It would be real let down if he wasn't wearing it. He looks so cute with that little chastity bulge in his underwear. Also, his behaviour has improved significantly. He didn't realize how often he treated me badly or upset me. Now he's trying to be a perfect husband."
---
Jenny and her boyfriend. They are in a long-distance relationship and he remains locked when she's not around.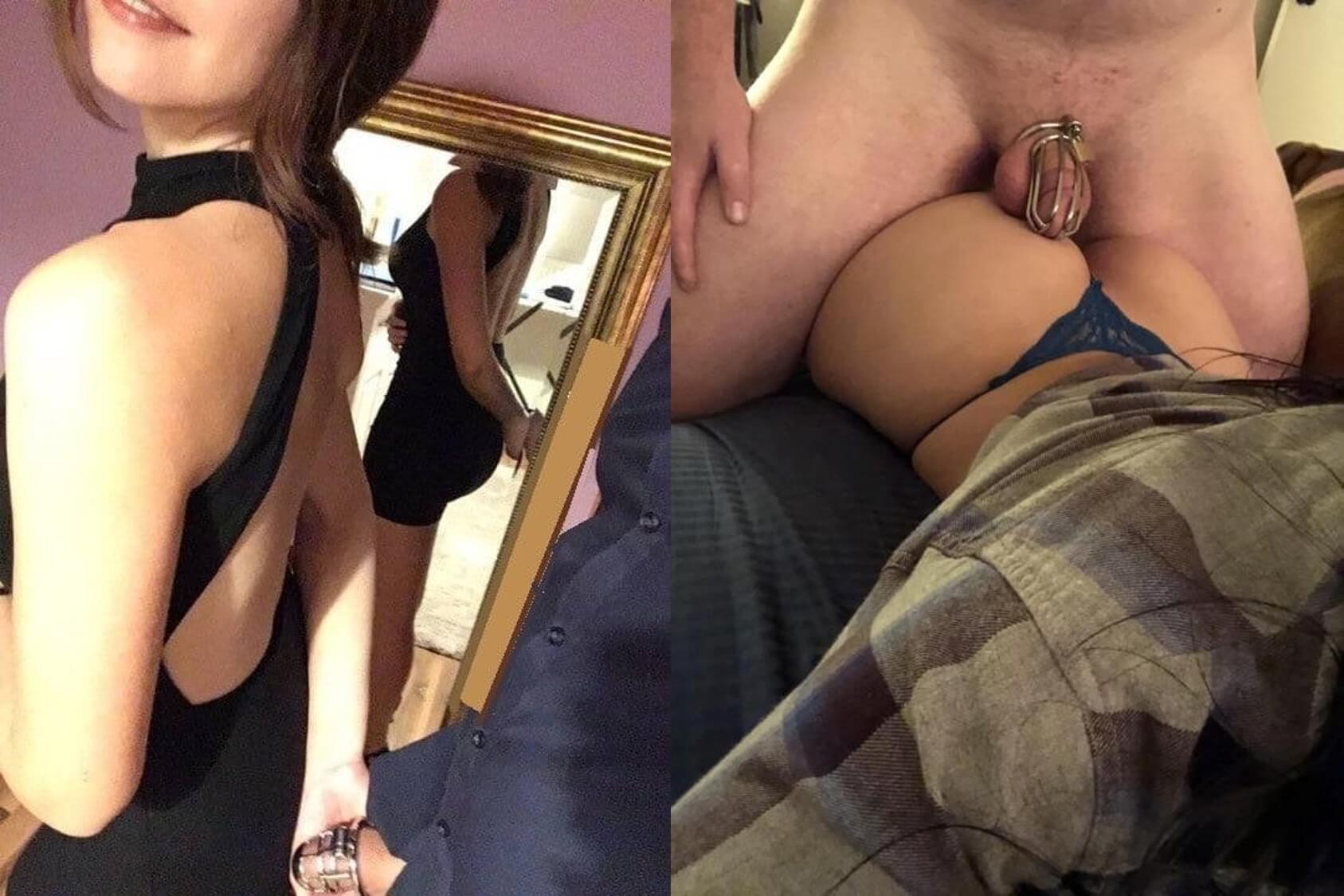 "To all the ladies who think their partner is weird for bringing up chastity. Just stop for a second and think. He wants to worship you, he wants to belong to you, he wants to pleasure you, he is willing to suffer for you, he wants to devote himself to your happiness. And he'll love every second of it. What are you waiting for?"
---
Keyholding princess from the UK. She receives oral sex almost daily.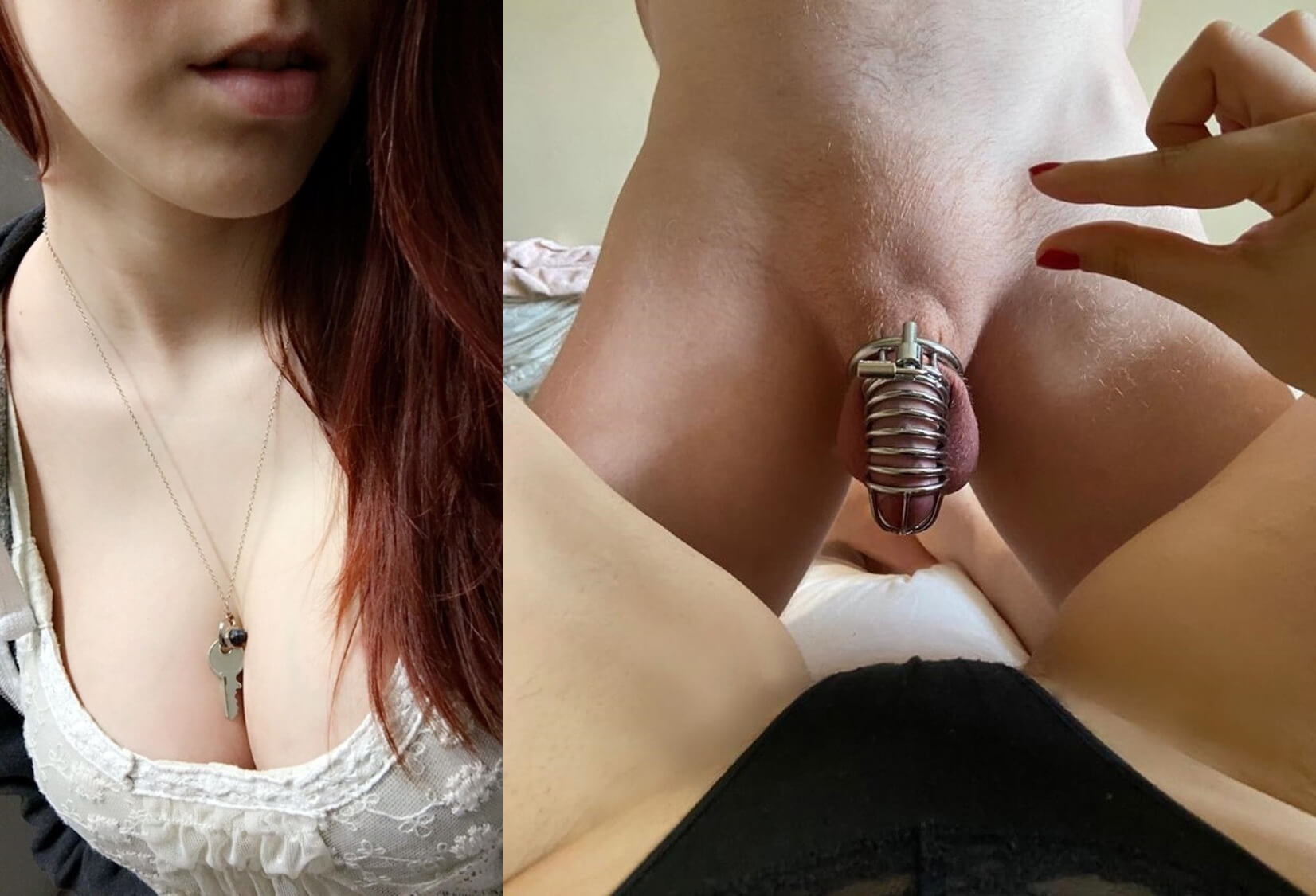 "In our relationship he brings in most of the money (I only work part-time), he does all the chores at home, he buys me nice things and he showers me with attention. I'm his princess. That's because he wants to, not because I make him. In the bedroom he always makes sure to satisfy me. I like having sex with him, but I really love getting licked. We have started using a chastity device which is turning me on like crazy. Currently he gets to orgasm once a week, normally a handjob but sometimes a blowjob if I've been very happy with him. However, I plan to slowly increase the time between orgasms, from weekly to fortnightly and then to monthly."
---
Max (35) and his wife from Austria. He is thankful for her open-mindedness.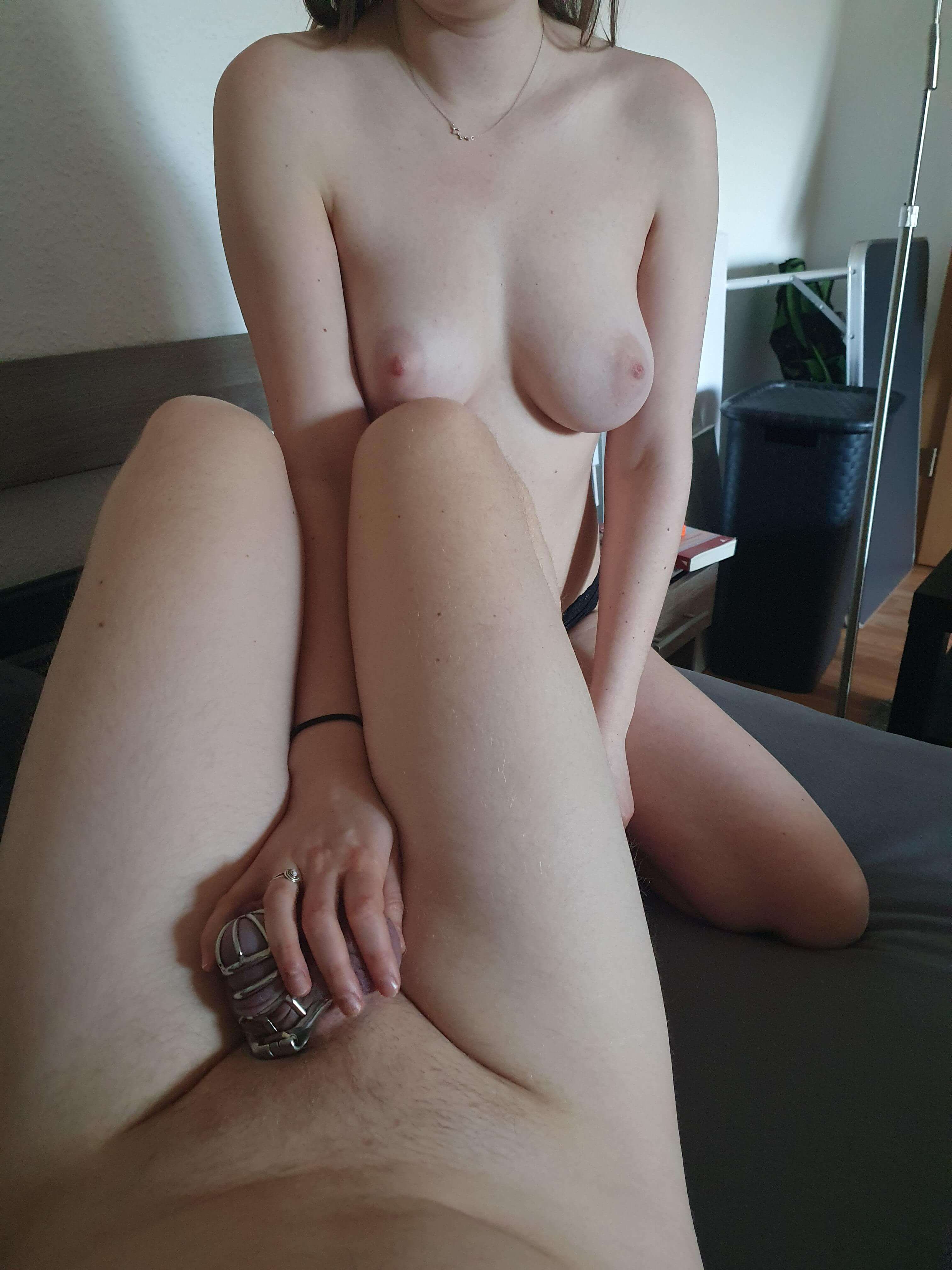 "I have never been a kinky person per se, but I have been interested in chastity for a long time. I was always afraid of asking my wife because I thought she would reject me. When I finally asked her, I can't say she was very eager, but she said ok let's try it at least. Now, two years later, she's super into it and I couldn't be happier being with her. I think the biggest thing my wife got was relief from whatever sense of "duty" she might have had. Knowing that I am locked also eliminated her guilt about "needing" to fuck me, eliminated the need for duty sex. She is happy to supervise my masturbation every few months or give me handjob."
---
Satisfied woman (25) from Texas. One of her girlfriends recommended male chastity to her.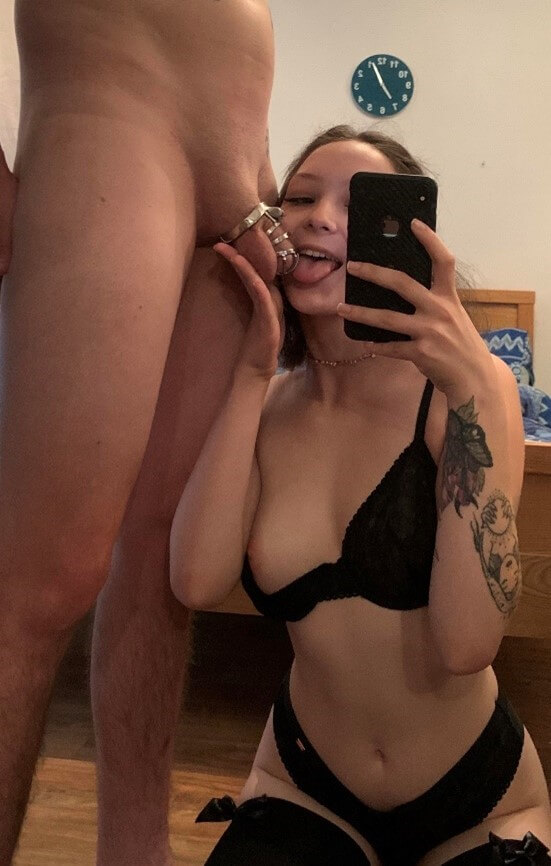 "Male chastity is great for us, it was getting a bit stale in the bedroom. He makes me feel so sexy all the time now. Since I locked his cock up and have no plans to unlock it anytime soon, I guess I'm going to have to endure yet another night of long, boring massages followed by him going down on me until I've had enough. Sucks to be me..."
---
Joakim (32) from Sweden. He claims chastity has saved his marriage.
"I love the feeling of being locked and knowing that my wife holds the key. It's like being newlyweds again. I love it when she touches herself knowing I can't. I love it when she tells me my penis belongs to her. I love that she decides when it gets to be touched, when it gets to get hard, and when it gets to cum. I've never had fewer orgasms. I've never done more housework. At the same time, and I can't believe this is how it actually works out, I have never been more in love with her, and I have never been more content with my position in life."
---
Suzy (42) from Australia. She wants her husband to get a piercing for 100% security.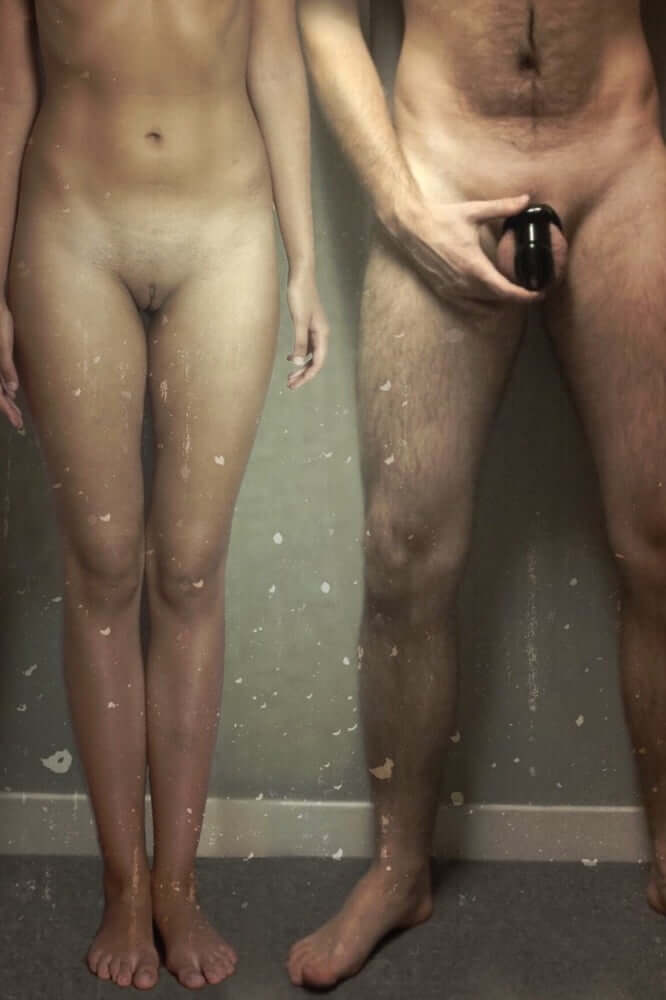 "Agreeing to lock him in chastity was the best decision I ever made... Now he belongs to me and will do anything to please me. I am never going back to the way things used to be, I just wouldn't be able to live like that again."
---
Noah from Canada. His relationship suffered from his porn addiction.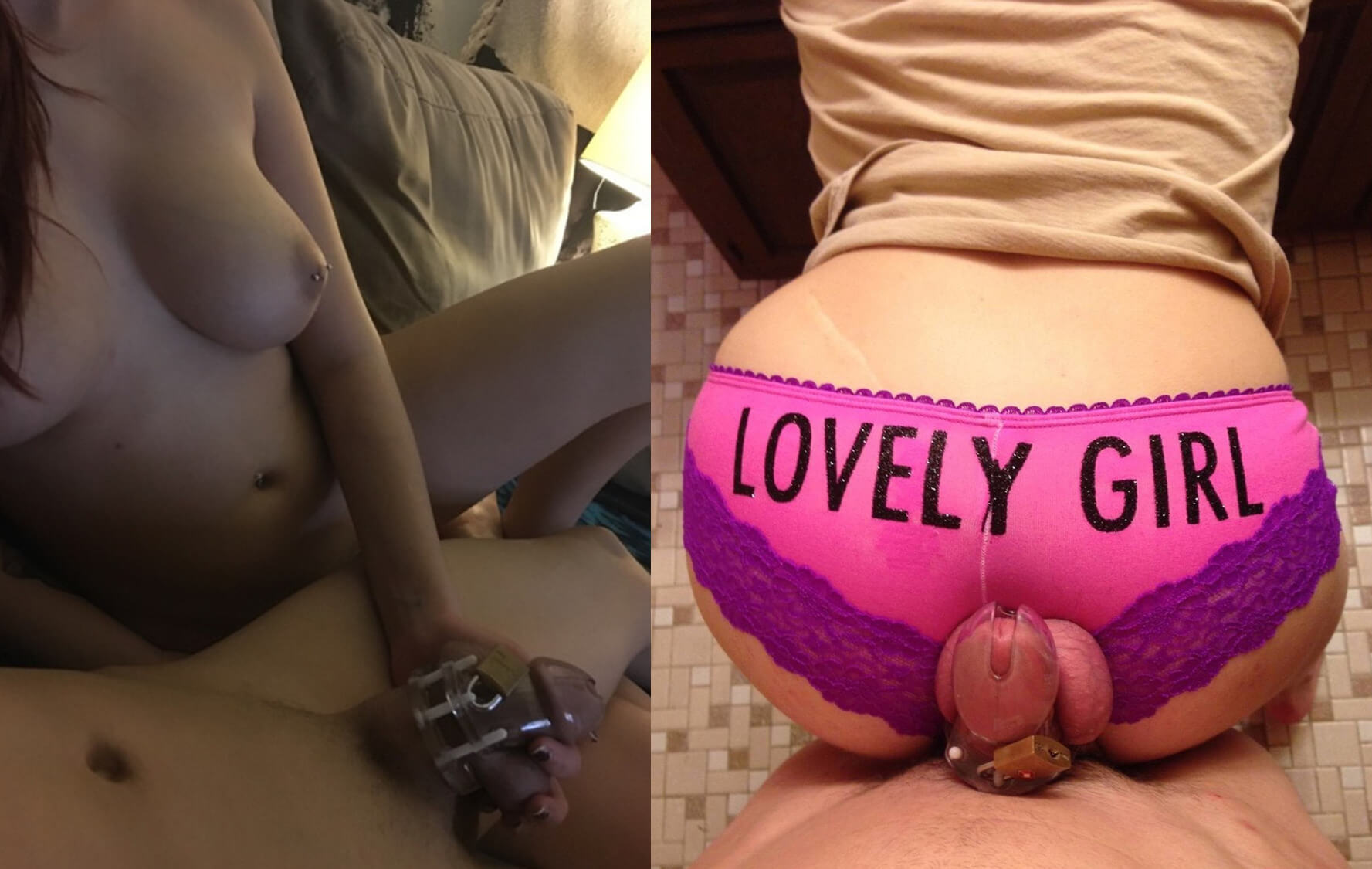 "I realized that I was masturbating too much, pretty much every day. As a result, I was not really interested in sex anymore when my girlfriend would be in the mood. I often was unable to finish during sex and sometimes even struggled to stay hard. Something had to change. After some back and forth, we decided that it would be a good idea to try chastity to stop my masturbation. Now, I only get to cum when we have sex, which is about twice a week. My performance really has improved. Once she unlocks me I am hard as a rock and ready to go. Best of all, my "porn brain" is finally disappearing! I used to think about porn scenes to stay hard during sex, but now just seeing my girlfriend in panties makes me throb."
---
Married couple from Colorado. They discovered male chastity four years ago while watching porn together.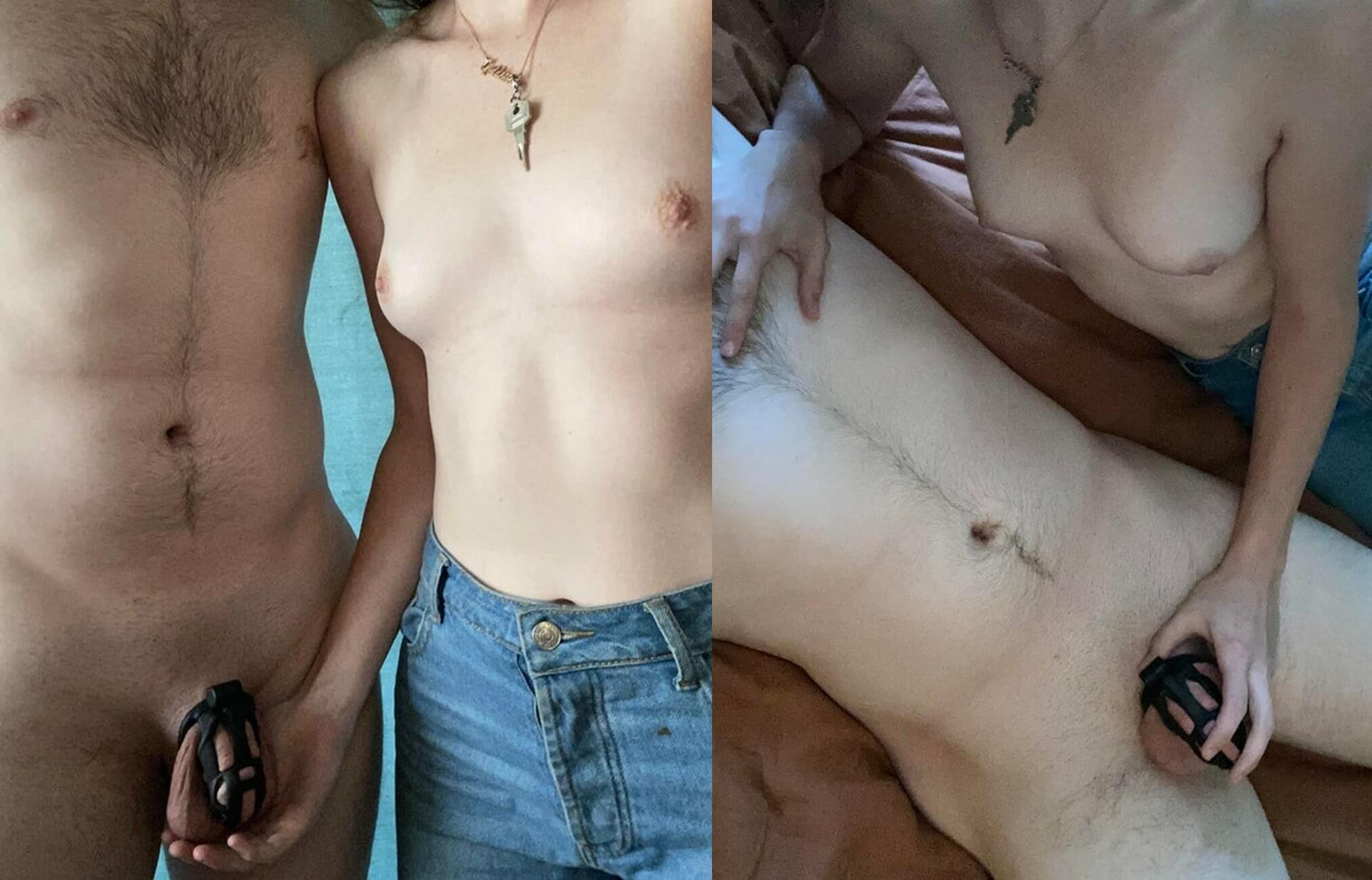 "I don't know if long-term male chastity was what my husband REALLY wanted or if it was just a fantasy that turned him on. It doesn't matter, now it's my fantasy. Ever since I stopped letting him masturbate, he's been an amazing husband and he's given me amazing orgasms. Our sex life has never been better. I'm not giving that up."
---
Married couple in their late 30s. She says she will never allow him to masturbate again.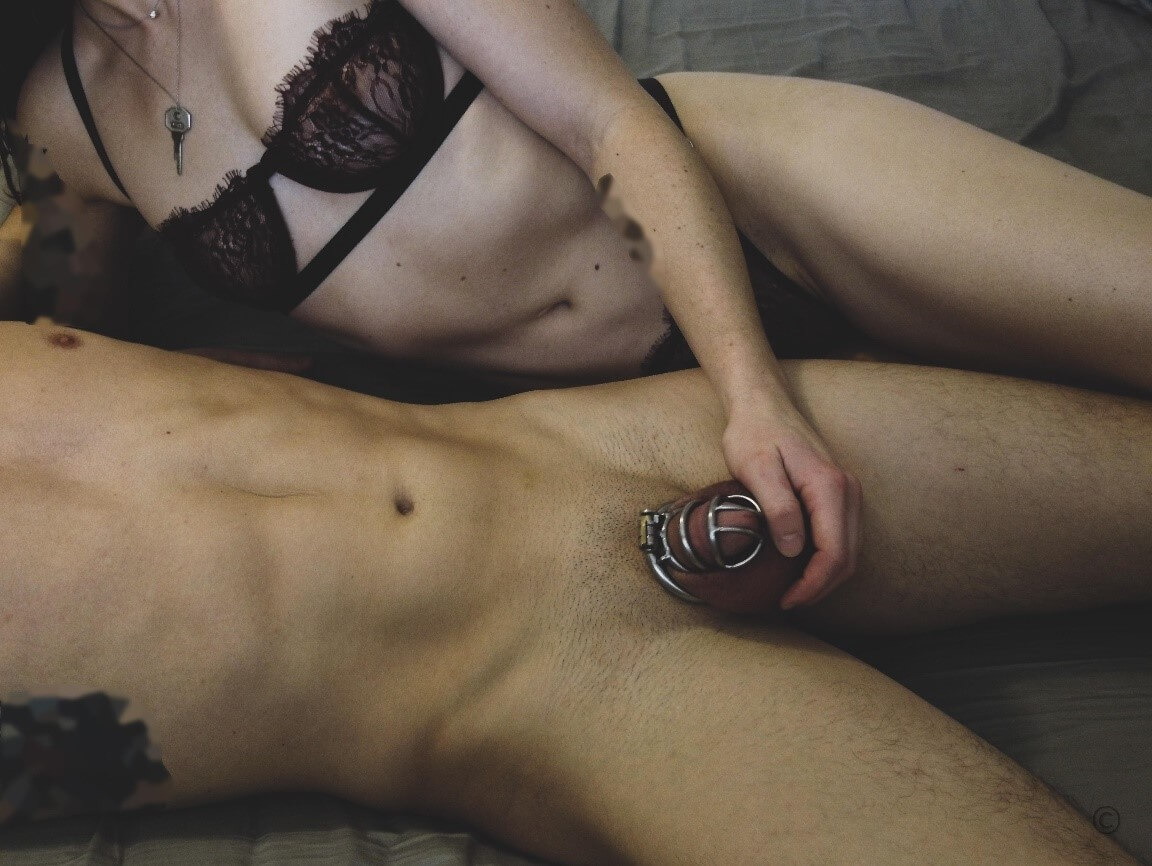 "Sure, he can still call it 'his' cock, but only because it is attached to his body. It isn't really his anymore, thanks to that little cock cage. He can't get off, he can't touch it, and he can't even get an erection without my permission. That means only I control it. So yes, it's still his cock, but I own it. It's the greatest feeling in the world."
---
Another happy couple. She says that the longer he's locked the better he behaves.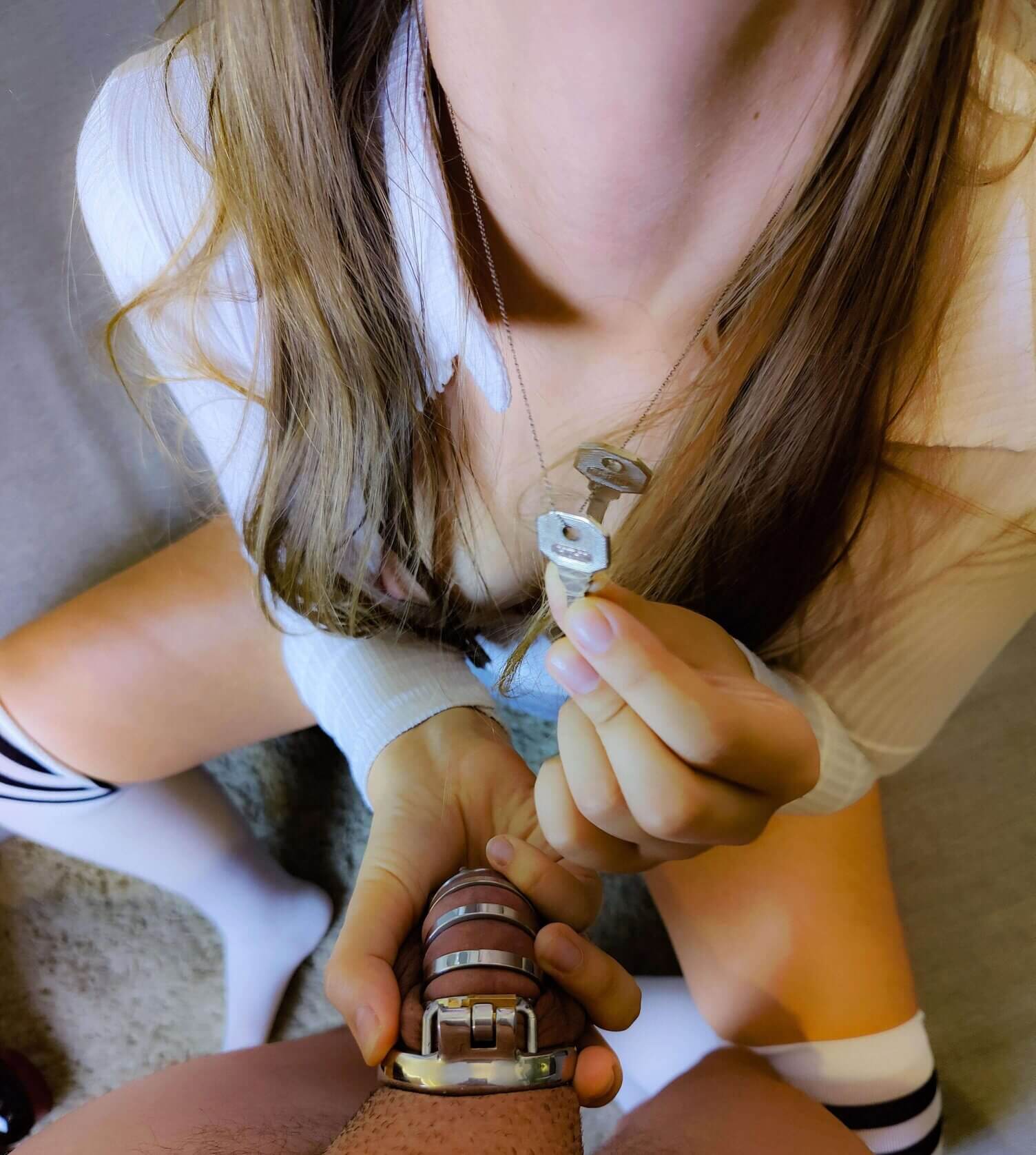 "I followed the advice of a friend and told my boyfriend I wanted to lock his cock. Since that moment he's been like another man. More sympathetic, caring, and a great listener. He never forgets to do something I asked. He's so sweet and romantic now, he does everything I want him to. We took it as play first, and I gave him a weekly handjob to release the tension, although sometimes I ended it with a ruined orgasm. Nowadays the cage goes off very rarely. He'd do anything for a monthly handjob. Or a blowjob if he's been very good."
---
Yoona (27) and Toby (29). They claim to have an orgasm ratio of almost 200 to 1.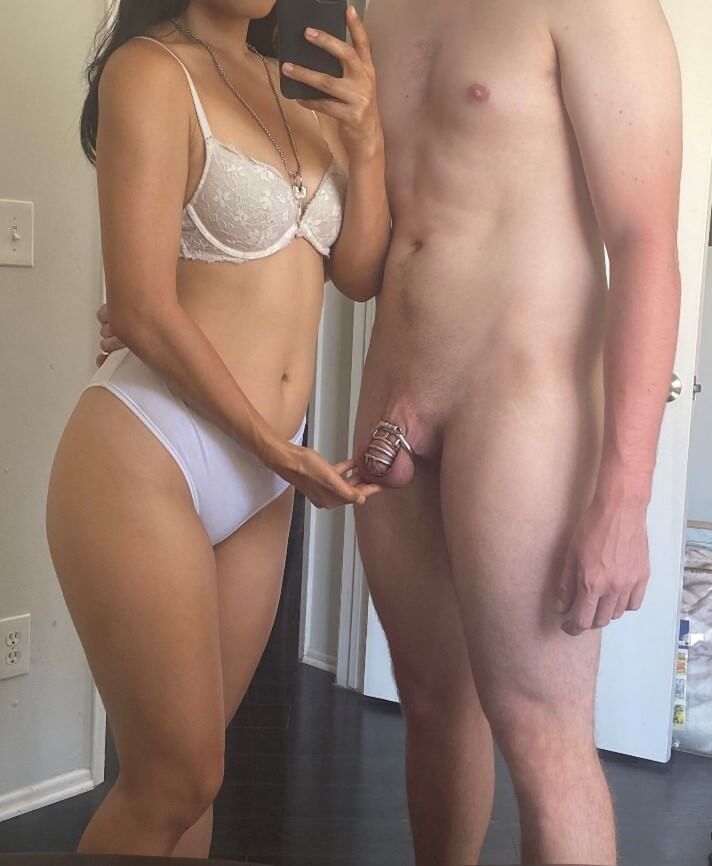 "There's nothing hotter for me that showing my love to my boyfriend with chastity. I've effectively taken his penis off him and put it under my control. He can't get hard and can't masturbate anymore unless I say so. He used to take ejaculations for granted, now they are something he'll have to earn."
---
Happy chastity couple from Poland. He recently proposed to her.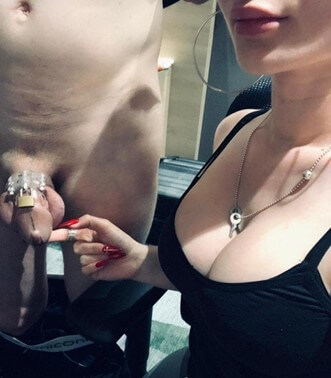 "I am the luckiest man in the world. How many guys could say their girlfriends care enough about what they do with their cocks to keep them safely locked up like she does to me? I am thankful to her every day."
---
Couple from Brazil. He's been a selfish lover – until now!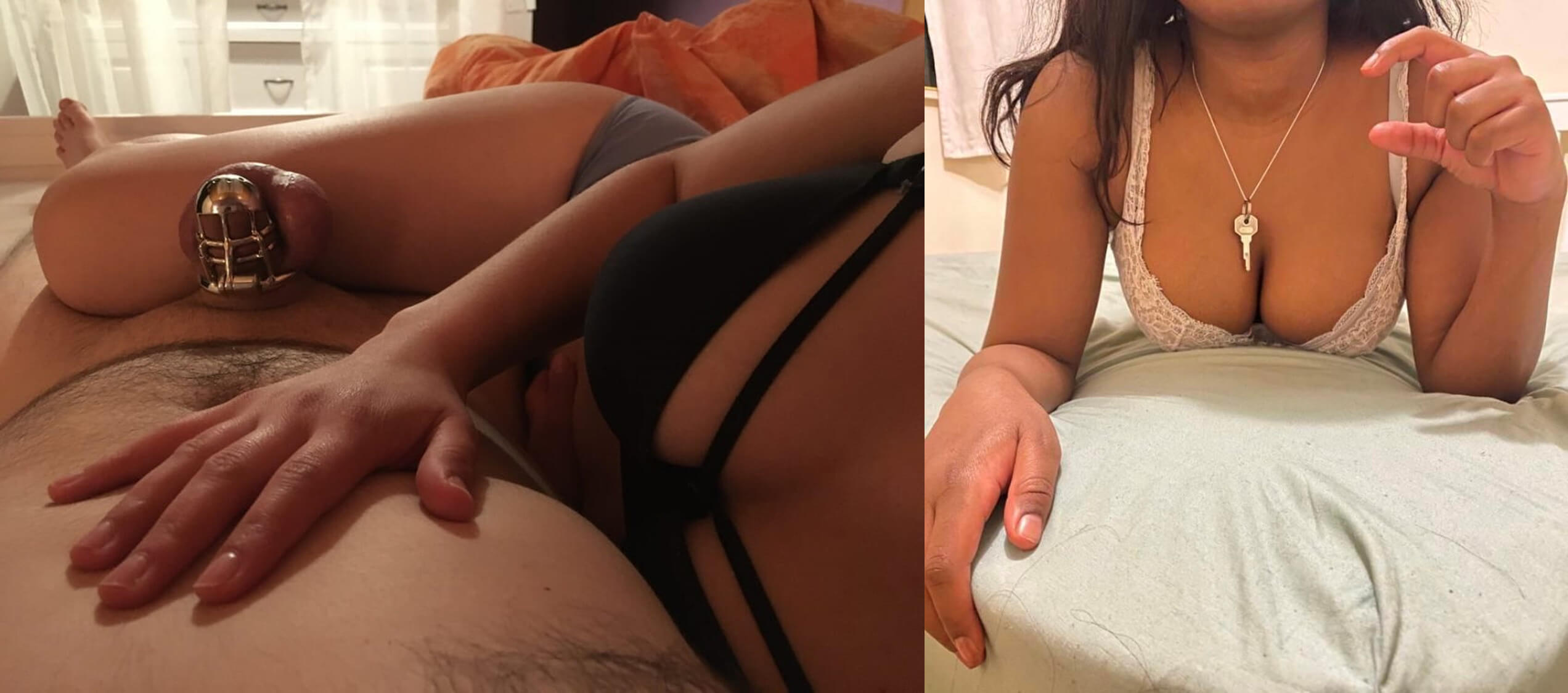 "For us this journey started when my wife and me got drunk one night and she admitted that she thought I was on the small side down there. I was hurt and we had a big fight. But after things calmed down I came to accept that she was factually right. She never cums during sex, only when I go down on her or when she uses a vibrator. Over the coming weeks I started to eroticize my shortcomings and asked her to lock me in a chastity cage. She agreed and yesterday we bought a cage together. For her, not much will change as she never needed my dick in the first place. For me, it means focusing more on her needs from now on. We decided that for every ten orgasms of hers I am allowed to get one release, to make up for all the years of putting myself first."
---
Stacy from Ireland. She says she'd rather be single than have a partner who's not willing to be locked by her.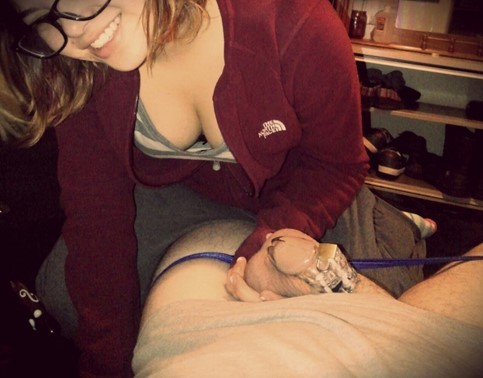 "Since I have become my boyfriend's keyholder, I can't stop touching his package. It's so gratifying knowing that this most masculine part of his has been tamed and is now totally under my control. There is something truly empowering about it and the thrill of it has never left me."
---
Alicia (27) says her husband introduced chastity to her, but now she's the one enjoying it the most.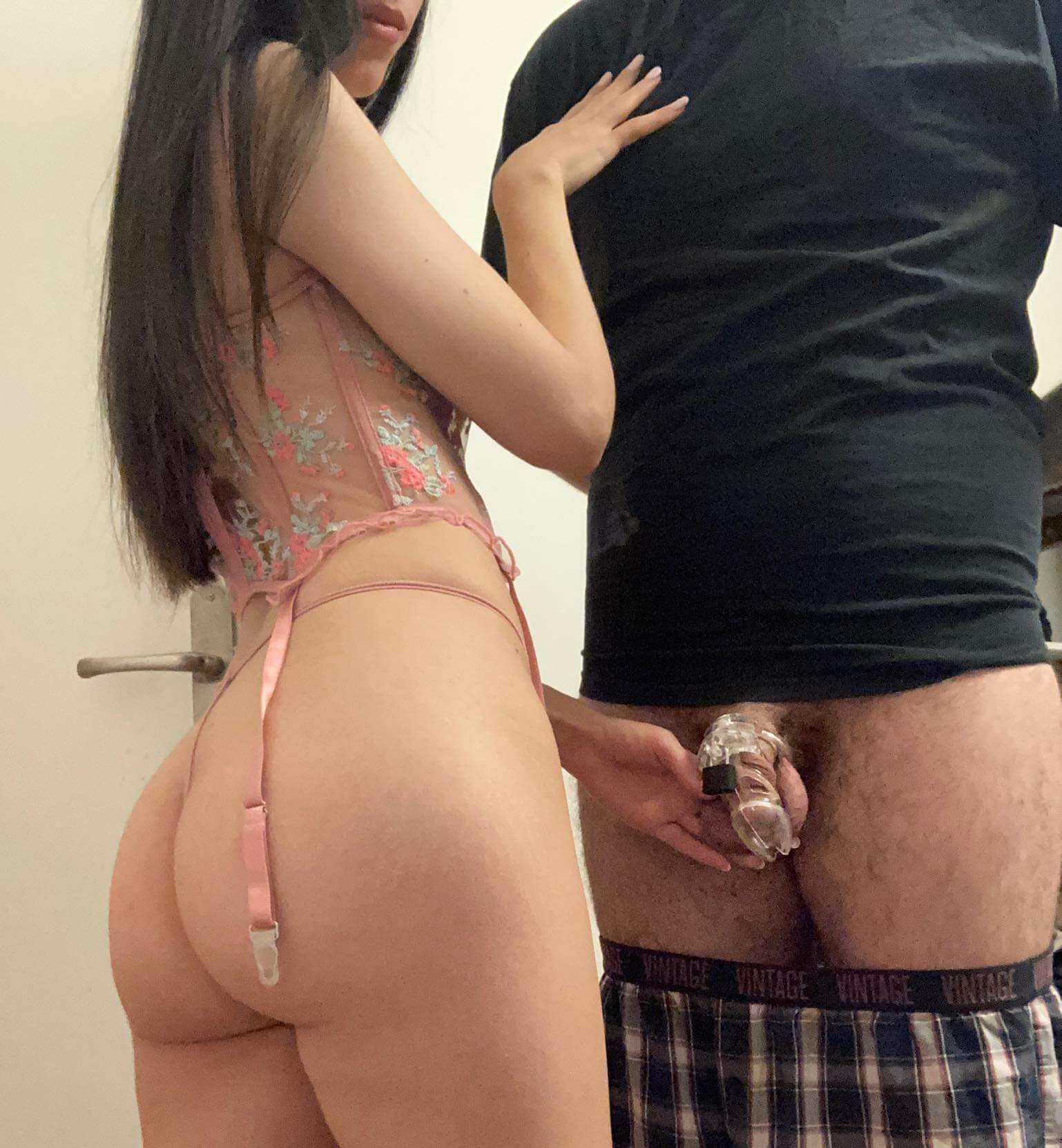 "I love keeping my husband in chastity. I believe that masturbation is a form of cheating, and a little bit insulting. I should be everything he needs. So for me it makes perfect sense to lock him up. Once he got a bit desperate and begged me to unlock him, promising he won't masturbate anymore. So I said, if you don't do it, then you shouldn't care about the chastity cage. He had to agree. And now it stays on until I want sex, which is about once or twice a week. It also makes love-making more special when he has to wait and earn it. He's so eager for that. We have a great relationship."
---
Happy couple from the Netherlands. When he brought up chastity for the first time, she loved the idea immediately.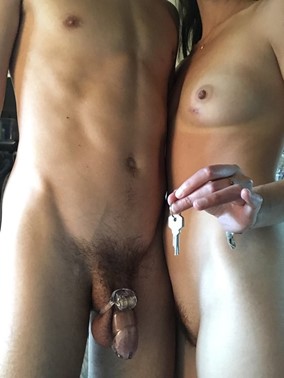 "I lock the front door when I leave the house. I lock my car after I park it. Why shouldn't I keep my man's dick locked up when I don't need it? Ladies, if you like it, put a lock on it."
---
Nadia from the US. She wants to tell her girlfriends that she is her boyfriend's keyholder.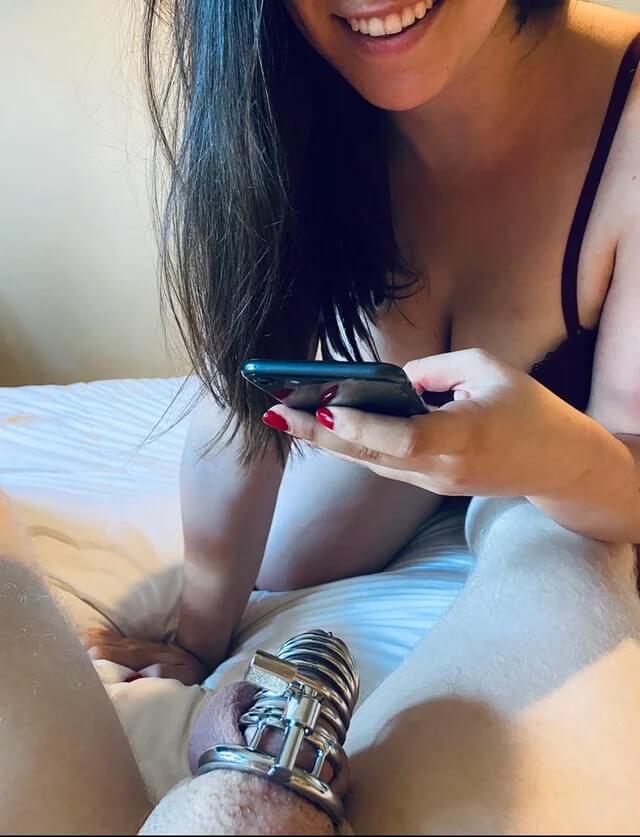 "It's amazing how much a man's personality and mood improves once his penis is under your control. It's not just the usual stuff, like him wanting to please you more, both in and out of the bedroom. I also noticed how he has become less aggressive, more joyful, and more content in general. He used to get angry easily when something wasn't going his way, but this childish behavior has stopped permanently after the first few months of chastity. He has really grown up and matured, and now he is more attractive in every way. I love him so much."
---
Riley from New York City. They are saving money for a custom-made titanium cage.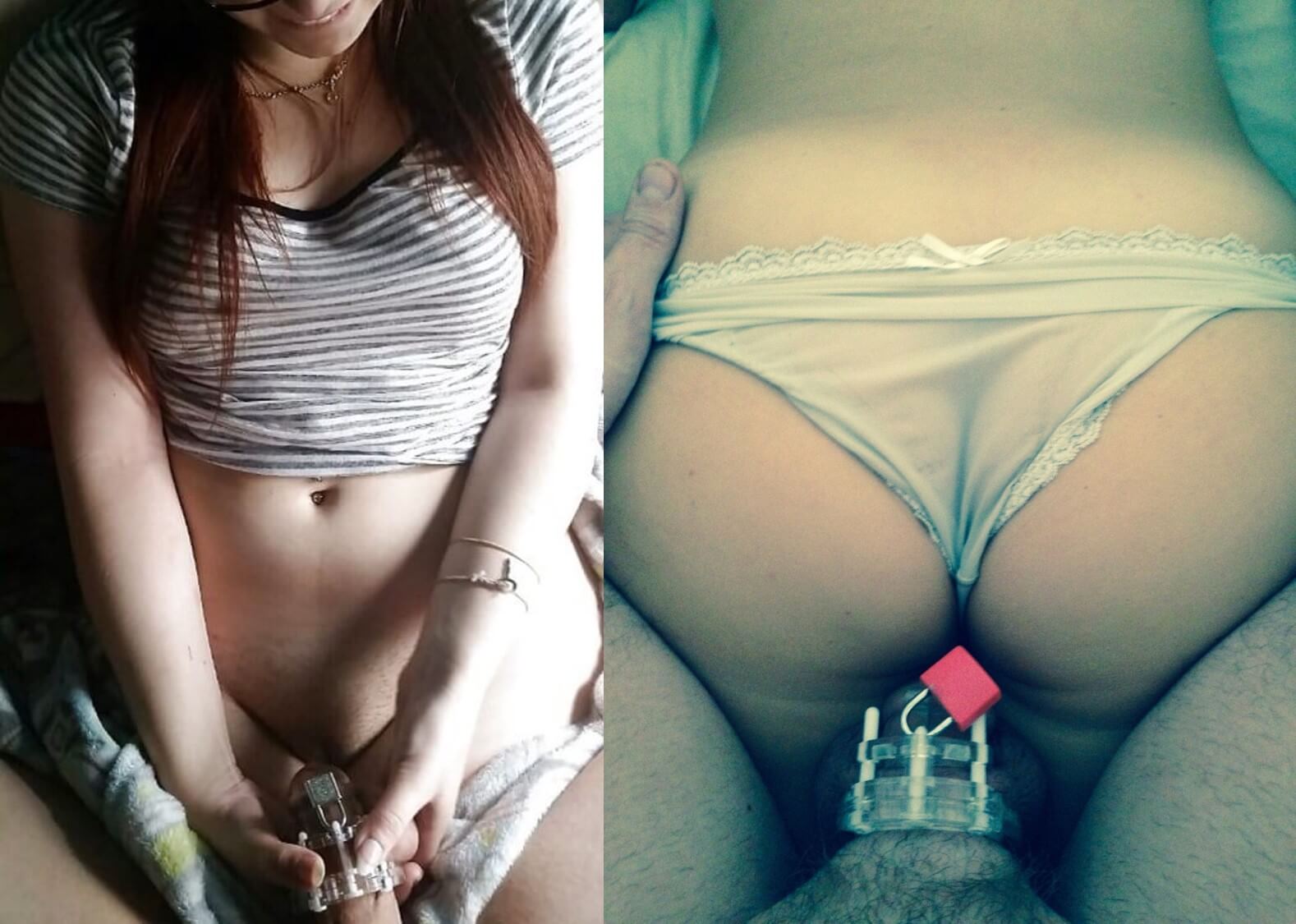 "I don't want him thinking about other girls. Chastity ensures he only thinks about me! At first, I was apprehensive, but the truth is that I love being the main character in his every fantasy."
---
Janine (29) and Jamie (30). She left the key at her place of work to avoid the temptation of unlocking him too early.
"We have played with male chastity on and off for a couple of years now. But whenever I unlock him for sex or a handjob I am too timid to tell him to lock back up afterwards, and I guess he is not in the mood after cumming because he never takes the initiative either. So he ends up remaining unlocked for a while until one of us brings up chastity again and we start over. I read your website (after my boyfriend asked me to) and I have decided to be "serious" this time. I told him we're going for three months without unlocking, just like you recommend. It's only been two weeks so far but I can already see a big difference in his attitude. I'm really excited to do the whole three months. I can't stop teasing him, knowing he won't have a release for many more weeks."
---
Happy chastity couple from Spain. She lets him have an orgasm for every ten of hers.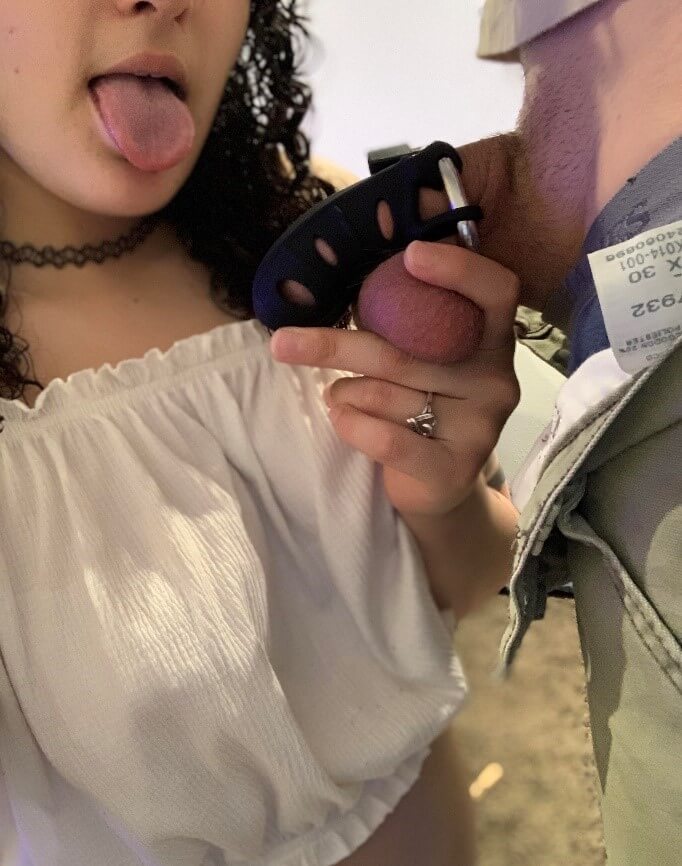 "Locking my boyfriend in chastity was the best decision I ever made. He is more caring, puts me first, and has more sexual energy than ever before! Keeping him in a chastity cage makes me happy."
---
Happy couple from Georgia. She wants him to get a Prince Albert piercing.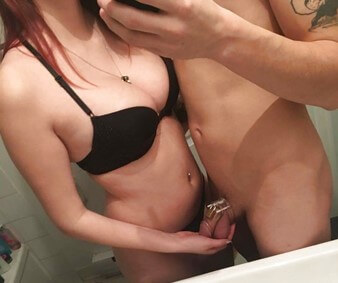 "Women always want a guy to treat her like a queen. All they got to do is lock a guy up! Holding that little key will improve any relationship. He will care more about your needs and wants before his own, he will be willing to please you all of the time. I love the control over him that chastity gives me. With his cock locked away, I don't have to worry about keeping him satisfied or giving him sex when I'm not in the mood. This ability to decide what I want to do with my body is very liberating."
---
Ryan and Jess, in their mid-20s, from North Carolina. She was sceptical about chastity at first, until she saw how he started paying her attention.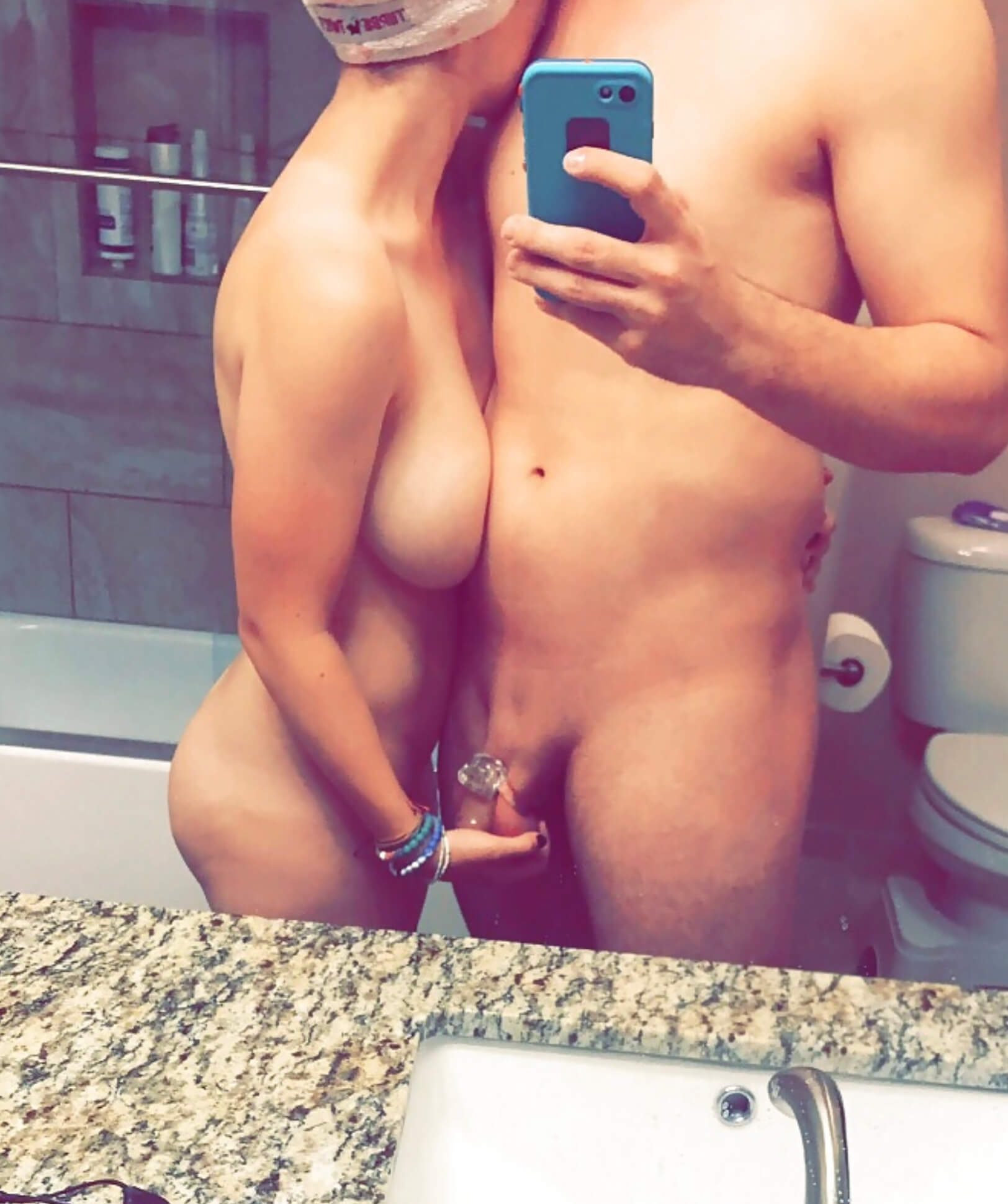 "When Ryan told me about his masturbation, I was kind of shocked. Almost daily is not healthy for any person or relationship. Chastity put a stop to it. I told him orgasms are a reward now if he does good going down on me and taking care of my needs. I like having more control over our sex lives and more focus on me. I enjoy my pleasure coming first and how he worships me. Being his sole source of orgasm is a power trip. The craziest thing is I want sex more than ever since he's been in the device.

Rather than sex still being penis-centric it's now all about my pussy's pleasure. The chastity cage has led to cunnilingus on demand and the use of more toys to achieve deeper, better penetration. Our foreplay can now include hours of pussy eating or him using a big dildo on me. I bought him a spiked cage – it's so sexy just hearing him moan from the frustration and the spikes digging a little. Now, when he's released he uses a cock extender on me and his orgasm isn't guaranteed. It's funny because that's how it used to be for me, but he's learned what I knew – that it's not about the orgasm, it's about the connection. I love the girth and length of the cock extender, it feels better. The idea of him knowing his release for orgasm is dependent on my orgasm and seeing his eagerness to please me is also very hot.

It's starting to dawn on him that he doesn't decide if he cums anymore. Right now our goal is to bump our orgasm ratio up from 4:1 to 10:1 and eventually higher. On your site you mention men fantasize about chastity, but it ends up being different – I think that's starting to happen for us. But I'm not going back to him masturbating behind my back ever, those days are done. This new lifestyle is literally a fantasy for me, he stopped masturbating and porn use, in return I get to feel like the sexiest woman ever and we get more passionate, intimate sex.

In our emotional and shared life he is more attentive and caring, he's better about helping with chores, he remembers more and is more alert to different things, he is getting in even better shape and spends more time with me. He also gives me massages, kisses and cuddles without expectations of release. In that sense I think he's become a better man and partner. I don't boss him, the cage just made him better, more loving and more productive. Before he was good about stuff but now he's like Superman. My friends were shocked by his change in personality and wondering what our secret is! I told two of my friends about chastity and our orgasm ratio and they can't believe I orgasm more than him and were definitely intrigued. One of my friends also locked her man after she saw your site and saw how my experience has progressed. I'm so happy he brought chastity into our lives, I'm certain this dynamic can be long-term. I think all women would benefit from using the cage."
---
Alix (29) and Adrien (35) from Paris. She's got hundreds of photos of his locked penis saved on her phone.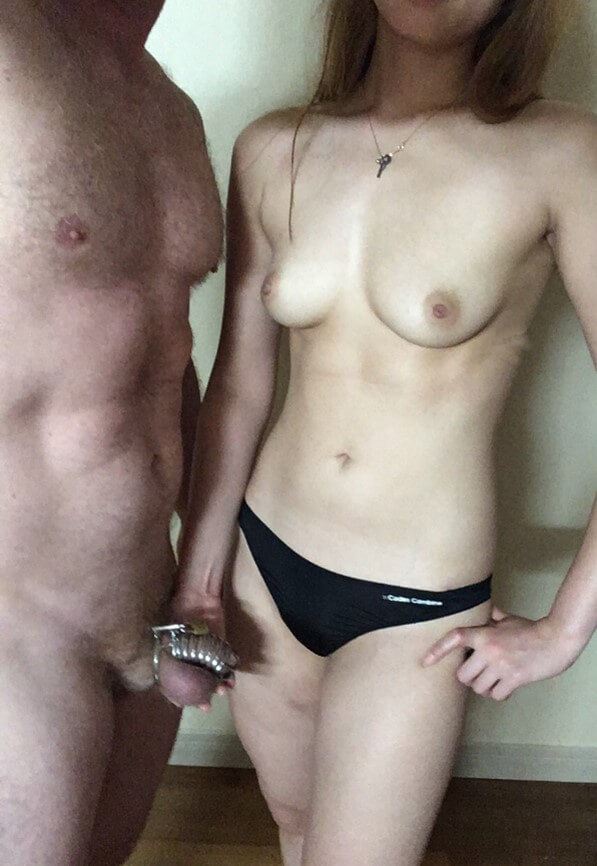 "Even simple things like kissing and cuddling together, with him locked in chastity, can be fun. If you're a "vanilla" woman reading this: Go on, try it tonight. We are physically intimate far more frequently than we were at any other time in our marriage. And despite this he's had fewer orgasms than ever."
---
Happy couple from New York City. His longest time without release was two months.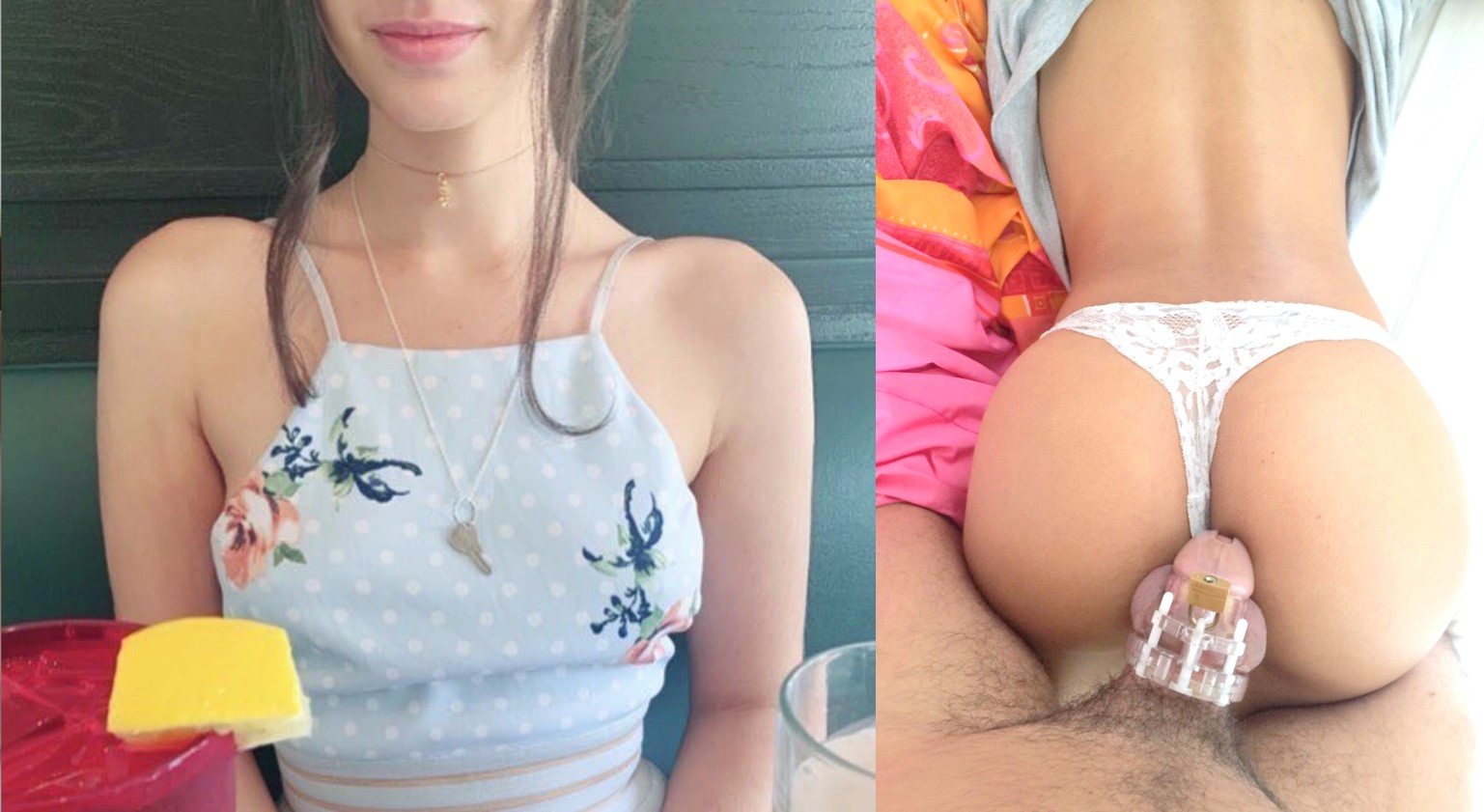 "Hey Ella, I just wanted to tell you thanks for convincing my wife of the benefits of a chastity piercing. I will get a PA next week and then order a new cage to go with it. She is not a fan of piercings, but agrees that it's the best (or only?) way to make sure I can't pull out of the cage or cheat on her in any way. I've been locked in chastity for a year or so (with semi-regular releases) but at the back of my mind I always knew that if I really wanted to, I could pull out, masturbate, and possibly get my dick back in without the key. Not that I ever did, but mentally it's a big difference knowing there is no way to get off with a piercing."
---
Ashleigh (32) from Boston. He gets rewarded one release for every ten times he hits the gym.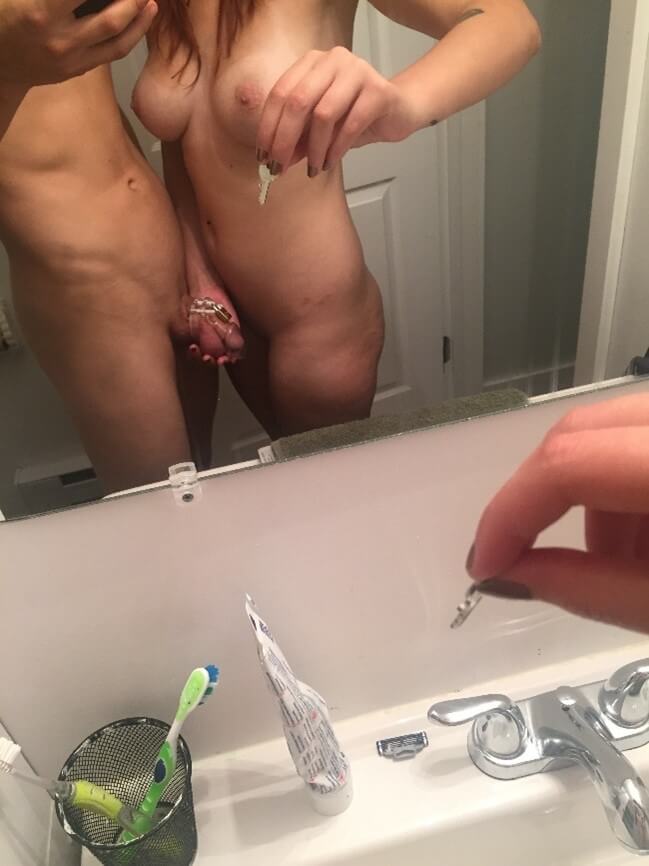 "Chastity is the second-best thing that ever happened to me, after meeting him of course. It taught him to focus on pleasing me. It made him a better, stronger man, and a better boyfriend. I genuinely prefer his dick caged. Chastity has been a gift."
---
Olivia from the UK. She says her sex life has never been better.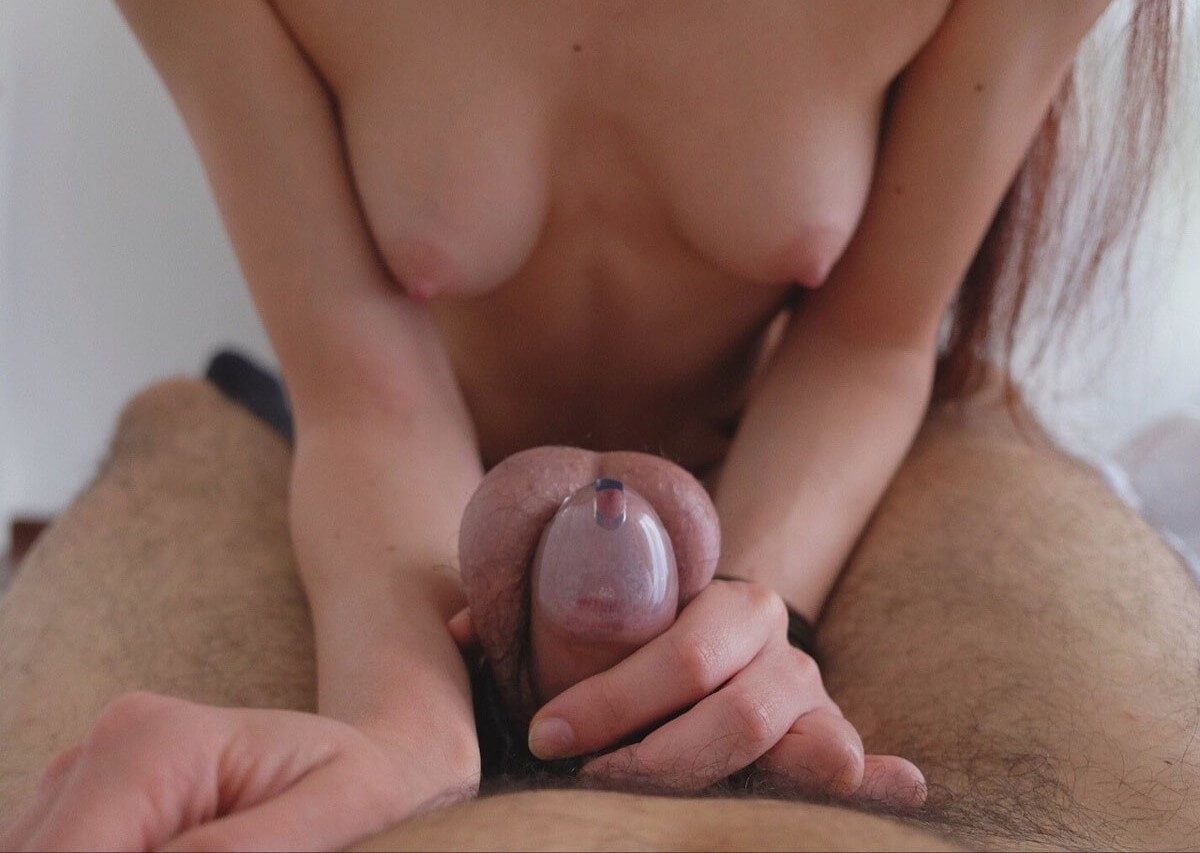 "Dear Ella, thank you for your website. I read it after my fiancé sent me the link and after thinking about it for a while I agreed to try out male chastity. Now we have sex whenever I want (rather than every single time he's horny) and we stop once I've had my orgasm and then I lock him back up afterwards so he doesn't get to finish. I don't want to take the pill and he hates condoms so you could say this is our way of birth control. I have put him on a weekly orgasm schedule. Every weekend I get my boobs out and allow him to masturbate in front of me for five minutes. I know that you recommend longer times between orgasms but I think once a week works well for us, at least for now. Although I am considering not unlocking him for a whole month before our wedding!"
---
Married couple from Bulgaria. They discovered chastity before they got married and he remained locked throughout their honeymoon.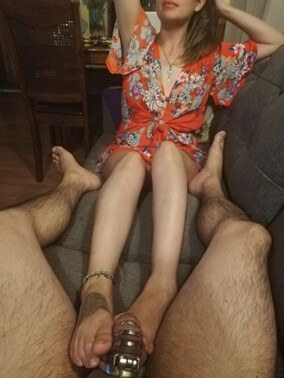 "I love feeling his cage up against me as he cuddles me to sleep, but mostly I love not having to consider his need for orgasm anymore. I love knowing that he can't masturbate anymore, that he can't think about other women, that he can't cheat on me, and that all of his sexual energy is focused on me."
---
Joe (34) and Nicole (30) from Canada. He says he feels naked without the chastity device.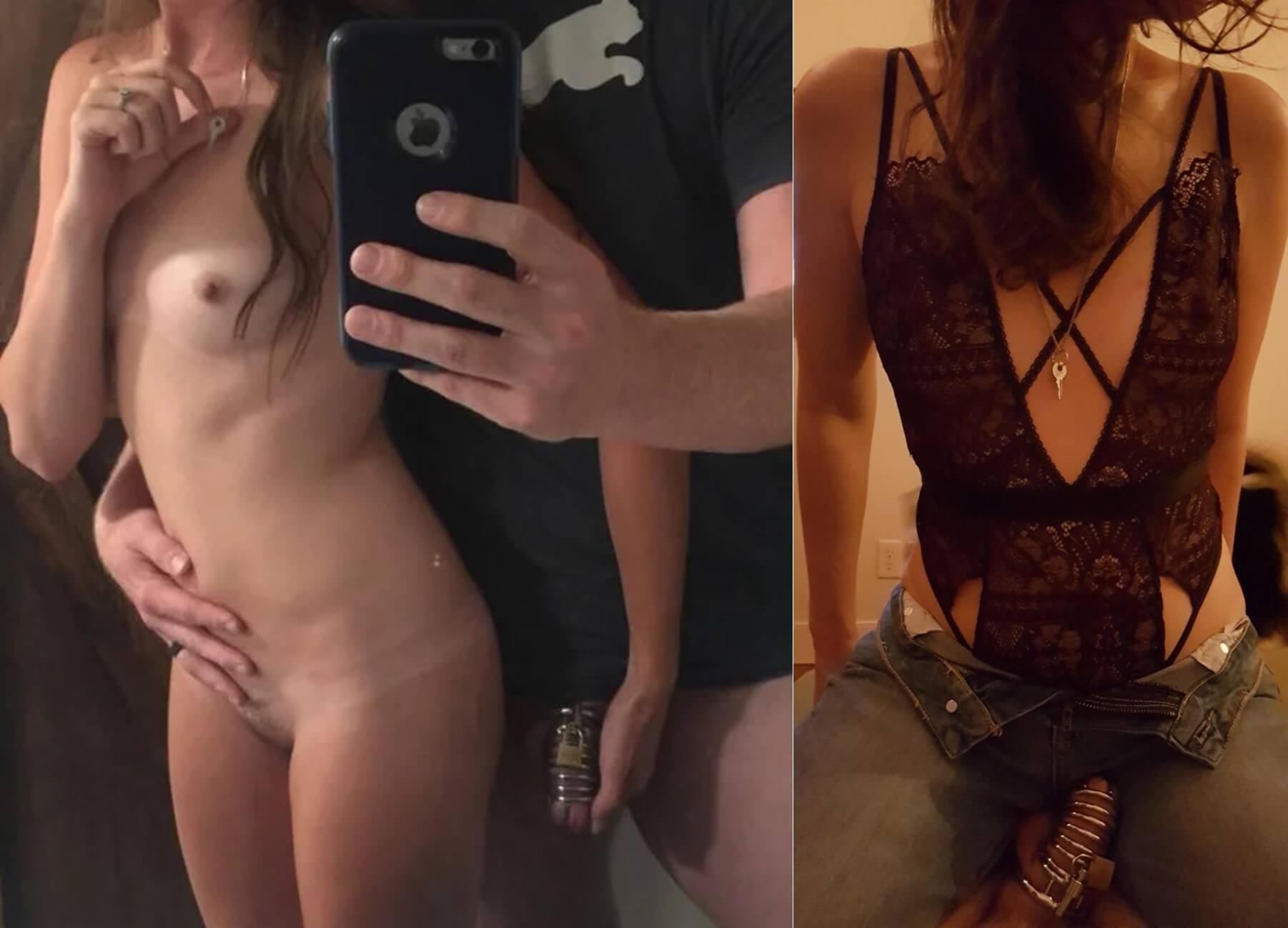 "My wife brought up chastity on our second date. She said she read about it online and really wanted to try it. I didn't immediately sign up for it, but she managed to convince me eventually. I am glad she did. We've been doing chastity for many years now. We're currently trying to go for a whole year without release for me. I know it sounds crazy, but I absolutely love it and I absolutely love her. I could never imagine a life without her."
---
Happy woman from the US. She earns some money on the side as an online keyholder.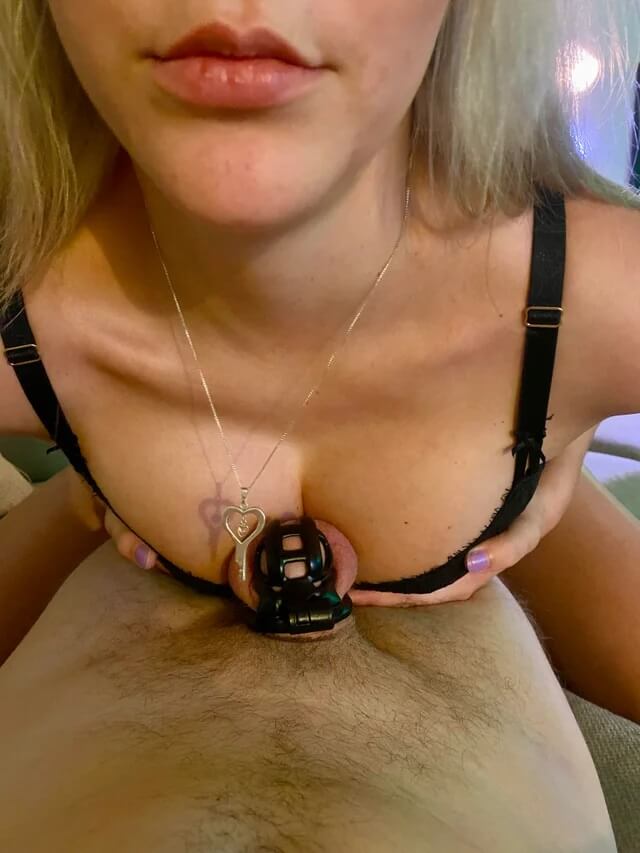 "I don't understand how modern concepts such as gay marriage or transsexuality are now openly acknowledged and accepted, but male chastity is still so hush-hush. Millions of chastity cages have been sold! It's up to us keyholding girlfriends and chaste boyfriends to bring the benefits of chastity – greater intimacy, better relationships, reduced masturbation – out of the shadows. The thrill of holding a man's key is something I never experienced before and I wouldn't want to give it up again. Maybe I'll release him tomorrow, maybe I'll make him wait another week. Or maybe a month, or even a year? I'm the only one who knows."
---
Jana (26) from Germany. They are trying for a baby – but he only gets unlocked when she's ovulating.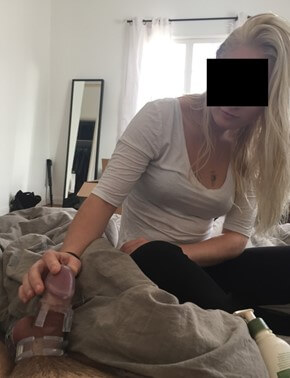 "I like to keep all my valued possessions safe and locked away, and that includes his cock. It helps him keep focused on me and stops him wasting hours and hours on masturbation. This in turn means that he's more productive and thus I'm helping him have added value in his life."
---
Erika and Sebastian from Stockholm. At first she thought chastity was a silly idea – but now there's no way she's going back.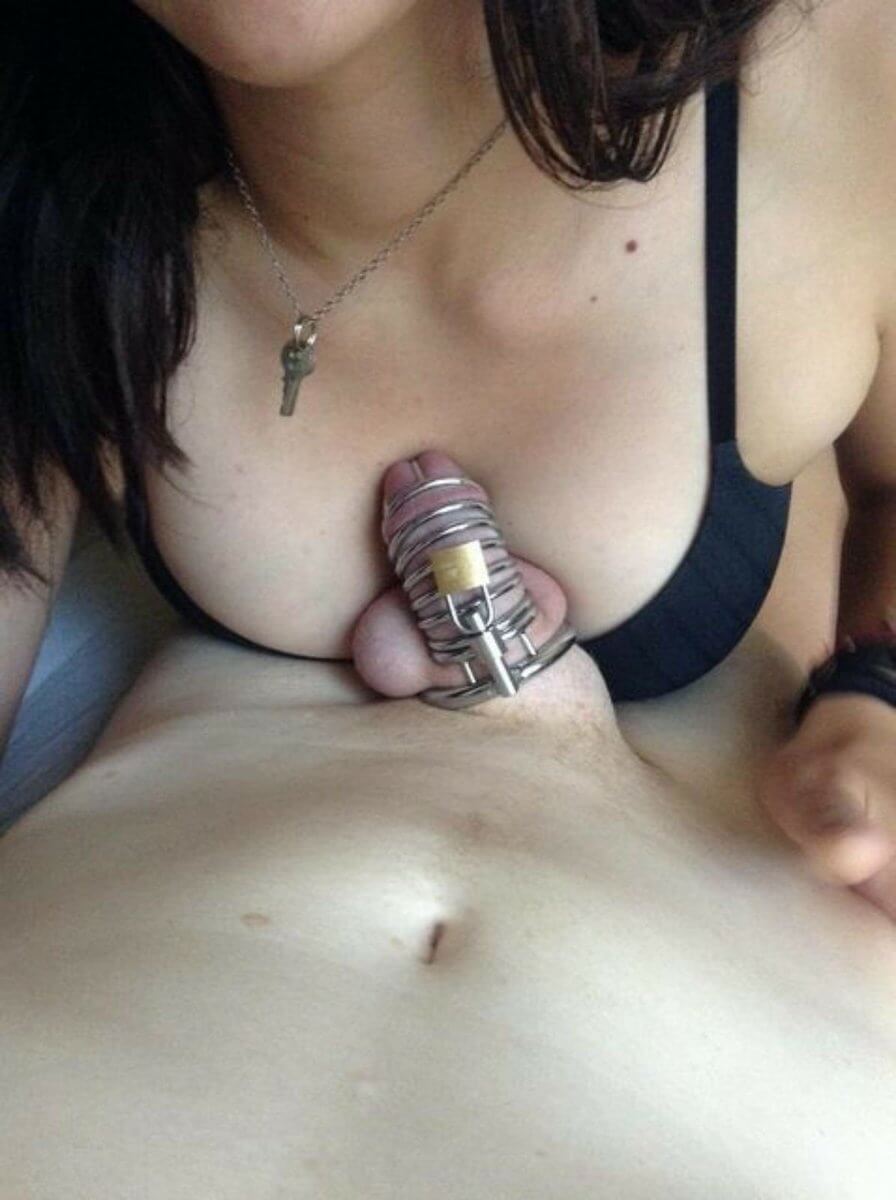 "It's incredible how much his personality has changed for the better since I am his keyholder. For example, when I ask him to do something, he actually does it. There's no arguing like there used to be. He's so attentive to my needs now. He wants to make sure I'm alright all the time. If there's anything I want or need he's willing to provide it. His selfish days seem to be over. And when it comes to sex, he's so focused on pleasing me. My sex life has never been this good. He's allowed about two orgasms a month, and why would I agree to him having more, when I've never been happier? If anything I've been thinking we might experiment with fewer orgasms for him. His penis always seems to strain in its cage when I talk about keeping him locked up for longer anyway."
---
Laura and Connor from Canada. He is currently on a two-month release schedule.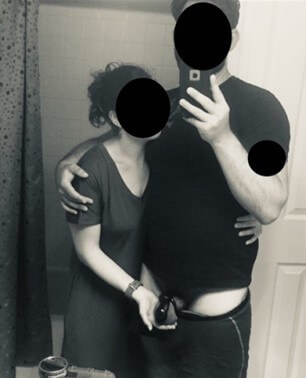 "What I like most is the fact that my man seems to be more attentive to me. Like helping me and doing things normally would be like pulling teeth. I can tell a huge difference in his attitude when he's locked and when he's not. He's much more supportive and will ask things like 'what can I do to make your day easier?' Plus the fact he goes crazy when it's time to unlock, and basically ravages me."
---
Anastasia from Belarus. She enjoys getting oral sex whenever she feels like it.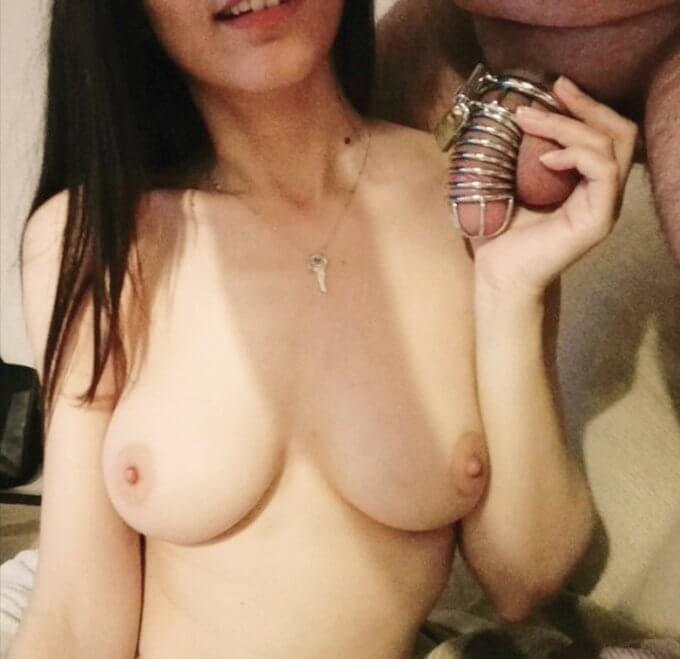 "I think that chastity is often raised by men, especially chronic masturbators, who secretly want more attention to their penis. And that usually doesn't work, because women already think they are paying too much attention to his penis. So when chastity takes hold and works, it's the woman who gets more attention, not the penis."
---
Isabelle (30) and her husband (31) from Paris. He mentioned chastity on their first date.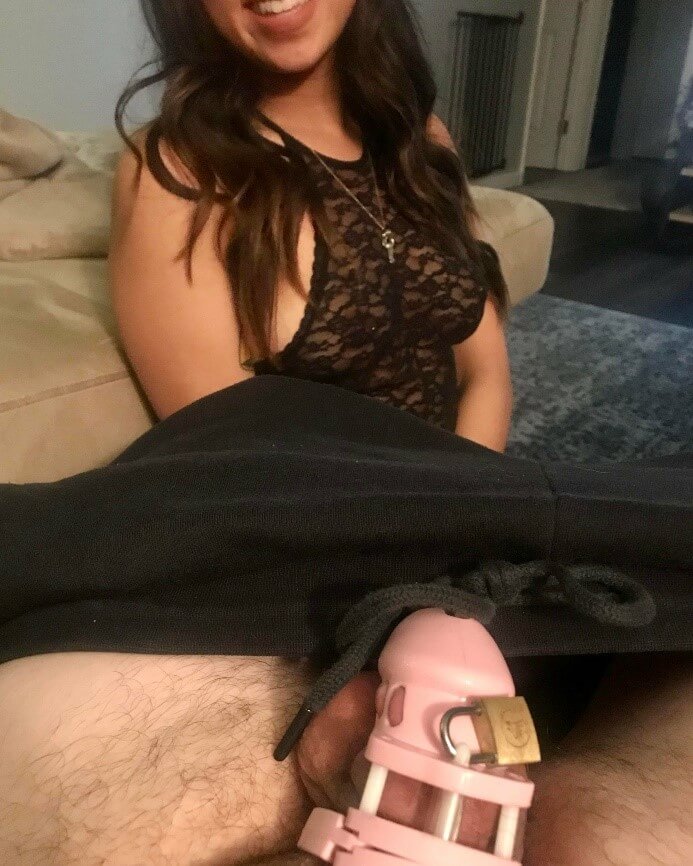 "The difference in his attitude is like night and day when he is locked. The first couple of days can sometimes be challenging as he adjusts but then he is so much more attentive and generally lovely to have around. He goes out of his way to help out around the house and make sure my needs are met. That little device makes him a much better partner, and I've told him repeatedly that he's 100% made for chastity. It just makes him more balanced and happy in himself. His releases are now few and far between and we are working towards reducing them more."
---
Ekaterina (20) from Moscow. She prefers her vibrator on most days.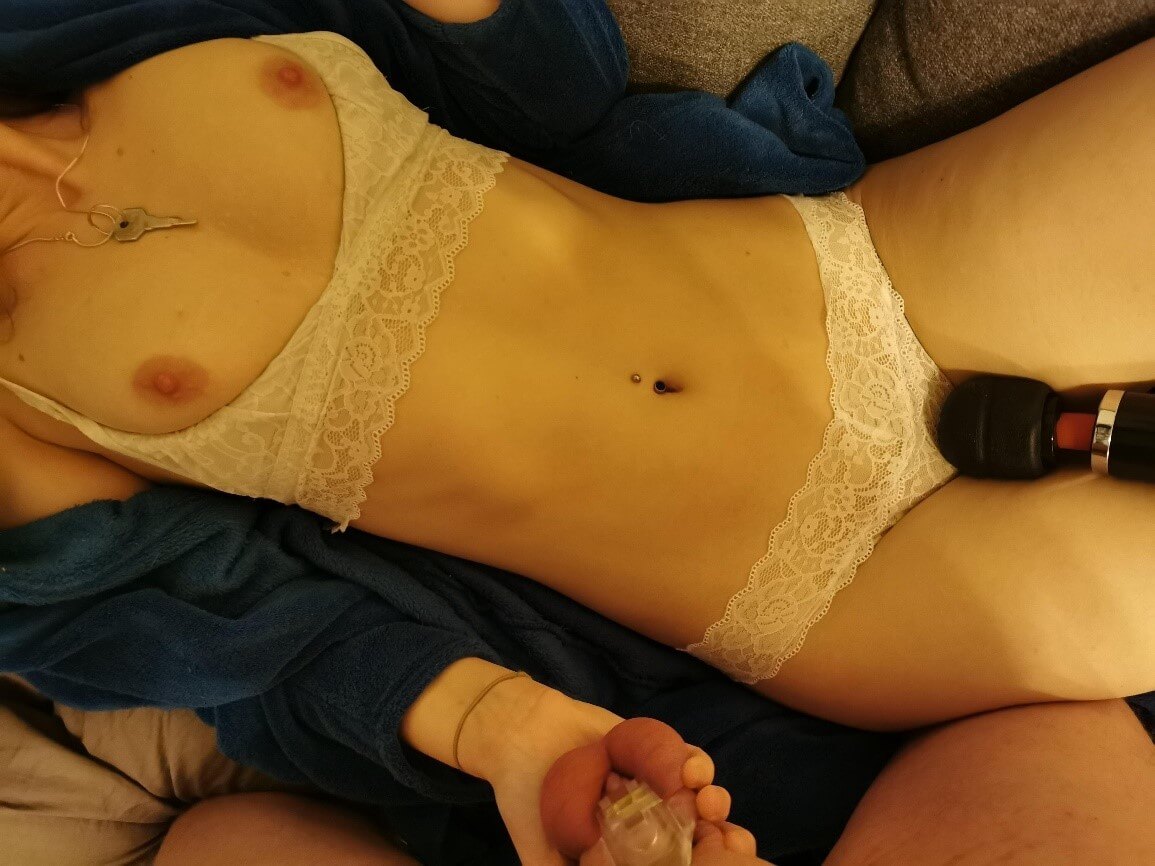 "I'm still fairly new to this world, my boyfriend introduced me to it. It was his kink turned into ours. The longest I've let him go without orgasm is a month, and I'm starting to feel like I should prolong it more. After a few days of being locked up, he becomes extra affectionate and horny and all that, which I love. I want to take it to the next step and go longer."
---
Julia (24) from Berlin. She used to lock her previous boyfriend, too.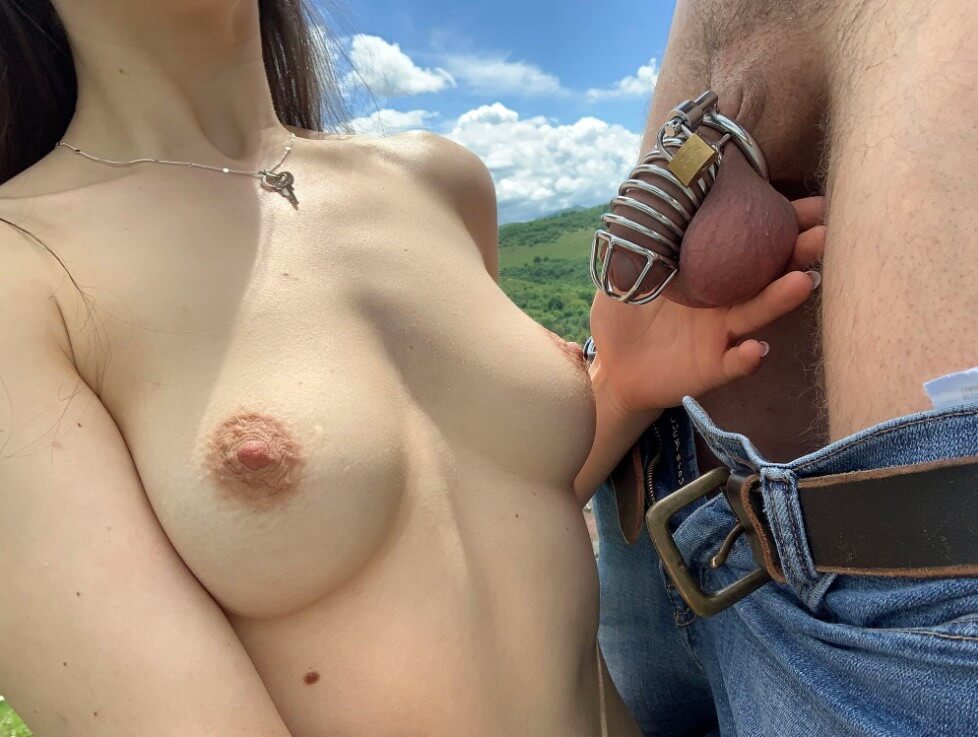 "There are many reasons why boys should be caged. They'll be more responsive to your wants and needs. They'll be more productive themselves, not having to be concerned about masturbating. He'll always be thinking of you and always knows that you are the center of his pleasure. He'll learn the difference between wanting to cum and needing to cum. And finally, it's just so hot to know he can't get off without your permission."
---
Olivia (31) from Scotland. She locked her boyfriend after he sent her a link to this website.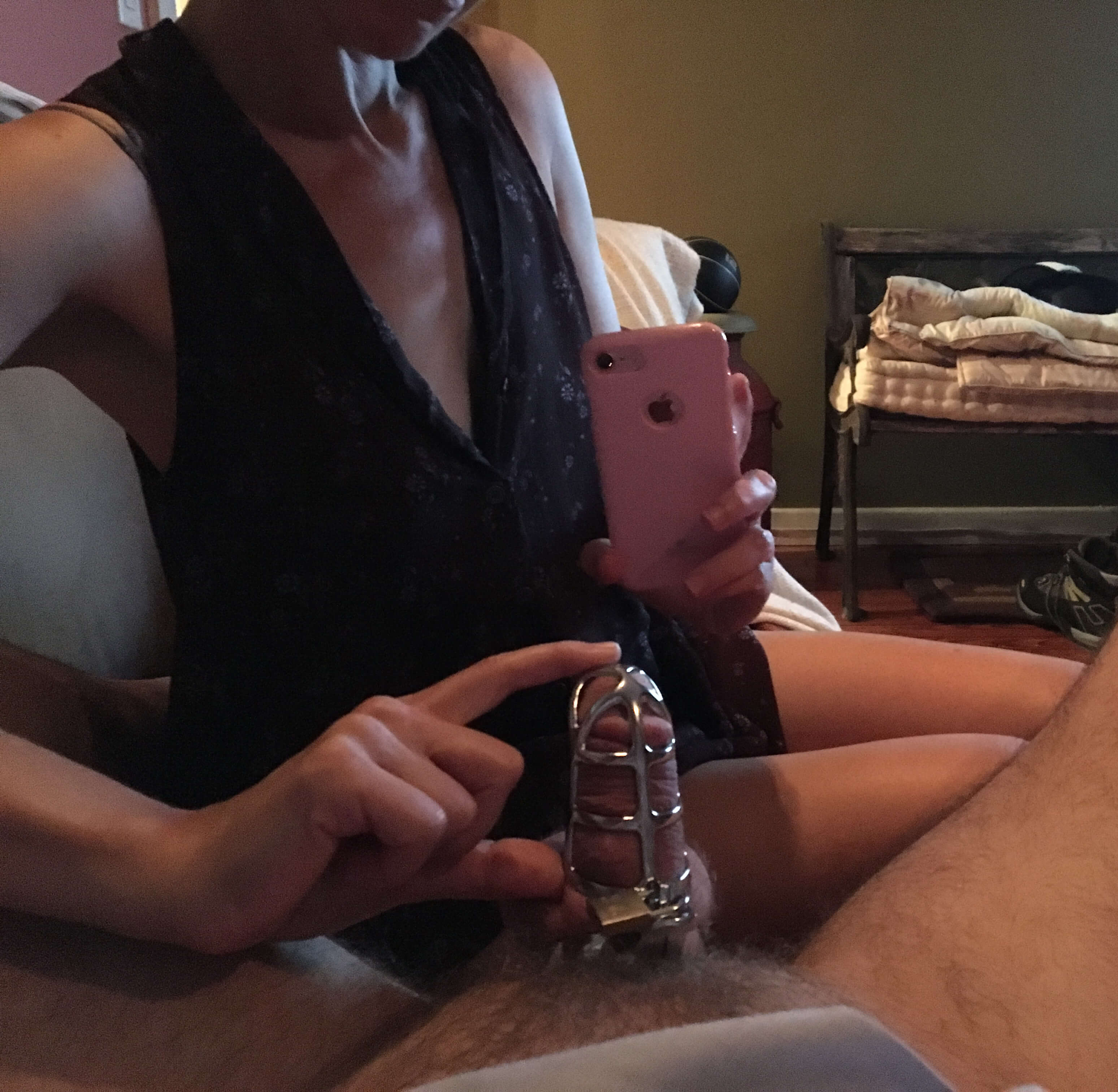 "I just love knowing that he wakes up every morning aroused, longing for me, with those full and aching balls, and knowing that without my key, there's nothing he can do about it. This is only the beginning of our journey."
---
M., an artist from Korea. For him, male chastity is an expression of his love and brought romance back into his relationship.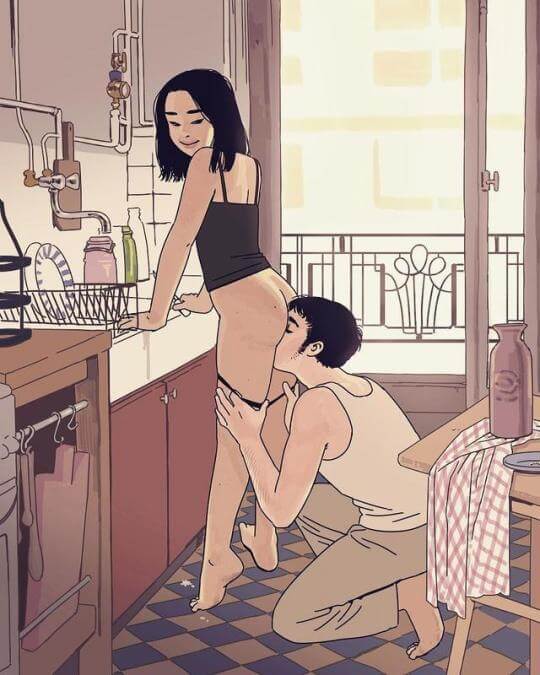 "I want to make her happy. In the bedroom, her pleasure is my pleasure. I want to give her all the pleasure she desires, and only receive the pleasure which pleases her. I love it when she takes the time to tease and deny me. Sometimes I am weak or selfish, but I get through because I am safely locked up. I thank her for holding the keys. My chastity is indefinite, only her desire and not time can release me. My chastity is not a sentence, I am in chastity because it makes me happy as a person and as a man. I am not submissive and I do not want to obey her or to be disciplined by her, but I do crave giving her all the pleasure I am capable of and feeling the cage around my penis, as a representation of her loving hand."
---
Lilly (29) from Florida. They are currently doing "Locktober" followed by "No Nut November".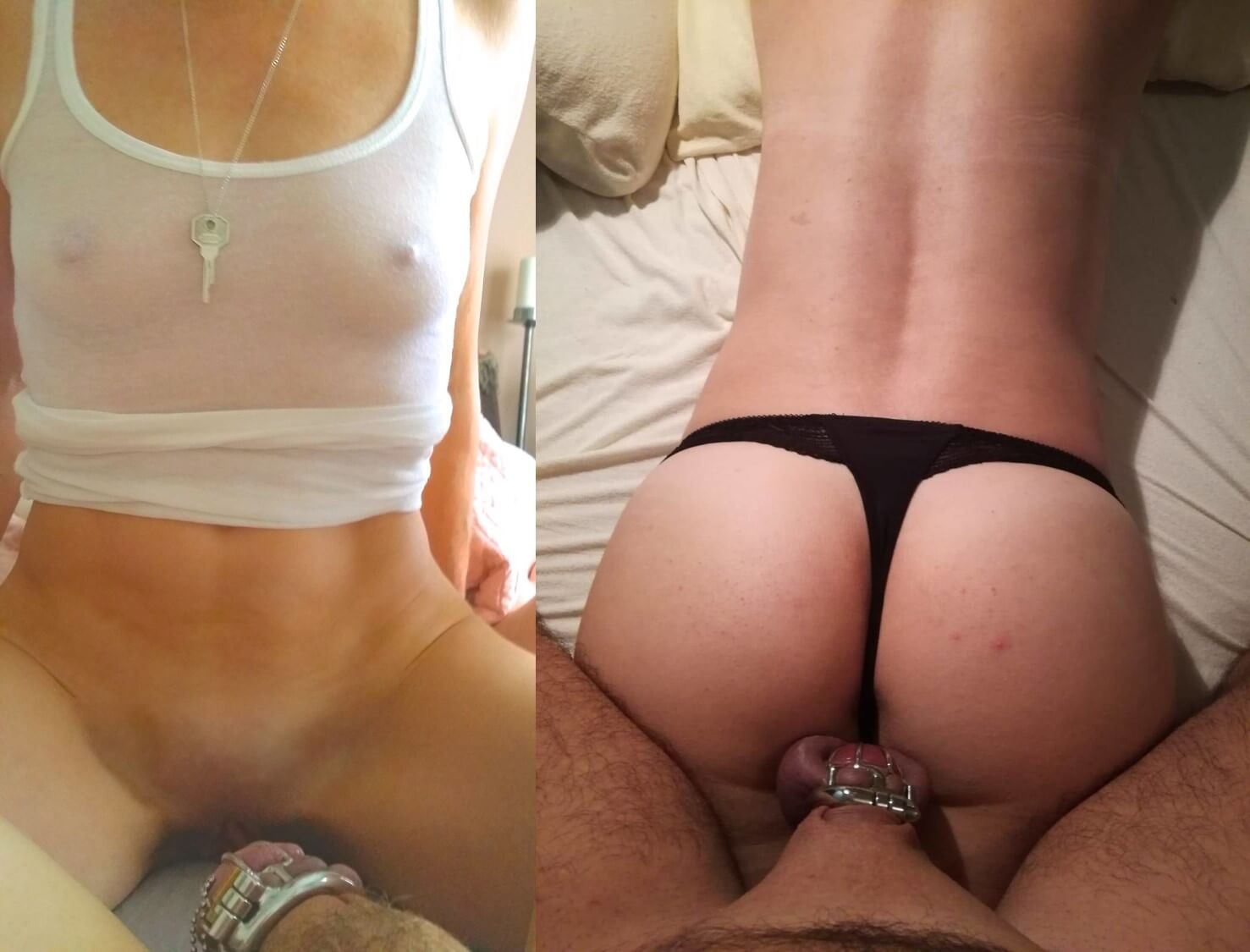 "Since my boyfriend agreed to have his (my) cock locked up, I have become more interested in having sex with him. When and if we are to have sex is totally up to me. He has learned to never ask to be unlocked. There is now a very special loving bond between us."
---
Lilith (25) and her partner. They went on a long beach holiday without bringing the key.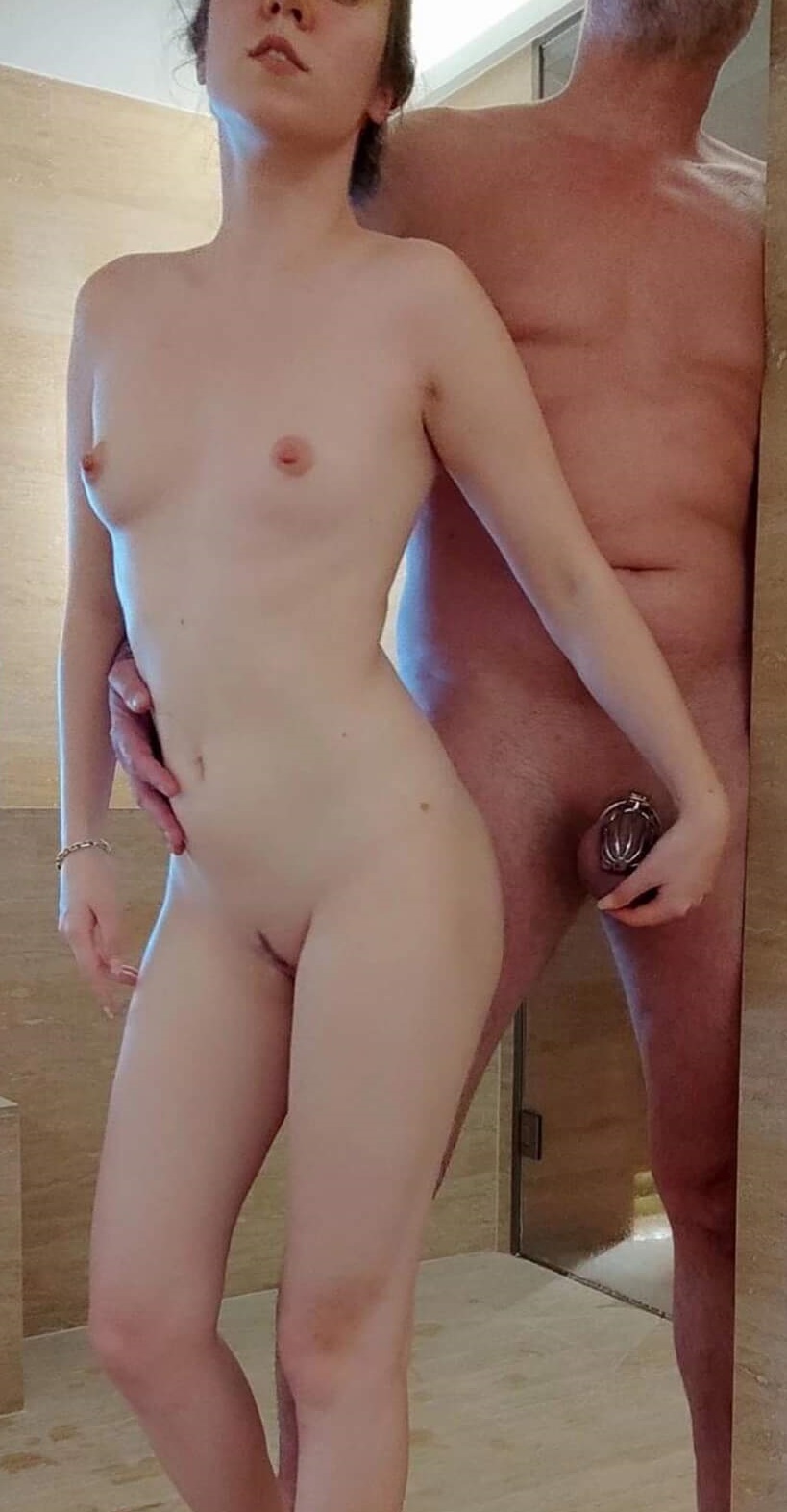 "Male chastity has become our favourite kind of sexual play. In it I found my true power as a woman. Teasing is one of my favourite activities. He gets nothing, just more horny, and I can still cum if I want to. When I unlock him he puts all his energy into sex. When I leave him caged, he is focusing on his body, getting fit. I love keeping him locked up, it's so damn sexy! He currently has been locked for about five months with short breaks."
---
Happy wife (28) from Europe. Sex is about her pleasure now.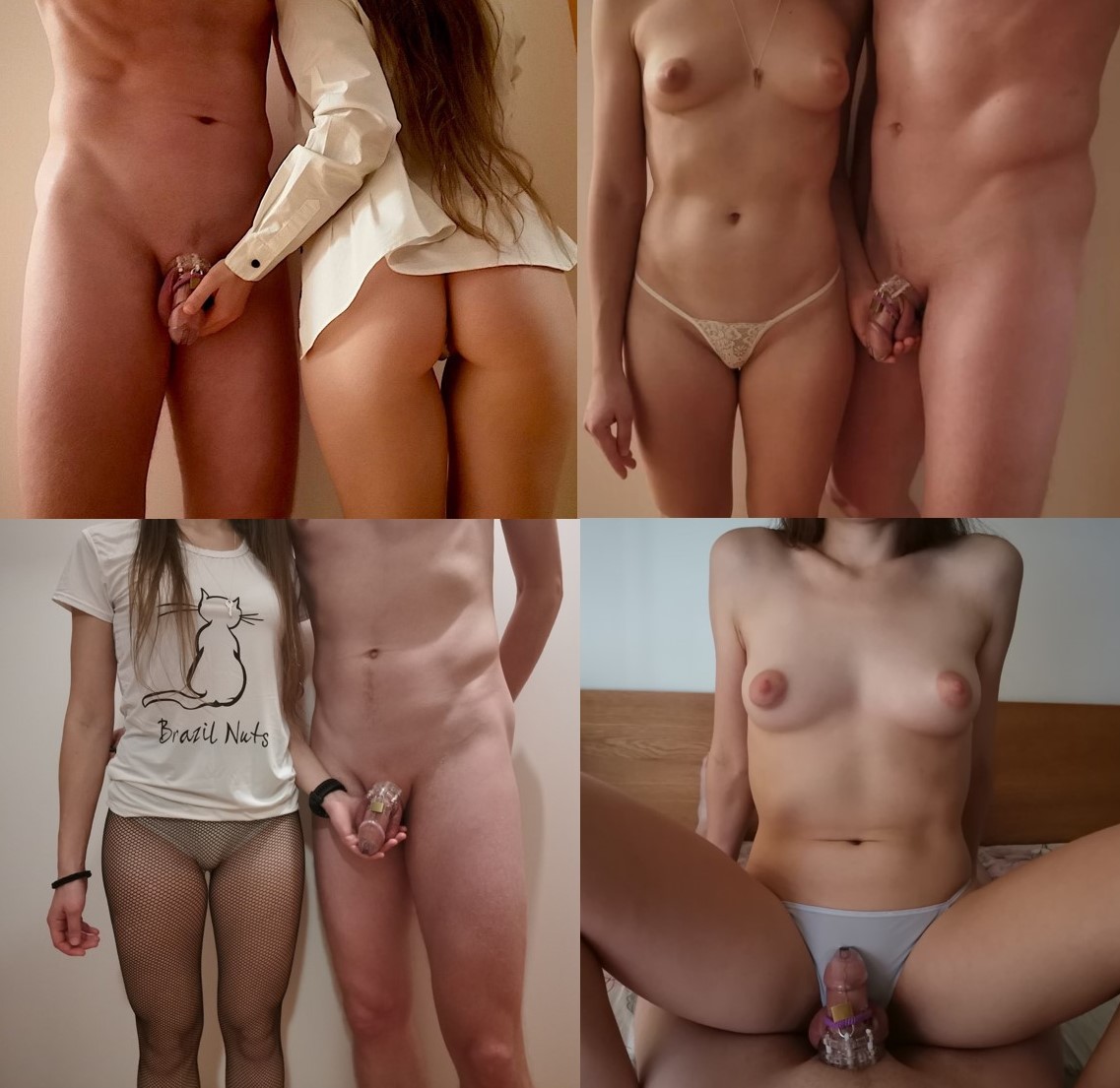 "When my husband brought up chastity, I just loved the idea from day one. He spends most of the time caged, but I still unlock him when I want him, he just doesn't get to cum when we have sex and the ring behind his balls stays on. We're done when I am done and then he is going back into chastity right after. He has gotten used to staying locked in chastity with no release expectations."
---
Couple in their 20s. She believes that masturbation is cheating.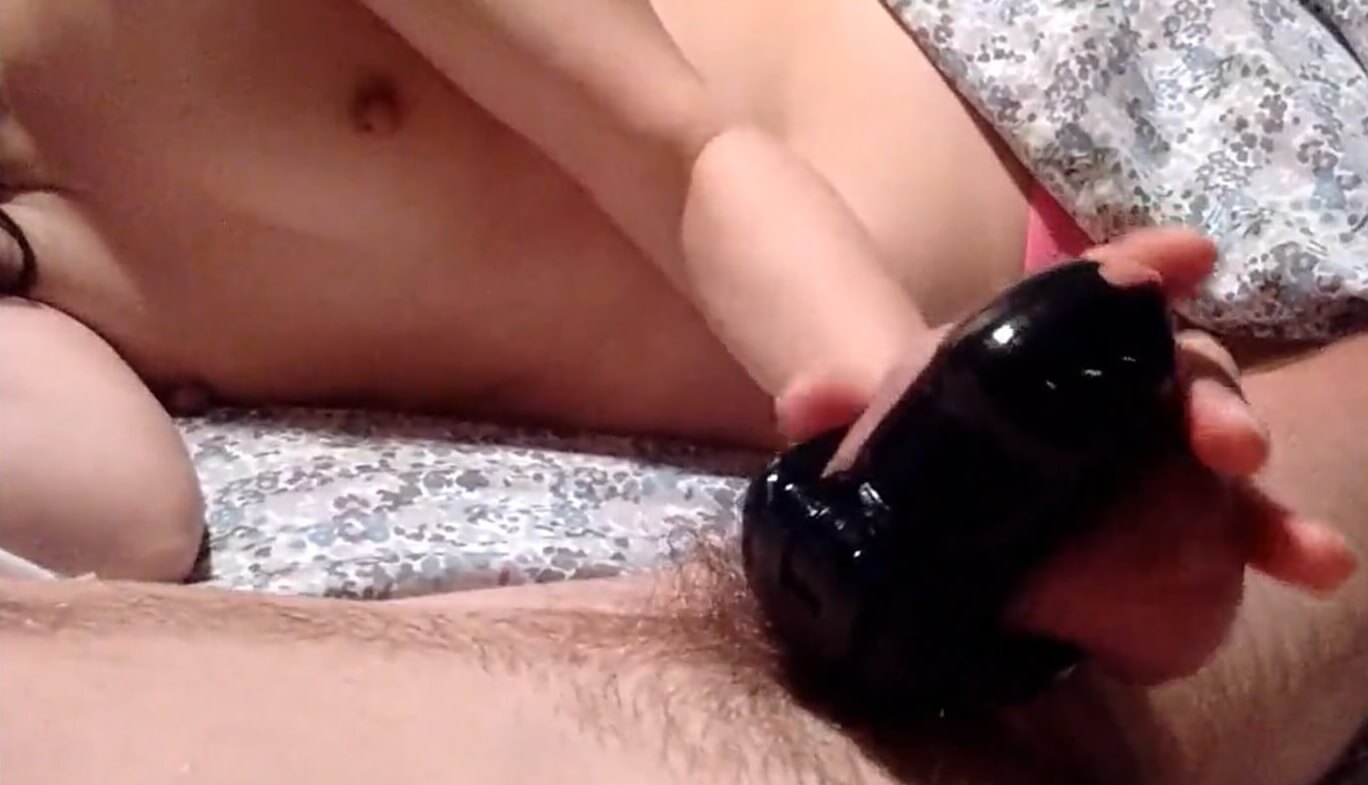 "We have been playing around with chastity for about a year now. Once, I even went home alone to Taiwan for a few weeks and took the key with me. I really enjoy having control over his orgasms. He loves it, too. My fantasy is to also prohibit any unpermitted erections. I ordered a metal cage with spikes that will discourage erections in the cage. It should arrive in a few days and I am really excited to try it out."
---
Jessica (24) and her partner. She wears the key on a necklace but nobody has ever asked her what it's for.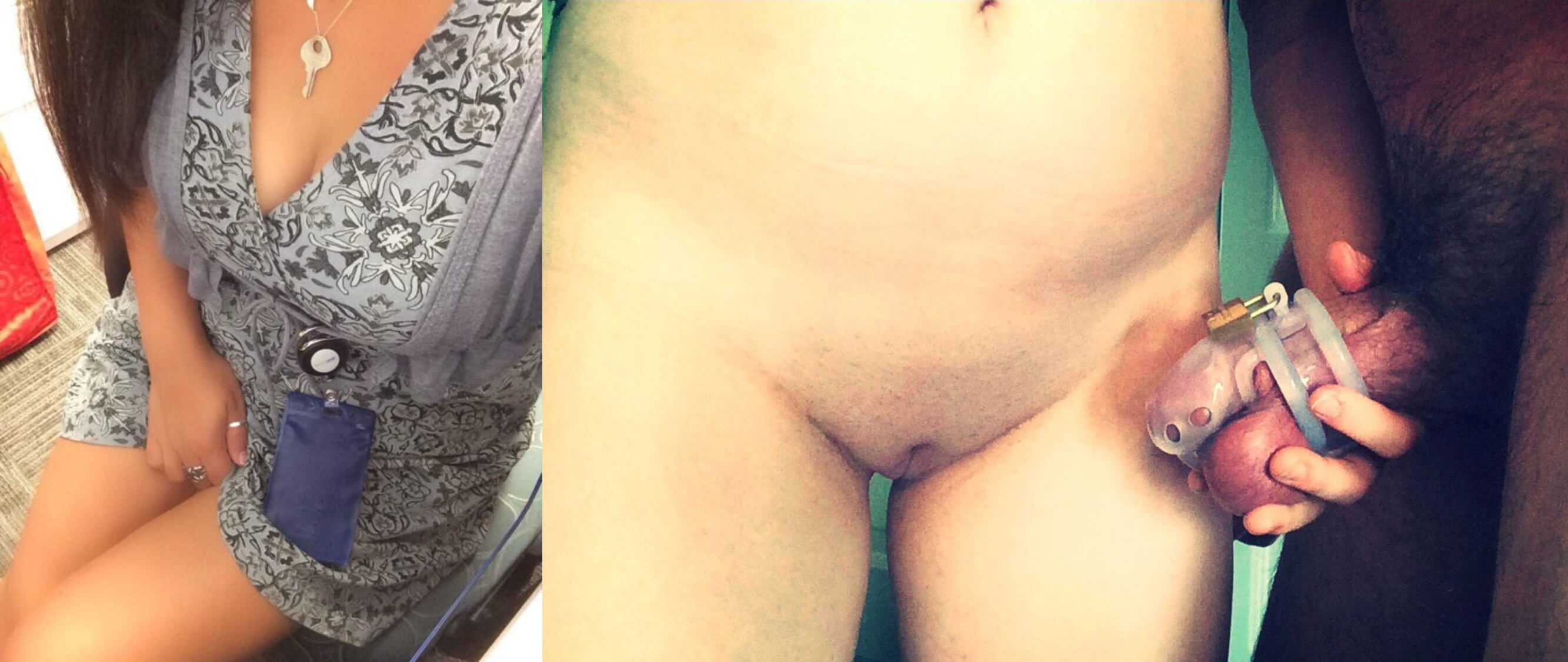 "I love how he doesn't get hard anymore without my permission. When he gets horny he just strains inside his cage, it's honestly beautiful and I kind of want to keep him like this forever. It's really nice just holding his package, all locked up tight, no mess, no hard dick moving around all weird, just a nice compact package. It throbs to let me know how much it appreciates my touch. It's so comforting to know I turn him on that much and no one else can."
---
Happy chastity couple in their late twenties. His longest time without release was two months.

"One night when we were a bit drunk we started talking about sexuality and I confessed to my wife that I'm into chastity and her having full control over my orgasm. This got her super hot and we ordered a cage the same evening. When it arrived she was indifferent about being the key holder at first. But when she realized that she would always be satisfied and not have to reciprocate, she was all in. She says she loves how empowering it is for her and how I am more helpful around the house and now not just prefers me to be caged, but insists on it!"
---
Gwen and her locked husband. In the past he used to get off every day while she rarely had an orgasm – now it's the other way round!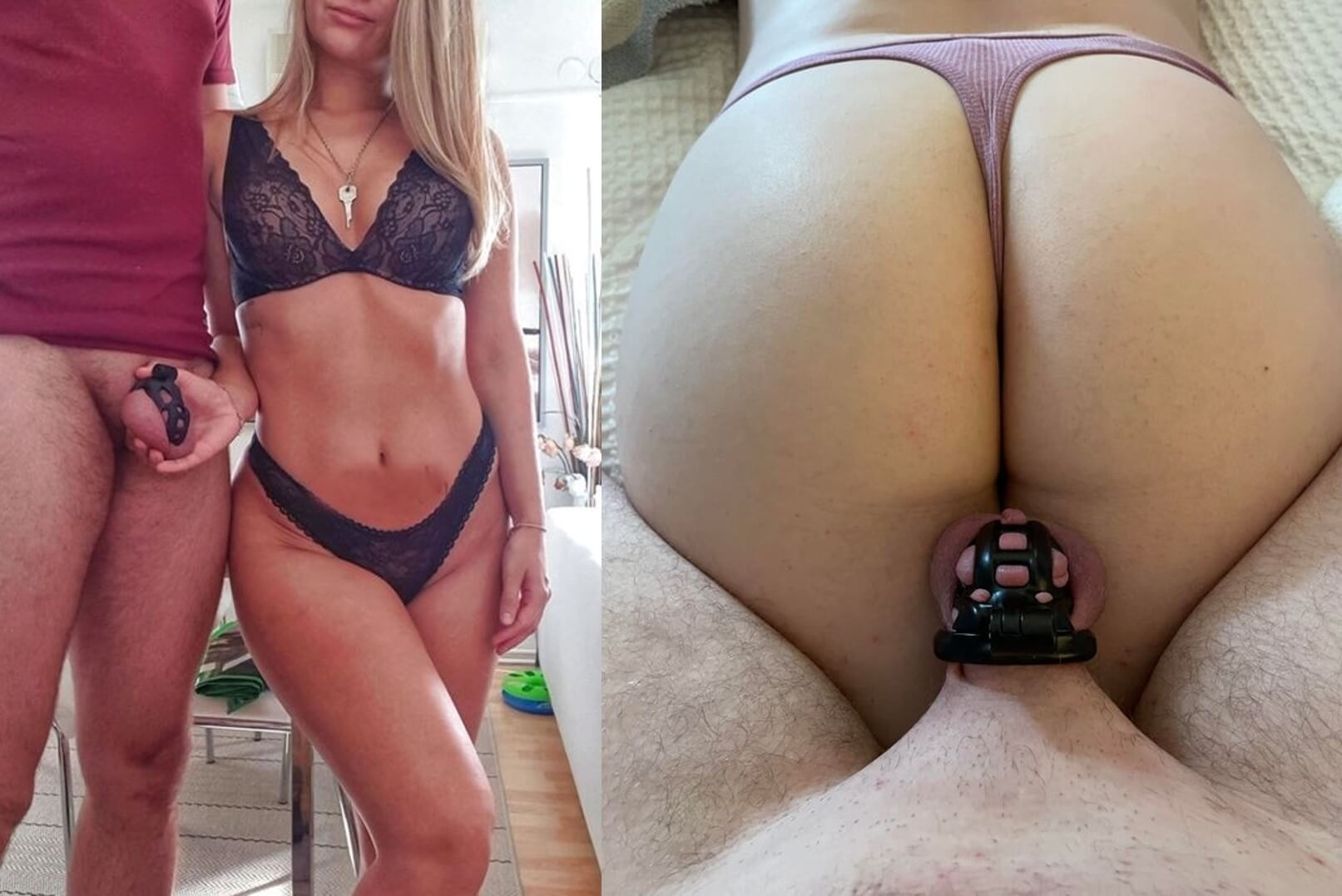 "Our story started with a "libido mismatch". My husband wanted sex every day whereas I would've been fine doing it like once a month. As a result he would masturbate every single day. I wasn't aware of it until one day he mentioned it in passing. You can't imagine how upset I was, imagining him wanking and watching porn every day! I felt like he had been cheating on me! Anyway, I was googling for some advice and somehow stumbled upon your website. I thought chastity was a bit crazy but that it might actually work for us and also that I could get "revenge" by denying him orgasms. He's always been a bit kinky and submissive (for example he is really into "eating my ass"), and indeed he was really enthusiastic when I mentioned chastity cages and he bought one the next day. He didn't have any pain or issues after wearing it for a few days, so I decided to start with the recommended lock-up period of three months. That was almost a year ago. He's been locked 24/7 – on the rare occasions when I take the device off I make sure to put it back on immediately afterwards. Our relationship is so much better now. I can be sure he doesn't masturbate anymore, in fact now he can't even get an erection without my permission! I feel so much more confident as a woman. He appreciates me more, now that I'm the only person who can give him sexual pleasure. I have become more sexually active myself and I'm putting my pleasure first now. I love it when he goes down on me and we have bought a large strap-on that he now wears during sex. We recently bought a smaller version of the same chastity cage as we've noticed his penis is "adapting" to the erection ban and is getting smaller, which I find really hot for some reason (although when I do allow him an erection it's still the same size). Chastity has had so many positive effects on our relationship and how he appreciates and treats me that even my friends have started to notice. I've told my best friends about chastity and one of them has been so fascinated with it that she's now trying to convince her husband!"
---
Benjamin from the US. His penis has been "retired".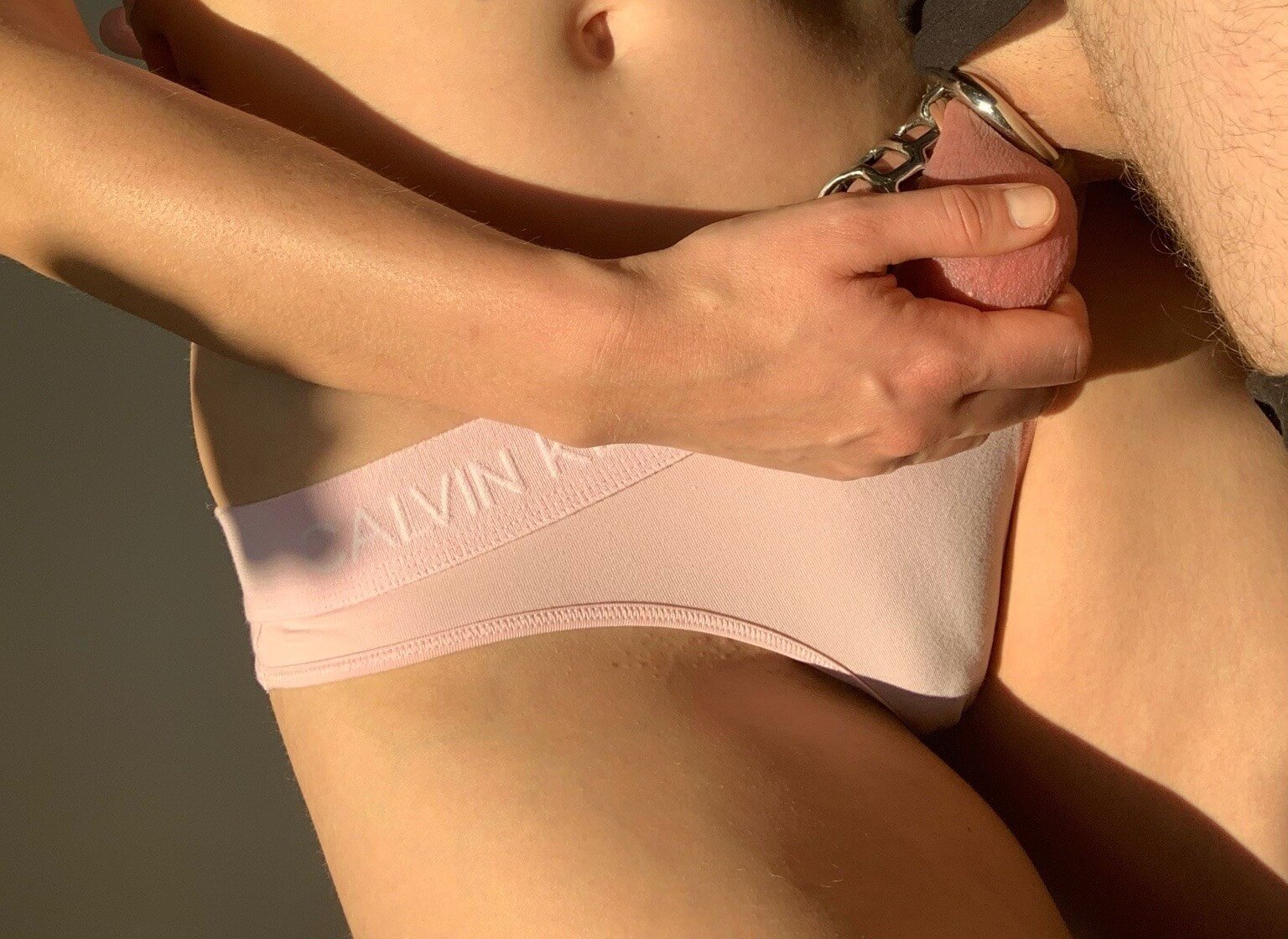 "It finally happened. My girlfriend had been teasing me for a while that she's got no use for my dick anymore, because my tongue and her dildo are all she needs. We had a big fight yesterday because of something I did and in her anger she ended up flushing the keys down the toilet... Today she apologized for her "overreaction" but that doesn't bring the keys back lol. I have mixed feelings. It's both scary and arousing. I think most men who are into chastity have at some point fantasized about being locked up forever. I introduced chastity to her over two years ago and we both came to love it, in fact I even got a PA piercing last year. But I've rarely gone longer than a month without an orgasm. She's now making jokes that I shouldn't worry about permanent chastity because I'm really good at giving oral, and she reminded me that once I even ejaculated without any physical stimulation while licking her (because her pussy aroused me so much), so she concludes all is well and we don't need the keys anymore... But I think the new reality hasn't sunken in yet for both of us."

"Update: It's now been almost a month since the flushing incident and she admitted to me that she actually has a replacement key which she sent to her sister who lives in France. She said wanted to gauge my reaction to the possibility of permanent chastity and that I passed the test. She has not yet asked her sister to send the key back, but I am relieved to know that there is another key somewhere."
---
A kinky student and her boyfriend who have recently discovered the joys of male chastity.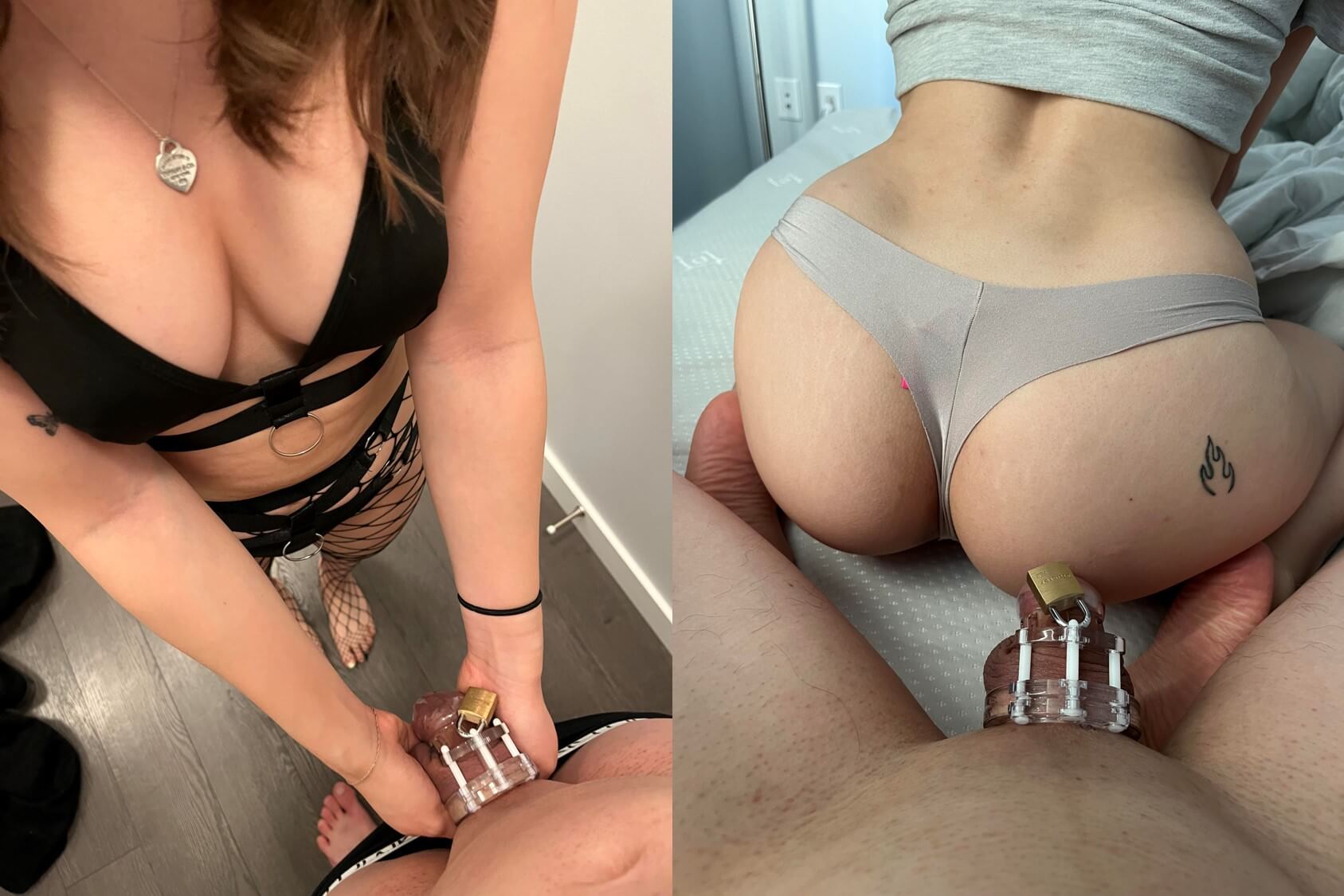 "Chastity is fun for both of us. He doesn't get to cum anymore but will pleasure me any time I want. I like to unlock him for a little bit of edging and teasing before putting his dick back into the cage. This year we've been doing Locktober and No Nut November. He's so horny he can't hold his precum in and is leaking through his cage, which I really love. It's such a turn-on seeing his dick locked in the little chastity cage. It just seems to be where it belongs. I love keeping him locked up – and he has no choice but to like it!"
---
Thomas and his wife. She thinks every wife should consider chastity and doesn't see a single downside.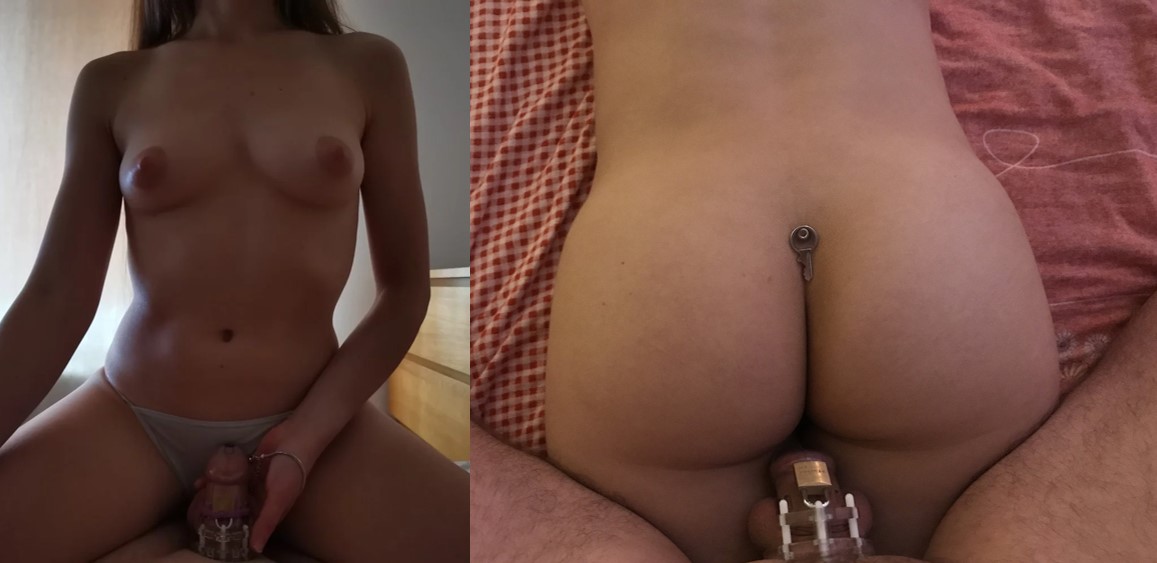 "Chastity play was originally my idea, but now it's my wife who's obsessed with keeping me locked in chastity. She says she loves how it keeps me loyal and horny all the time, always attentive and thinking of her, and she really enjoys the constant oral sex I give her. We have a lot of sex with her getting off with toys, oral and my fingers. I am locked 365 days a year, 24/7, unless she wants me out (and for cleaning under her supervision). I am not allowed to masturbate and can only orgasm when she gives me an occasional handjob. She decided that I should not have an orgasm more than once a month. She was also adamant that once a month was the maximum and she would decide if and when I would get a chance to cum. The spacing is random and I never know in advance when it'll be. She likes the control and seeing me very horny. I love the denial aspect. She will set a timer for anything between 10 seconds or 1 minute and that's all the time I get. It's so hot how she just stops when the timer goes off. She also has the policy that I must be wearing a condom, to add to the dynamic and because she doesn't want me to make a mess."
---
E. and her fiancé. He only had two accidental ejaculations during sex – the first one was forgiven, the second one punished with a knee to the balls.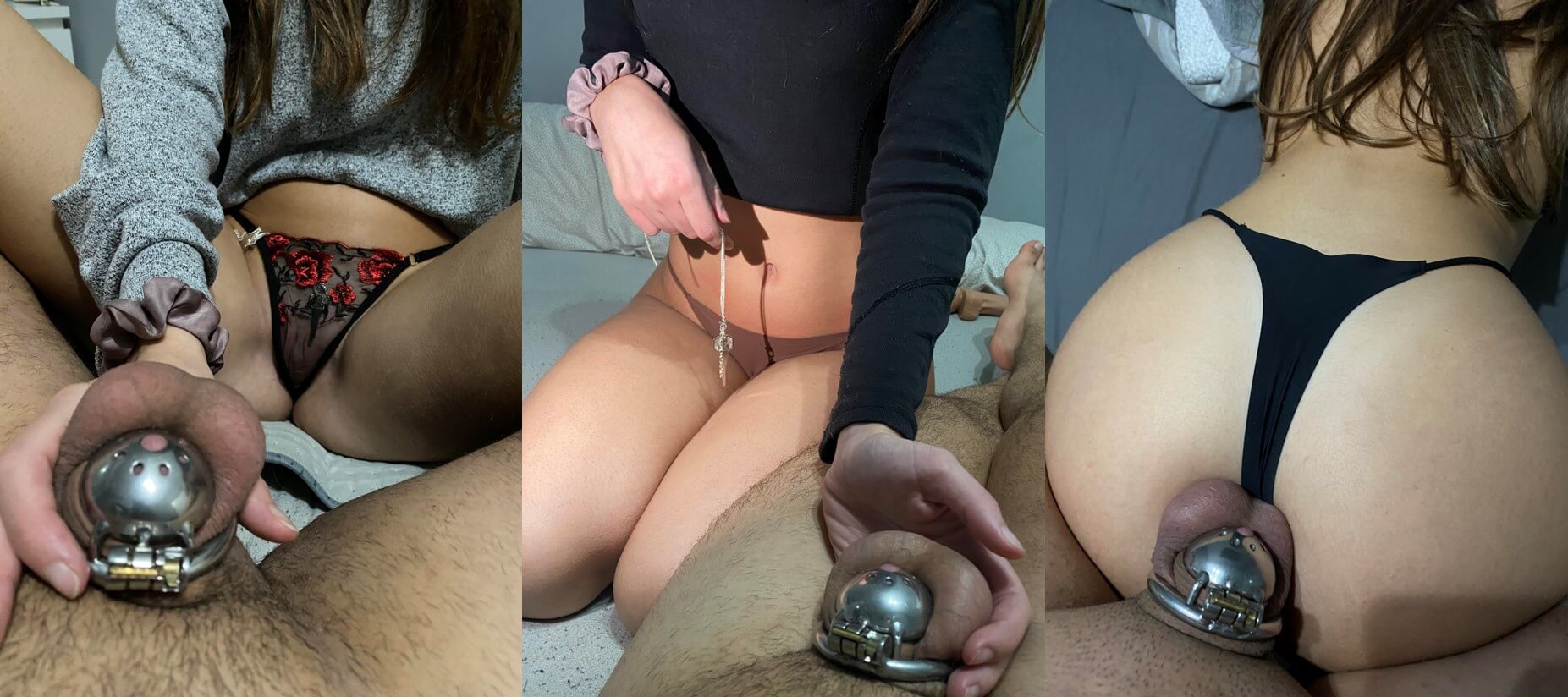 "I love knowing that his dick is mine, I love using it as my sex toy, and I love making him go down on me and clean me up after sex if I allow him to cum inside. When we have sex, I either push him off once I orgasm or I give him a minute to finish. When we started with chastity his orgasm allowance was once a month and since then it has been gradually reduced. This year he got six orgasms and next year it will be lower, in fact since we are getting married in six months, I have set his allowance to zero until the wedding. To avoid any accidents, I plan to only let him give me oral sex until then."
---
German couple in their 20s. She wants to limit him to two or three orgasms next year.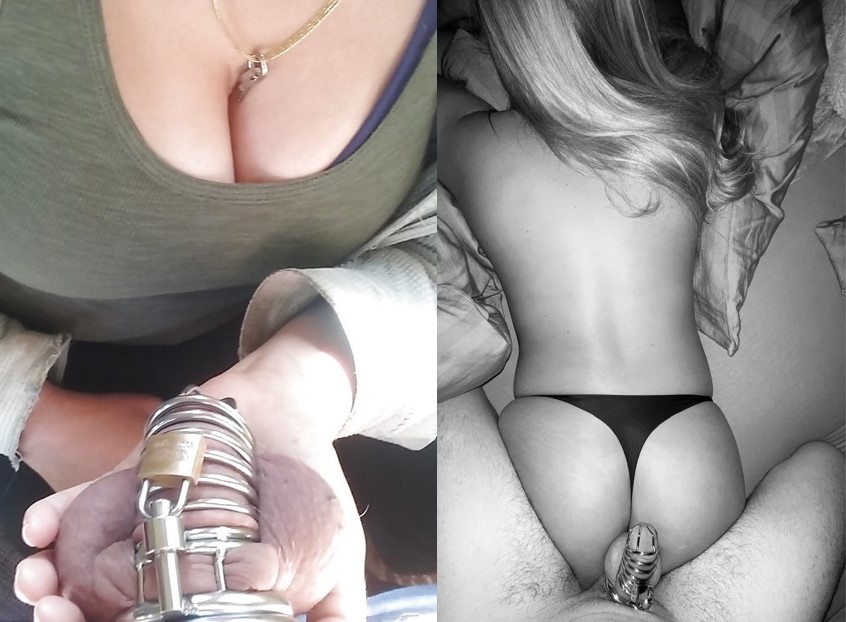 "Originally I brought up the idea of locking him in a chastity device because we were going to different unis and only seeing each other on the weekends, and I really loved the idea that he wouldn't be able to masturbate and could only cum inside me. Chastity is a promise of loyalty and show of respect, it touches my heart. I am lovingly taking care of his dick for for him and keep it safe from his over-eager hands. I appreciate his chastity and all the things he does for me. He only wants to make me happy and my pleasure is his pleasure. For him, chastity is a huge sacrifice in the name of love. It's all for us. I let him know all the time how much I love him. And when I give him just a little of the love and attention he deserves, it comes back to me tenfold. I now prefer keeping him locked most of the time and get to enjoy his eager oral service, which he's becoming really good at. I am grateful that he allowed me to bring male chastity into our relationship, because it has improved it so much. We are closer now than ever. I wouldn't want to go back."
---
Jade from the US. She loves having the control over her husband's penis.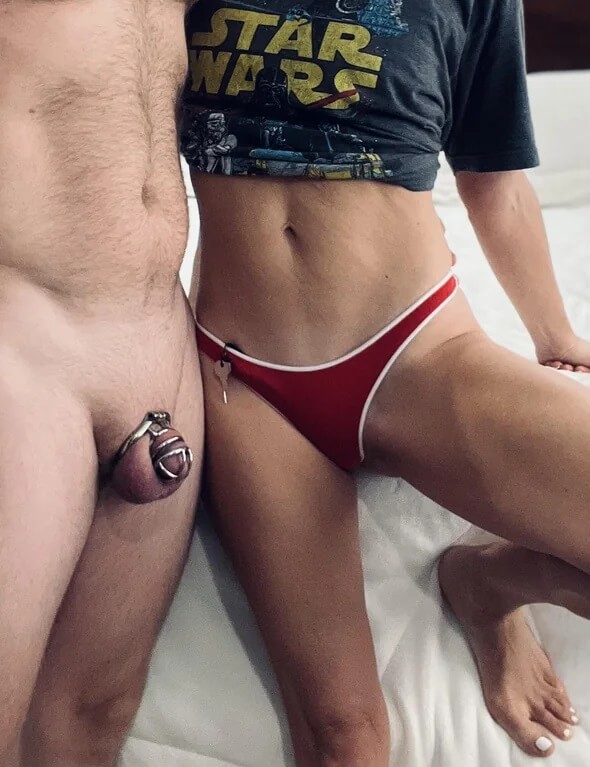 "When a man is able to masturbate and orgasm any time he likes, it can become a problem for the relationship. Playing with himself instead of paying attention to his wife, family or work. Male masturbation is a waste of time and not to mention, it's is gross. So, a chastity device can be a solution. I keep my husband locked because I know that he will otherwise, like all guys, watch porn or masturbate. And I won't allow it. In fact I think it's a form of cheating. My experience is that he (probably like all men) doesn't have enough self-control to stop masturbating on his own. But now that he is locked, he isn't able to! I don't care much about denying him orgasms, it's fine if he orgasms during sex, but I just don't want him wasting his orgasm on himself."
---
Cleo and Sandy from England. He used to masturbate at least once a day but now he at most gets to come every other week.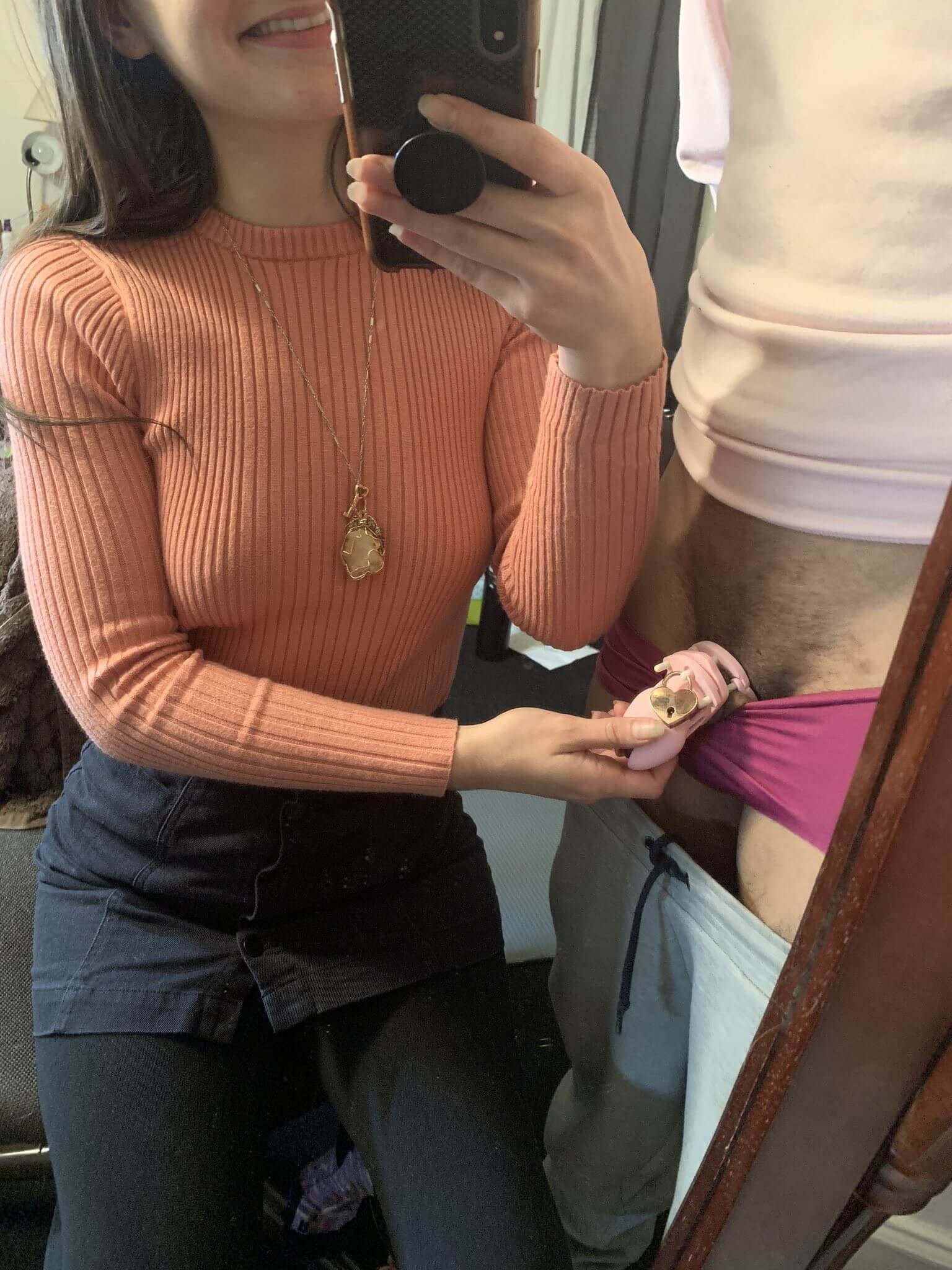 "I bought my first chastity device a couple of months ago after begging her for a while to try it. It's been a really intense, sexy experience so far. She's only allowed me to have sex with her once and I only lasted a few seconds which she took as a compliment. I'm extremely horny whenever I see or touch her. The other day she told me to lick her out and I leaked a lot inside the chastity cage, so she said it counts as an orgasm (replacing my next scheduled one) even though it left me hornier than ever. She told me she's really enjoying our chastity experience so far and that I've become a nicer boyfriend and have been treating her much better. Yesterday she even encouraged me to get a piercing and a "proper" long-term cage, and warned me that if I went through with the piercing I'd be in chastity all the time."
---
Couple from Italy. He has been locked for almost half a year without break.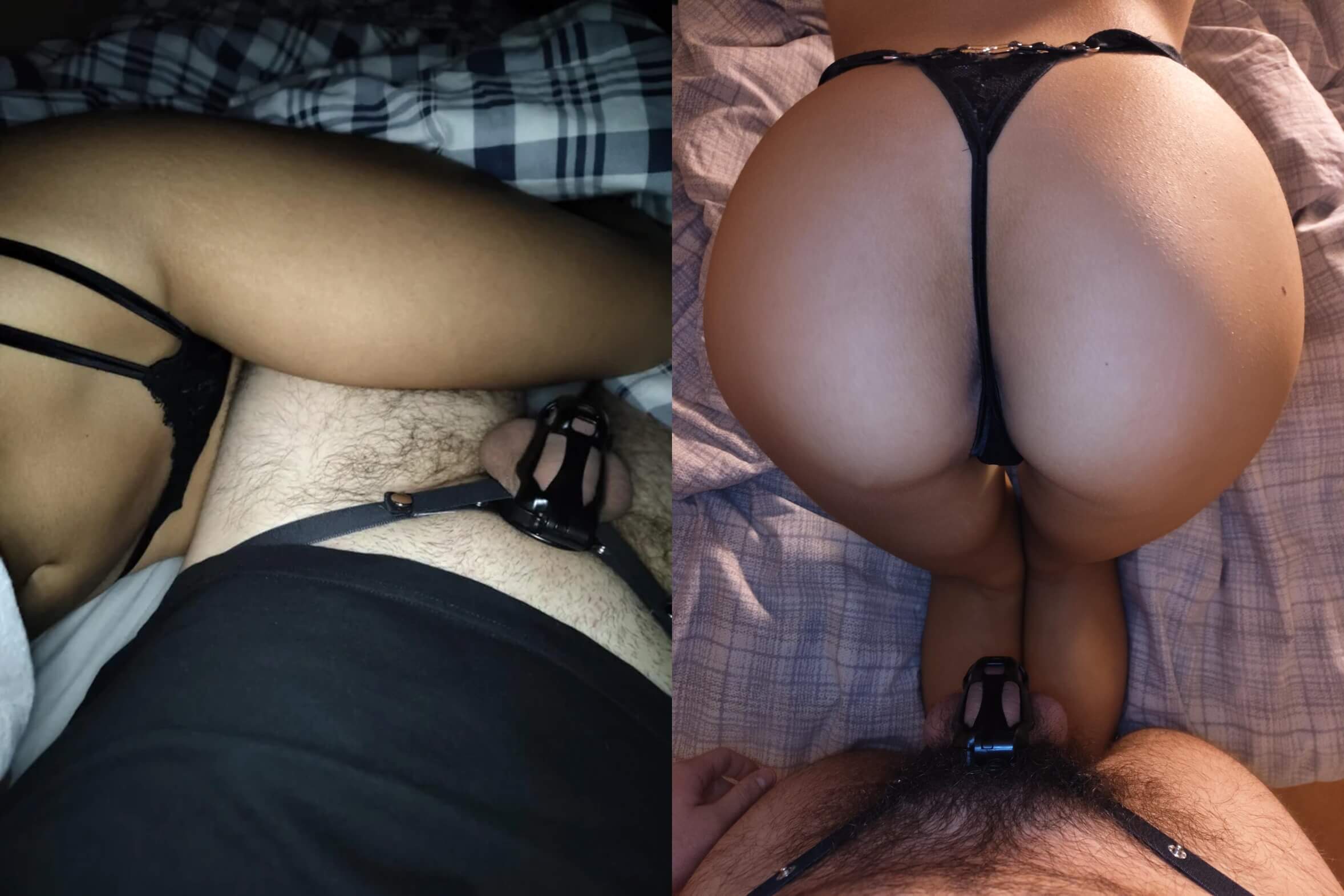 "I don't think our relationship has ever been this exciting and sexy. I get satisfied as often as I want while he only gets more frustrated and more eager to please. Sometimes I get aroused just when I think about how long I've been denying him. I think about how easy it would be to unlock him and just pull on his dick a few times, but then I remember that chastity was his idea, not mine. "
---
Matilda and her boyfriend from Austria. His longest lock-up period was three months.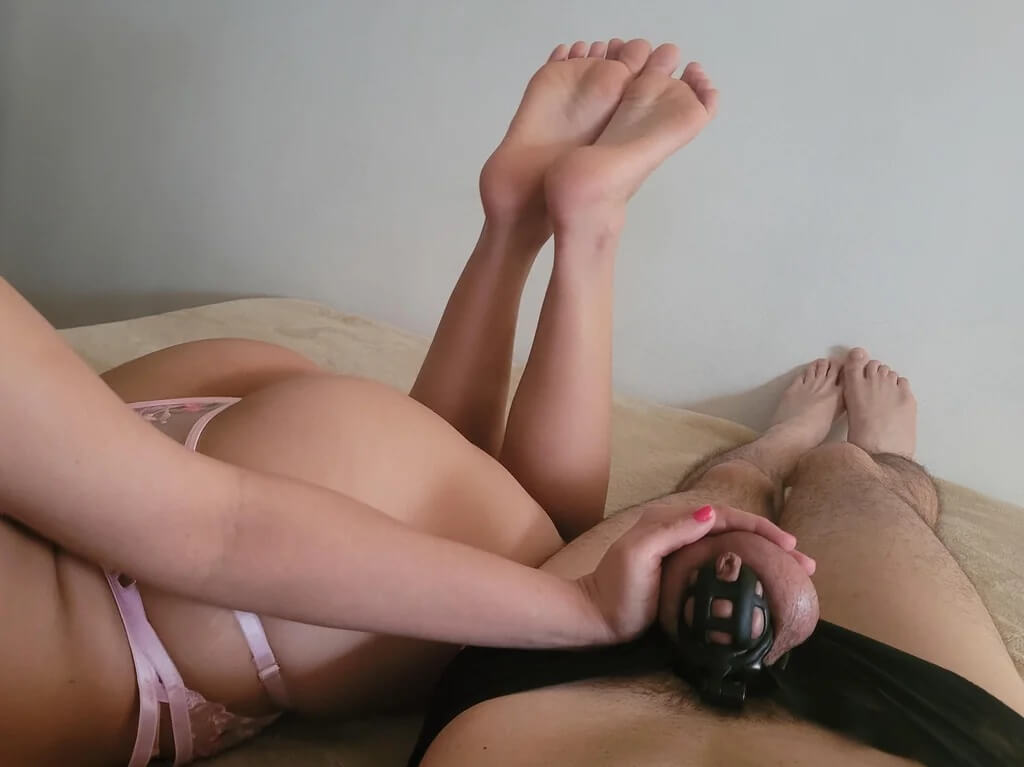 "My boyfriend introduced me to male chastity on our second date and I agreed to lock him on the third one. I think it's funny how everyone thinks he gets to fuck me regularly, but actually he has never put his penis inside me, not even once. He just gets to lick me all the time, and when I unlock him, which happens rarely, he will just get a two-finger handjob. We're both very happy with this arrangement."
---
Yuriko (23) and her boyfriend. They live in different cities and can only see each other on weekends.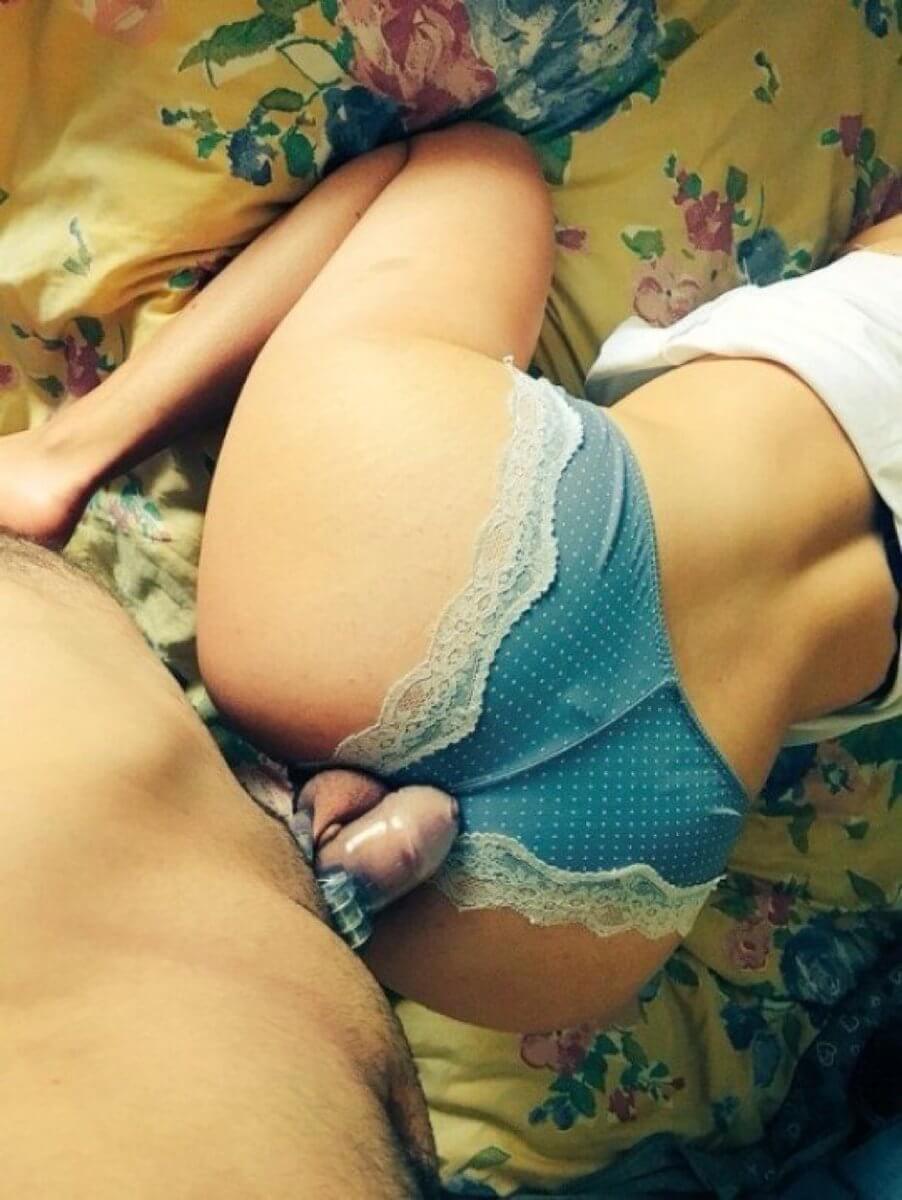 "I wanted to thank you for your website which has greatly helped us as a couple. I gladly keep my boyfriend locked. It's not that I don't trust him, but I don't trust other women, so this is a good way to keep him safe. I don't mind that he can't jerk off either. It keeps him more eager for my sexual needs."
---
If you have decided give chastity a try, why not use my Chastity Tracker 📅 to track your progress?